Commentary
Chefetz creates athletes' Miami hot spot
Originally Published:
June 10, 2011
By
Jemele Hill
| Page 2
MIAMI -- Myles Chefetz, owner of Miami's premier hot spot for athletes, received a text message from Drake just as he was in the middle of an incredibly entertaining story about how he covered for a NBA player who he suspects was cheating on his wife.
Chefetz summoned a waiter, informing him that Drake would be stopping by after midnight, so they would have to keep the kitchen open. The waiter sighed, because apparently Drake does this on a regular basis. It also meant the staff could forget about leaving early.
Now back to that story about the (alleged) two-timing NBA player …
Chefetz, who created Prime One Twelve and turned it into one the top grossing restaurants in the country, didn't disclose any names, of course. He just explained how this star NBA player brought his wife to his restaurant and the wife coyly questioned Chefetz about whether her husband had been to Prime One Twelve before, and if her husband was alone when he came.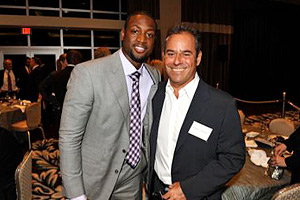 Myles ChefetzMyles Chefetz with one of his star clients, the Miami Heat's Dwyane Wade.
"I don't know anything and I don't see anything," Chefetz said, laughing.
Yes, the player had been there with someone else, but Chefetz wasn't about to snitch.
Not to make light of infidelity, but this is just a minor example of why so many athletes trust Chefetz and why his restaurant remains their go-to spot.
Chefetz and Prime One Twelve have carved out a unique place in the sports world as the destination spot for the cool kids. Prime One Twelve was where Dwyane Wade watched "The Decision." It's where Chefetz introduced Chad Ochocinco to Bill Clinton.
It's also where the worst pick-up line in history was uttered. An extremely tipsy O.J. Simpson went up to a woman at the bar and said, "You look just like my ex-wife."
Seriously.
"People come for the food, but they come for the scene," Chefetz said. "They come for the beautiful women. It's a production. It's a show in here every night."
Especially during these NBA Finals.
Consider the restaurant's week recently. On Saturday, Lil' Wayne and his crew stopped by. Monday, it was Young Jeezy and 15 of his friends. After Game 1 of the Finals on Tuesday, the infamous World Wide Wes dined with several others near the front of the restaurant while Pedro Martinez, Cliff Floyd and Rondell White were in the back. While they ate, Maverick Carter, LeBron James' right-hand man, arrived.
And then on Wednesday, ESPN personality Michael Wilbon drank Prime One Twelve's most expensive bottle of wine with Dan Le Batard, who bet Wilbon the Heat would win 70 games. The misguided prediction cost Le Batard $4,300.
"It's the ambience," Shawn Marion said. "It's the place you go if you want to be seen. I've been knowing Myles for six or seven years and he's just the kind of guy you can call and just kick it with."
Last year, Restaurants & Institutions, an industry publication, ranked Prime One Twelve the 14th-highest grossing restaurant in the country with more than $18 million in sales and 160,000 plates served.
Chefetz also was a semifinalist for the James Beard Foundation's outstanding restaurateur award in 2010.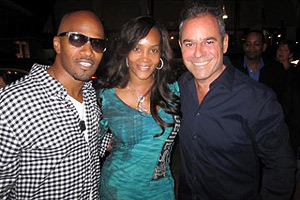 Myles ChefetzPrime One Twelve is also popular with celebrities like Vivica A. Fox and Jamie Foxx.
When Chefetz, a former real estate attorney, moved to Miami after building successful nightclubs in New York City, he never expected this kind of rabid success.
In addition to Prime One Twelve, Chefetz owns four other restaurants and the Prime hotel. The hotel is next door to Prime One Twelve and both spots are located across the street from Chefetz's Prime Italian. So just call this corner of Ocean Drive the prime corner.
"The first week we opened I was freaking out," Chefetz said. "Then something happened the third week and people just started flipping out over the mac 'n' cheese and tater tots. It just exploded."
Even during his nightclub days, Chefetz always had a knack for building binding relationships with athletes. His goal was to turn Prime into a place where athletes felt comfortable interacting and being seen.
That's why the portions for Prime meals are outrageous, like the brontosaurus ribs Fred Flintstone used to eat. It's not a traditional steakhouse -- how many steakhouses have fried chicken and waffles and collard greens on the menu?
It also helps that Chefetz not only prides himself on being approachable, but he's a huge sports fan. He grew up in Allentown, Pa., and is a self-proclaimed baseball nut who talks about the Phillies like a wide-eyed 12-year-old. In fact, one of his first acts as a father was buying his 1-year-old daughter, Mylie, a Phillies onesie.
While balancing his responsibilities as a father is rewarding, it is difficult. It's nothing for Chefetz to stay at Prime One Twelve until 3 a.m., or later. Sometimes, it's as if he's a 24-hour concierge.
"[Having a daughter] has been a huge source of joy and calmed the craziness of my life," he said.
Catering to celebrity customers is indeed a crazy business. It also means Chefetz never lacks a good story. Sometimes, he's even able to divulge names.
Right after his story about running interference for that NBA player, he tells another one, about his dear friend, Shaquille O'Neal.
Shaq boycotted Prime One Twelve for months because he once walked in with five people and couldn't get a table right away. Chefetz was so stressed he offered a group of patrons a free meal if they gave up their table for Shaq.
They refused. And Shaq decided after a few minutes that he wasn't waiting, and went across the street to eat. Then, word got around Miami that Chefetz made Shaq, arguably the biggest star in Miami at the time, wait.
"If I could have built a table out of wood for Shaq, I would have," Chefetz said.
After months of avoiding Prime One Twelve, Shaq returned. It's difficult to stay away from a place that's this cool.
But on this night, a big star did manage to make a detour from Prime One Twelve. After Chefetz finished with the Shaq story, he received another text from Drake, who at the last minute decided to fly to Las Vegas.
Chefetz shrugged. His staff, though, looked a little relieved to be able to go home early -- if you consider 2 a.m. early.
Not Chefetz. He's 52 years old, but can't sit still. He doesn't feel like it's been a good night unless he's kicking people out at 4 a.m.
"Even though I'm considerably older than most [athletes], I have a young personality," he said. "I'm just one of the guys."
Jemele Hill can be reached at jemeleespn@gmail.com.