Commentary
Your NBA conference finals answers
Editor's note: Before the start of the first round and the second round of the NBA playoffs, we asked two of our resident NBA experts for their insights on the postseason. Now, with the conference finals about to get under way, we once again tap Scoop Jackson and Jemele Hill to answer our most pressing questions.
Question: Cleveland went 8-0 in the first two rounds. Denver is outscoring its opponents by an average of 16.0 points per game, the best mark ever through 10 playoff games. Which team is playing better right now?
Scoop Jackson: That's a helluva question. I guess the best way to tackle it is to ask, "If Denver and Cleveland were playing in the Finals right now, who would win?" I think Cleveland has looked better, but against worse teams. I think Denver, from that standpoint, has been more impressive. Even though Josh Howard was banged up, I'm not sure having Howard at 100 percent would have made much of a difference in the Denver-Dallas series. And here's my thing: LeBron and Co. have been making life very difficult for teams, especially on the defensive end, but could they shut the Nuggets down? Could they limit what the Nuggets do offensively? These Nuggets already beat one team by 58 points -- on the road! -- and put up 69 points on Dallas in a half, in a close-out game! The Cavs faced a decent offense in Atlanta, and they are going to face a good one (albeit an inconsistent one) in Orlando. But the speed with which the Nuggets have been scoring -- I don't know -- if I'm Cavs coach Mike Brown, how do I prepare my team for that? So I'll say this: Cleveland may be playing better ball right now, but I'm more impressed with Denver.
Jemele Hill: This is like asking a man to choose between Megan Fox and Mila Kunis. We're splitting hairs here. But ultimately, I'm a little more impressed with Denver, because the Nuggets' success and dominance is a complete surprise. In fact, I'll take this opportunity to apologize for thinking Chris Paul would dominate Chauncey Billups in the Denver-New Orleans series. But the bottom line is, Denver has beaten and dominated much better teams than Cleveland. The Cavs beat the Sisters of the Poor and No Game University. Dallas would have taken a game from Cleveland if those two had faced each other in a series, and the hobbled Hornets were still better than both the Hawks and the Pistons. We're just seeing a lot of things from Denver we didn't expect to see.
Question: The Lakers were 65-17 during the regular season, a record matched by a Magic Johnson-led Lakers team just once (65-17 in 1987). Does this Lakers team have a chance to go down as one of the best Lakers teams ever?
Scoop Jackson:Jemele, you going to do the Whitney Houston imitation, or should I? Hell to the naw! Top to bottom this may be one of the most "talented" Lakers squads, but labeling them one of the "best" would be wrong. "Best" to me coincides with dominance. And as good as these Lakers can be, they have not shown any character traits of a team that can dominate another team or a series. The great, great Lakers teams -- the ones we still talk about -- did more than just find a way to get it done. They made statements. What statements have these Lakers made? Even their leader called them "bipolar" at times. TNT's Kenny Smith made the strongest statement about this team the other day, when he said they "don't deserve to win a championship." I won't go that far, but I ain't mad at him for saying it out loud.
Jemele Hill:Let's not drink from the cup of crazy. Even if this Lakers team wins a championship, it won't be a definitive squad, like the one with Magic, Kareem, Worthy, Byron Scott and Michael Cooper. This Lakers team, although very good, isn't overloaded with Hall of Famers like some of those previous Lakers teams.
Question: Orlando can beat Cleveland because …
Scoop Jackson: … LeBron James could get hurt, and just maybe Jameer Nelson will have the most miraculous recovery in the history of modern medicine. Those things aside, I really can't see the Magic getting past the Cavs. The Cavs are too focused -- they are playing like they are on a mission, but not looking past any one game or any one opponent. The Magic, much like the Lakers, seem too inconsistent to really believe in or fall in love with. But here's the deal: If the Magic can find a way to get LeBron in foul trouble in one of the games in Cleveland that isn't Game 7 -- reducing his minutes and his intensity on the court, making him play passively because he doesn't want to pick up fouls -- while at the same time shooting over 50 percent from downtown in that same game … then and only then will they have a chance. I'm just not sure God is feeling the Magic like that, though.
Jemele Hill: … the Magic have figured out some of the Cavs' key weaknesses. I know the regular season is punted once the playoffs begin, but certain trends have become obvious. The Cavs are not an overwhelming offensive team. Their defense fuels a lot of their offense. LeBron James and Mo Williams will get theirs, of course. But Bron still is prone to overdribbling and settling for fadeaway jumpers. Zydrunas Ilgauskas can't do anything to stop Dwight Howard on defense, and the Cavaliers better hope Z can use his jumper on offense to pull Howard out of the paint. Rafer Alston averaged 18 points and 6 assists against the Cavaliers in the regular season. As ridiculous as this may sound -- especially with the way the Cavs have been shredding teams -- the Cavs are a much easier matchup for the Magic than the Celtics or Sixers. I'm not ready to nosedive off the limb and call the upset, but I fully expect this series to go the distance.
Question: Denver can beat L.A. because …
Scoop Jackson: … they might prove to be a more focused and driven team in the end. Plus, the Andrew Bynum mystery is still hanging over these playoffs. I'd like to know what's really goin' on. A lot of the Lakers' Finals hopes and championship dreams hinged upon his return -- the Lakers having him this time around, as opposed to not having him in the playoffs last year. But what's goin' on? Timing and conditioning are one thing, and not having any playoff experience and trying to get acclimated to the level of play is another -- but when your coach says it's something "mental" and benches you twice during the playoffs, something's not right. And whatever that problem/issue is could be the difference in the Lakers getting past the Nuggets, or getting in the way of their own dreams.
Jemele Hill: … the Nuggets believe they can win. I know that sounds corny, but the Nuggets are as confident as the Lakers are overconfident. The Nuggets just get better and better the deeper they go, and you can see their thirst for a championship developing rapidly. Beyond that, the Nuggets have some matchup advantages, and their toughness could bother the Lakers. Pau Gasol didn't respond well last year when Kendrick Perkins and the rest of the Celtics were up in his chest. What's he going to do with Nene, Kenyon Martin and Chris "Birdman" Andersen? Dahntay Jones has become a poor man's version of James Posey in these playoffs. He completely took Chris Paul out of the Denver-New Orleans series. He may not do that to Kobe Bryant, but he could possibly slow him down.
Question: Dwight Howard's postgame press conference sweaters. Discuss.
Scoop Jackson: Trying to be fly is an art form that even the best of us screw up sometimes. Now, establishing a theme is never good. The one thing you never want to do when it comes to flyness is become predictable. And Dwight has made the urban couture faux pas of turning his off-the-court wear into a uniform. After every game we know what he's going to rock, we just don't know what color. He needs to mix it up, and not wear the V-necks for every game! Some of them have been hot. The BBQ brown joint with the argyle pattern down the sleeves was nice. but he wore a black version of it about a week earlier. The dark cream one he had on with the salmon-colored shirt under it and the patterned necktie after Game 3? Smooth. But that white one, with the red and blue stripes? Goodness gracious, dude. And the canary-yellow one that set this whole conversation off? I was cool with that one, but the gray elbow patches messed it all up. Look, there's a fine line between style and fashion. The trick is to know the difference, and to know when to stop.
Jemele Hill: I'm just not sure why he's wearing the sweaters. It's almost 90 degrees in Orlando right now! Is this just some kind of mind game with the opponent? Is he sending the message that, despite 1,000 percent humidity, Superman has complete control of his body temperature at all times? Is he trying to one-up Aaron Brooks' valet parking blazer? It's positively baffling.
Scoop Jackson is a columnist for ESPN.com. Jemele Hill can be reached at jemeleespn@gmail.com.
NBA Playoffs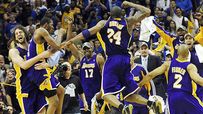 TODAY'S BEST
MORE ON THE PLAYOFFS
Adidas Youth Los Angeles Lakers Road Purple Replica Shorts Shop »