Commentary
Erin Andrews is eager to start dancing
Originally Published:
March 22, 2010
By
Lynn Hoppes
| Page 2
About 75 NFL scouts, coaches and executives showed up last week to see University of Florida quarterback Tim Tebow throw at his pro day in Gainesville, Fla.
On Monday night, Florida graduate and ESPN sideline reporter Erin Andrews will attempt to perform the cha-cha on the season premiere of "Dancing with the Stars."
[+] Enlarge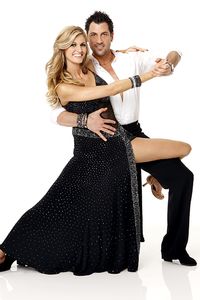 Craig Sjodin/ABCWe'll get a look at Erin and Maksim's chemistry come Monday night.
"It's my pro day. And I'm doing it in front of 20 million people," Andrews quipped in an exclusive interview with ESPN.com.
Andrews and dancing bad boy Maksim Chmerkovskiy are one of 11 couples dancing in front of a live national television audience. (Click here for a breakdown of all the contestants.) If they do the cha-cha Monday night, they will perform the Viennese waltz next Monday. The couple with the lowest combined score between the judges' scores and the public's votes for both performances will be eliminated on the first results show on March 30. The weekly series will culminate in May with the crowning of a new champion.
Andrews, who was on the Dazzlers dance team while at Florida, said she is a little nervous, but hopes her competitiveness will ease her fears in front of the live audience.
"I've always liked dancing," said Andrews, who joined ESPN in 2004 and has become nationally known for covering college football and Major League Baseball. "When I do my stand-ups, I always dance around. And if I mess up, I sometimes kick my leg in the air. I'm always moving."
Andrews is the second ESPN personality to perform on the ABC show, which began in 2005 as a spinoff of the BBC's "Strictly Come Dancing" series in England.
In 2006, sportscaster Kenny Mayne danced his way onto the show. Mayne recently said that Andrews "will do well because she's tall."
Andrews countered: "Tell Kenny to show some support! I'd appreciate that! He was eliminated in the first week!"
Mayne, who was in fact eliminated in the first week, disputes Andrews' assertions: "She's wrong, though, about my performance in Season 2. I did things never seen before in dance. It is my craft."
Andrews' partner, Chmerkovskiy, said he's trying to get Andrews to understand that the cha-cha and the waltz are totally different than everyday dancing.
"With Erin's background, she is used to this kind of training, but this is a totally different experience for her," said Chmerkovskiy, who has danced with seven other contestants but never had a winner. "She's struggling a little bit. My job is to get her to do the best she can. We need to appeal to the audience. I think this is the best group of dancers ever."
Among the other celebrities competing this season are former astronaut Buzz Aldrin, "Baywatch" alumna Pamela Anderson, and Olympic gold medalist in figure skating Evan Lysacek.
"I don't want to just go out there and be cute and wear cool outfits," Andrews said. "I know I need to settle down. I'm having to learn things from scratch. But I really want to win this."
Lynn Hoppes is Senior Director for Page 2 and Commentary for ESPN.com. He can be reached at lynn.hoppes@espn.com.