Single page view
By Patrick Hruby
Page 2
ARLINGTON, Va. -- The line stretches back from a locked gate, past the Washington Redskins store and the World Hats Embroidery kiosk. There are office managers and members of the Coast Guard, clad in Yankees caps and University of Miami jerseys. Here in the nation's capital -- well, make that a suburban shopping mall -- a group of constituents stands united. Only they aren't casting ballots, picketing the White House or ambling onto a tour bus.
Nope. They're simply waiting to buy a video game.
Not just any video game. Madden NFL '06.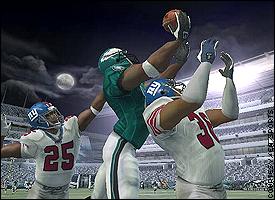 T.O. threatening to hold out? Not in Madden.
"Everybody plays Madden," says Will Tucker, 19, an Arlington resident. "Everybody who knows football, talks football, loves football. Madden is the Bible."
When the Founding Fathers gave us the right to peaceful assembly, they probably didn't have this in mind. Then again, Jefferson and Co. probably didn't envision dudes in Stormtrooper armor camping out for "Star Wars," either. The price of freedom is what freedom brings -- in this case, about three dozen guys (and they're almost all guys) camped around an Electronics Boutique, counting down the seconds till midnight, itching to snag the latest installment of a game that will deluge the nation's retailers in about eight hours.
But never mind that. It's Madden. It's football. Why wait?
"It's all about having it first," says Vic Turner, 33, who lives in District Heights, Md. "I called in sick for tomorrow. Don't go saying it too loud. I work really close to here."
Melvin Ludacka stands by the gate. He has milled around for more than an hour, jonesed for Madden for what seems like forever (in reality: the six months since he tired of last year's game). If everything goes according to plan, Ludacka will head home, grab a controller and spend the rest of the day on the virtual gridiron, occasionally pausing to use the bathroom.
Needless to say, he won't be in the office today. Or for the rest of the week.
"I took leave for the whole week to play Madden," says Ludacka, 26, who serves in the Coast Guard and works in an adjacent building. "My wife is at home in bed right now. She said, 'You're childish.' I said, 'Expect the same next year.'
"After this, I'll go to 7-11, get a Double Gulp of Mountain Dew. That's all I need."
Madden Hits the Streets
ESPN.com's Darren Rovell was in Manhattan for the release of Madden '06. Fans couldn't wait to get their hands on the game -- and get down to business.
Hundreds of midnight release parties. Thousands of games sold. Countless calls to the office, embellished by fake, wheezing coughs. For the Madden faithful -- possibly you; probably someone you know -- today is more than the start of a new virtual season. It's an unofficial national holiday, akin to the Super Bowl and vastly superior to, say, Arbor Day.
Plant a tree? Please. Will a tree let you set stadium hot dog prices in franchise mode?
"I'll probably stay up for three days," Tucker says. "This is better than Christmas."
No kidding. Christmas lasts only a single day.
*****
He's getting too old for this. That's what he tells himself. Every year, George Tennant Jr. ponders giving up Madden; every year, he finds himself back in line, pre-order slip in hand. The game has that effect on people. So does crack cocaine.