By Patrick Hruby
Page 2
Goodbye, Mr. Tags. Sniff. After leading the NFL to an unprecedented level of prosperity and popularity -- the Arizona Cardinals excluded -- Paul Tagliabue is stepping down as the league's commissioner, forcing football fans to ponder the same question on the mind of fleece-wearing ESPN Magazine subscribers everywhere.
Namely, who's next?
Roger Goodell. Rich McKay. Dick Cass. Such are the leading candidates for the job, faceless bureaucrats with extensive management experience, sober, reasonable men equipped to steer the NFL through the choppy waters of an unknown future.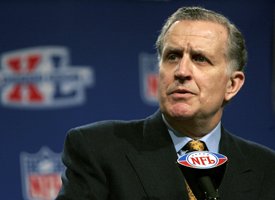 Andy Lyons/Getty Images
The man leaves big shoes to fill.
Practical? Yep.
Visionary? Maybe.
Fun? Uh-uh.
The NFL can choose to play it safe. Alternately, it can take a chance on an outsider -- the sort of stab-in-the-dark, lost-a-bet hire who will either lead pro football to new heights or implode the league entirely.
Here at Page 2, we vote for the latter. We've even evaluated a slate of potential head honchos, starting with:
Condoleeza Rice
Current Position: Secretary of State/world's second most powerful woman.
Qualifications: Self-proclaimed football fan calls NFL commish her "dream job"; currently in better shape than Warren Sapp.
Probable Platform: Bring professional football back to Los Angeles; maintain player-owner harmony; expand league revenues; promote the game overseas; deny Jerry Jones and Dan Snyder access to nuclear weapons.
Possible Drawbacks: High-heeled boots likely to leave on-field divots; once rumored to be dating NFLPA head Gene Upshaw, a slight conflict of interest; can't dispatch 101st Airborne to put down Al Davis.
Overall Rating: Four stars. Managing bungled Iraq occupation good practice for managing NFL game officials.
Donald Trump
Current Position: Real estate front man/network carnival barker. Or is it the other way around?
Qualifications: Modestly talented at creating hype.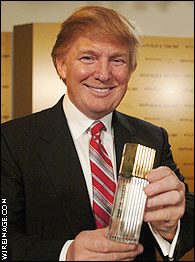 Could this tycoon be the new face of the NFL?
Probable Platform: Put name on every stadium in the league; move Pro Bowl to West Palm Beach; dump NFL's older cheerleaders for hotter, younger ones, the way he does with his wives.
Possible Drawbacks: "Apprentice" marathon a bust for fledgling NFL Network; league drawn into unseemly "Today" show war of words with Martha Stewart; commissioner's yearly State of the League press conference devolves into a discussion of Trump's hair.
Overall Rating: One star. Constantly overestimates own worth; financial empire something of a glorified Ponzi scheme. Come to think of it, would make a better NHL commissioner.
Mel Kiper Jr.
Current Position: The draftnik's draftnik.
Qualifications: Unrivaled understanding of league's incoming talent pool; great hair; according to scouts, runs a 4.48 in the 40-yard dash and can bench press 225 pounds 37 times. No lie.
Probable Platform: Move NFL draft to prime time and televise through use of national Emergency Broadcast System; hire Rolling Stones to perform while teams are "on the clock"; convince ESPN2 to show supplemental draft; replace hotel Bibles with yearly draft guides.
Possible Drawbacks: Kiper enjoys annual cryo-freeze, system check and firmware update between May and August. NFL commish is a year-round job. Something's gotta give.
Overall Rating: Three stars as the NFL's head honcho; five stars as the commissioner of Fantasy Football.
They have one of those, right?
Oprah
Current Position: World's most powerful woman.
Qualifications: Can probably buy entire league outright.
Probable Platform: Boost Cardinals' embarrassing attendance and eliminate home game blackouts by giving free cars to lucky season ticket holders; get Drew Rosenhaus to weep like a little girl on national television; if anyone can reunite the Beatles -- all of them -- for the Super Bowl halftime show, it's Harpo Productions.
Possible Drawbacks: Confused male fan base unable to locate games moved to Oxygen network; Dr. Phil becomes voice of NFL Films; owners badly duped when players hire James Frey to draft salary cap proposal during next round of collective bargaining.
Overall Rating: Two stars. Shortsighted disregard for physical safety -- not feel-your-pain empathy -- is what made NFL great. Let's keep it that way.
John Madden
Current Position: Video game mascot.
Qualifications: Has forgotten more about football than you'll ever know -- and continues to forget more of it all the time.
Probable Platform: A Turducken in every pot; allow befuddled coaches like Herm Edwards and Marty Schottenheimer to use a sideline ASK MADDEN button; launch "Boom! Tinactin!" player health initiative to wipe out athlete's foot, a silent locker room scourge.
Possible Drawbacks: Pat Summerall becomes voice of NFL Films; Peak Oil leads to higher crude prices, which increases the cost of gas, which makes using the Madden Cruiser more expensive, which ultimately bankrupts the league; fiendish terrorist plot to assassinate the commish ends badly for stand-in/body double Frank Caliendo.
Overall Rating: Three and a half stars. Most popular commissioner ever ... among 14-year-old Xbox addicts who think 47-42 is an average halftime score.
Cobra Commander
Current Position: Shadowy, faceless skipper of bumbling international terrorist cabal.
Qualifications: Has managed to keep job despite worse track record than Mike Brown. Hey, survival counts for something.
Probable Platform: Replace player face masks with black bandannas; make reflective visors mandatory; combine DNA of Bill Walsh, Napoleon, Vince Lombardi and Alexander the Great to create the ultimate head coach; construct secret NFL Terrordome in Canton, Ohio.
Possible Drawbacks: Passing numbers plummet when Peyton Manning and fellow quarterbacks replaced by woefully inaccurate Viper clone troopers; trusted advisor Destro in it for his own best interests, not the league's; longtime ally Zartan mangled in grisly groundskeeping accident after changing skin color to match midfield grass at Giants Stadium; San Antonio expansion plan foiled by Duke and football mace-wielding William "Refrigerator" Perry.
Overall Rating: Two and a half stars. Legacy of failure, but only candidate who would put snow ninjas on the NFL payroll. Overall, a push.
Isiah Thomas
Current Position: Ensuring that the New York Knicks -- like global warming and the national debt -- become an onerous burden for future generations.
Qualifications: Formerly ran the Continental Basketball Association ... right into the ground.
Probable Platform: Look nice in a suit; flash a killer smile; throw money at every problem, real and imagined; excite New York City tabloids by doing something wacky at least once a week.
Possible Drawbacks: League owners not excited when something wacky involves giving millions of undeserved dollars to Jerome James.
Overall Rating: One star. Little known facts: Thomas was in charge of the Mars Polar Lander project and is working with Axl Rose on "Chinese Democracy."
Bill Clinton
Current Position: Ex-president. Not like the guys in "Point Break."
Qualifications: Keeps an office in New York. Oh, and also ran the free world for eight years.
Probable Platform: Raise funds by letting high-end donors keep Lombardi trophy overnight; cement league alliance with McDonald's; bring yearly Lingerie Bowl in-house and personally screen prospective talent.
Possible Drawbacks: Hide-the-cigar tendencies a poor match for a button-down league that freaked out over "Playmakers"; Hillary bound to boondoggle NFL health plan; unable to relate to Ricky Williams since he did not, in fact, inhale.
Overall Rating: Three and three-quarters stars.
Gravitas undercut by two terms as a late-night punch line.
Billy Packer
Current Position: College basketball's cranky uncle.
Qualifications: The guy knows everything. Almost as much as Curt Schilling.
Probable Platform: Bring a little cuss and sass back to the commissioner's office; draft more players from Duke; make sure that the NFL playoffs feature glamour teams like San Francisco and the New York Jets, as opposed to mid-major pretenders like Cincinnati and Cleveland.
Possible Drawbacks: Cuss and sass currently out of fashion, even in NASCAR; Duke has a football team?; in any given year, the Bengals and Browns could be title contenders. Well, maybe not Cleveland.
Overall Rating: One and a half stars. Packer's genius should stay where it belongs. On "Jeopardy!"
Arnold Schwarzenegger
Current Position: Governor of California.
Qualifications: None. Like that's stopped him before.
Probable Platform: Break negotiating deadlocks with stern commands like GET DOWHN! and COME WITH MEEE IF YOU WHANT TO LEEVE!; hire Carl Weathers to oversee Pro Bowl arm wrestling tournament; enact a tough steroid testing plan to rival that of professional bodybuilding.
Possible Drawbacks: Increases likelihood of "Terminator 4"; arm wrestling tournament a bigger player injury risk than actual Pro Bowl game; a tough steroid testing plan to rival that of pro bodybuilding.
Overall Rating: Three and a quarter stars. Looks the part, which is pretty much the key to his entire career.
Saddam Hussein
Current Position: Deposed strongman.
Qualifications: Could use a job.
Probable Platform: Add authentic paramilitary swagger (and the charm of jackets with epaulets) to America's most faux-martial sport; install former Iraqi Information Minister Mohammed Saeed al-Sahaf as NFL officiating spokesman; order Scud launch the next time Terrell Owens pops off.
Possible Drawbacks: Too busy picking lice out of beard to oversee franchise moves; may be executed before official start date; while municipal blackmail is an acceptable way of securing new stadium funding, poison gas is not.
Overall Rating: Zero stars. Filthy, sunless spider holes are for the guys who break down game film, not prospective commissioners.
Vince McMahon
Current Position: Wrestling czar.
Qualifications: Already ran a professional football league. Assuming you want to call it that.
Probable Platform: Import XFL innovations like sideline strippers and replacing the coin toss with two guys sprinting for the ball; enlist the Rock to help revive Brian Bosworth's action movie career; intimidate Bob Costas; no way Las Vegas doesn't get a team within the next five years.
Possible Drawbacks: Revival of Bosworth's action career; NFL comes to resemble high school football. Poorly played high school football.
Overall Rating: One star. Admit it: two guys running for the ball was pretty cool.
A Tackling Dummy
Current Position: Inert. That is, until training camp.
Qualifications: Innate grasp of violence inherent to the game; always willing to take one for the team.
Probable Platform: More film study, fewer practice drills involving tackling dummies. Otherwise, wouldn't change a thing about the current NFL.
Possible Drawbacks: None. NFL is the nation's biggest, richest league by a country mile. Why not keep on keepin' on?
Overall Rating: Five stars. Forget Goodell and McKay -- this is the right man -- er, inanimate object -- for the job.
Patrick Hruby is a columnist for Page 2. Sound off to Page 2 here.