Paid attention to the week in sports that was? Put your powers of observation and recall to the test with our revived weekly quiz:
1. The Milwaukee Brewers offered two free tickets to a future game to any man who underwent: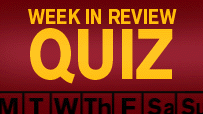 (a)
A free prostate exam in a mobile clinic outside Miller Park
(b)
Free back-to-back screenings of "Next" and "Spider-Man 3"
(c)
Immediate deployment to Baghdad as a bicycle messenger
(d)
Watching a Washington Nationals game in its entirety
2. The owner of an upscale Louisville steakhouse reportedly said he booted O.J. Simpson from his restaurant the night before the Kentucky Derby because:
(a) "[Of] the way [Simpson] continues to torture the lives of those [Brown and Goldman] families … with his behavior, attitude and conduct"
(b) The attention Simpson still receives from fans makes the owner "sick to his stomach"
(c) A and B
(d) "I saw the guy holding a steak knife, and I panicked. What can I say?"
3. Philadelphia Eagles quarterback Donovan McNabb told a radio station he was:
(a) Shocked that the Eagles selected QB Kevin Kolb with their first pick in the NFL draft
(b) Shocked that he was ambulatory enough to participate in a radio interview
(c) Shocked that Vince Young is still upright, given that the Tennessee quarterback is now a fellow "Madden" cover boy
(d) Shocked that Andy Reid's sons haven't appeared on "Cops" yet
(e) Shocked that it's not butter!
4. Radio announcer Suzyn Waldman's call of Roger Clemens' return to the New York Yankees would have been more appropriate:
(a) At a monster truck rally featuring Grave Digger, Predator, Truckasaurus and QUUUUAAAD WARRRS! WITH NO BRAKES! NO BRAKES!
(b) If a hydrogen-filled German zeppelin had simultaneously exploded above Yankee Stadium
(c) As a classroom teaching tool example for future mental health professionals of DSM-IV code No. 301.81: Narcissistic Personality Disorder
(d) If the Yankees' pitching and postseason hopes weren't still dreadful
5. While interviewing Laura Giuliani, the wife of slumping Baltimore Orioles left fielder Jay Gibbons, about an anti-domestic violence fundraiser, broadcaster Rick Dempsey reportedly said:
(a) "Laura, will this kind of help Jay in the domestic violence area? If he doesn't start getting a few more hits, you might grab him around the neck and rough him up a little bit…"
(b) "[Is] this money going to go to help him a little bit with maybe some of the hospital bills or something like that?"
(c) "All right, I'll domestically violate him if he doesn't start getting some more hits"
(d) A, B and C
(e) "Should I have my lawyers draft a prepared statement to read at tomorrow morning's emergency press conference, or just apologize right now?"
(f) "Oh my God! It's Roger Clemens! I just soiled my undergarments!"
6. A woman sued the New York Mets after:
(a) A 300-pound drunken man fell on her and broke her back during the team's home opener at Shea Stadium
(b) A 300-pound drunken man failed to fall on Jay Gibbons, and too bad, because maybe a little roughing up might get the guy making solid contact again
7. During a press conference in which he claimed he would accept any punishment handed down in an ongoing doping scandal, Italian cyclist Ivan Basso also said that:
(a) He intended to cheat in a "moment of weakness," but changed his mind and never actually did so
(b) He never had sexual relations with that woman
(c) On Halloween night, the Great Pumpkin rises from his pumpkin patch and flies through the air to deliver toys to all the children
(d) What Floyd Landis said
8. Tampa Bay relief pitcher Juan Salas was suspended 50 games for:
(a) Failing an MLB drug test
(b) Intending to fail an MLB drug test, then changing his mind and backing out, just like Ivan Basso
(c) Failing to immediately comply and cooperate with George Mitchell's take-no-prisoners, leave-no-syringe-unturned, super-duper-definitive-Warren-Commission-shaming steroid probe. Ahahahahaha
(d) ¿Quién el infierno es Juan Salas?
9. Real Salt Lake midfielder Freddy Adu was inadvertently hit in the head with:
(a) A golf ball
(b) A soccer ball. Remember, we said inadvertently
(c) The realization that he's had less professional impact than Juan Salas, a bitter pill quickly made sweet by subsequently lighting a pile of endorsement money on fire
(d) Real Salt Lake? Isn't "Utah Jazz" moronic enough?
10. Lawyers appealing the NFL's season-long suspension of Tennessee Titans cornerback Pacman Jones pointed out that:
(a) 283 NFL players have been arrested since January 2000
(b) Paris Hilton is getting only 45 days, and they'll probably just make a reality TV show out of it, anyway
(c) Pac-Man -- in both pixelated and Saturday morning cartoon form -- has brought joy to millions of people worldwide, and that really should count for something
(d) But mom, all of the cool Cincinnati Bengals kids are doing it!
11. Jones reportedly spent the night before his April meeting with NFL commissioner Roger Goodell:
(a) In his hotel room, reading the Bible and watching QVC
(b) At the opera
(c) Delivering a lecture to the American Meteorological Society on the proximate causes of precipitation
(d) At a New York City strip club
12. Ricky Williams tested positive for:
(a) Marijuana
(b) Marijuana
(c) Marijuana
(d) Marijuana
EXTRA CREDIT
13. A Rochester, N.Y., man reportedly went to an off-track betting site on the day of the Kentucky Derby and:
(a) Spent $13,680 for every possible $2 trifecta combination, winning $440 in return
(b) E-mailed his name, SSN and bank account information to Mr. Suleman Bello, Auditor General of the African Development Bank of Burkina Faso, in order to facilitate the speedy transfer of $25,200,000
(c) Produced a detailed plan for an online business that would sell pet supplies and accessories direct to consumers over the World Wide Web, to be called "Pets.com"
(d) Dropped his pants, then asked for two free Milwaukee Brewers tickets
ESSAY QUESTION
After stating that Barry Bonds has "admitted cheating on his wife, cheating on taxes and cheating on the game" -- three things Bonds hasn't actually admitted to -- Boston Red Sox pitcher Curt Schilling wrote the following on his Web site:
"Everyone has days and events in life they'd love to push the rewind button on, yesterday was one of those days. Regardless of my opinions, thoughts and beliefs on anything Barry Bonds it was absolutely irresponsible and wrong to say what I did. I don't think it's within anyone's right to say the things I said yesterday and affect other peoples lives in that way."
Carefully parsing Schilling's statement, did he actually apologize? Defend your answer with at least three examples.
---
ANSWER KEY: 1, a; 2, c; 3, a (and possibly e); 4, all answers valid; 5, d; 6, a; 7, a; 8, a (we looked it up); 9, a: 10, a, though c would have been more legally daring; 11, d; 12, take your pick; 13, a. Essay question: Any variation on "Curt Schilling is never wrong" is acceptable.
Patrick Hruby is a columnist for Page 2. Sound off to Page 2 here.