Paid attention to the week in sports that was? Put your powers of observation and recall to the test with our weekly quiz: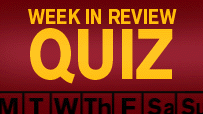 1. Suspended Chicago Bears defensive tackle Tank Johnson:
(a)
Was pulled over for speeding in Arizona
(b)
Was subsequently waived by the Bears
(c)
Now has more time to pursue his self-proclaimed goal of being named NFL Man of the Year
(d)
All of the above
2. An upcoming album of Boston Red Sox pitcher Daisuke Matsuzaka's favorite inspirational songs also includes:
(a) The original track "Gyro Ball," featuring two Red Sox television announcers, former Extreme guitarist Nuno Bettencourt and former J. Geils Band harmonica player Magic Dick
(b) No. No. A thousand times no
3. According to the Los Angeles Times, track star Marion Jones:
(a) Is nearly broke, with liquid assets worth around $2,000
(b) Had a bank foreclose on her $2.5 million North Carolina home
(c) Was forced to sell the house where her mother lived in order to pay bills
(d) Is in exactly the sort of financial shape one would expect of someone who, like Jones, has a journalism degree
4. When asked during a legal deposition where her money went, Jones reportedly replied:
(a) "Who knows? I wish I knew. Bills, attorney bills, a lot of different things to maintain the lifestyle."
(b) "Pets.com. What was I thinking?"
(c) "Hey, the Clear ain't cheap."
(d) "New car, caviar, four-star daydream, think I'll buy me a football team."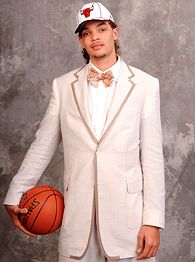 Jennifer Pottheiser/Getty Images
5. The man in the adjacent picture wants to:
(a)
Play pro basketball
(b)
Practice law in a rural setting
(c)
Sell you a bucket of Kentucky Fried Chicken
(d)
Relive the legendary 1976-77 Marquette men's basketball team photo
6. When Miami Heat center Shaquille O'Neal blamed childhood obesity partially on video games, he was referring to:
(a) "NBA 2K7," which features O'Neal on its cover
(b) "NBA 2K6," which features O'Neal on its cover
(c) "Ready 2 Rumble: Round 2," which features O'Neal as a playable character
(d) "Shaq Fu," a video game abomination before God and man
(e) All of the above
7. The town of East Rutherford, N.J., reportedly introduced an ordinance that would:
(a) Create an adult entertainment zone for strip clubs, massage parlors, porn stores and tattoo shops across from the Meadowlands Sports Complex
(b) Make the lives of New York-area professional athletes much more convenient
8. While training for a fight in New Zealand, American boxer Kelvin Davis reportedly:
(a) Was so frightened by oncoming traffic that he jumped over the side of the bridge he was jogging over
(b) Flashed back to a traumatic childhood game of "Frogger" and jumped over the side of the bridge he was jogging over
(c) Realized that his day job involves standing in the way of another man's oncoming fists, and jumped over the side of the bridge he was jogging over
(d) With any luck, the Spice Girls reunion will involve bridge jogging
9. Which of the following is NOT one of the 25 boxing-themed middle names reportedly given to a baby girl recently born in England?
(a) Dempsey
(b) Louis
(c) Clay
(d) Little Mac
10. Arizona State University's 49-year-old Sun Devil Stadium reportedly needs $45 million in repairs for waterproofing and fixing rusted support beams because:
(a) Designers figured that a stadium in the desert didn't need to be waterproofed, even though maintenance staff hoses down Sun Devil Stadium after every football game
(b) Oops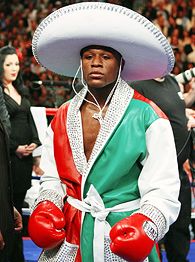 Al Bello/Getty Images
Floyd Mayweather Jr. is back after a six-week retirement,
to the surprise of … anyone
… anyone … Bueller?
12. Floyd Mayweather Jr. announced his return to boxing following a six-week retirement, shocking:
(a)
Absolutely no one
(b)
Absolutely no one who pays attention to boxing
(c)
Trick question, A and B are the same thing
13. San Francisco Giants slugger Barry Bonds told MLB.com he would donate equipment and game-worn items from his career home run record chase to the Baseball Hall of Fame, except for:
(a) His shoes
(b) His pants
(c) His jersey
(d) His bat
(e) All of the above
(f) Here's a wristband, some used chewing gum and a soiled jockstrap. Enjoy!
14. The Tour de France:
(a) Announced that it won't accept riders who refuse to sign a new anti-doping charter
(b) Is going to consist of a circus unicyclist, two guys on a motorcycle and a jogger looking for the way to Marseille
15. A special edition of "SportsCenter" was centered around:
(a) The movie "Live Free or Die Hard," starring Bruce Willis, in theaters now!
(b) The movie "Live Free or Die Hard," starring Bruce Willis, in theaters now, so why aren't you there, too?
(c) No, really -- go see the damn movie already
(d) We're not gonna tell you again
16. Ten of the 15 news conference questions asked of French tennis player Tatiana Golovin following her second-round Wimbledon victory involved:
(a) Her red underwear, which she wore beneath traditional tennis whites
(b) Her sports bra, and if it matched her underwear
(c) Her postmatch shower routine, and if she's ever kissed another girl
(d) Tennis writers are creepy
17. Miami Dolphins defensive tackle Fred Evans was arrested on South Beach after he:
(a) Refused to exit a taxi
(b) Fought with police
(c) Allegedly bit an officer on the wrist
(d) Was Tasered twice
(e) All of the above
(f) Really impressed the Cincinnati Bengals' scouting department
18. A federal appeals court ruled that the Tampa Bay Buccaneers can resume pat-down searches of fans entering Raymond James Stadium, arguing in part that:
(a) Fans don't have a constitutional right to watch a football game, that they are aware of search policies before entering stadiums and that teams can revoke game tickets for any reason
(b) Detroit Lions defensive tackle Shaun Rogers may end up getting suspended for inappropriately touching a stripper, in which case he'll need something to do
(c) Hey, if pat-downs are inevitable, relax and enjoy them
19. Congress held hearings on:
(a) The problems of aging NFL retirees and the NFLPA's pension and disability system
(b) Victory in Iraq, a looming budget surplus, successful immigration reform, universal health care, a best-in-the-world education system and every other legislative triumph that has given our legislators the luxury of worrying about a couple thousand ex-pro football players
ANALOGIES

20. Detroit quarterback Jon Kitna : the Lions will win 10 games
(a) New York forward David Lee : the Knicks will make the playoffs
(b) Neville Chamberlain : A peace for our time
(c) White Star Line officials : The Titanic is unsinkable
(d) All of the above
21. Former MLB pitcher Dock Ellis : autographing baseballs with "I threw a no-hitter on LSD"
(a) Barry Bonds : autographing baseballs with "I hit 73 home runs on flaxseed oil"
(b) Hulk Hogan : autographing memorabilia with "I built 26-inch pythons with prayers and vitamins"
(c) Jon Kitna : Autographing footballs with "I predicted 10 wins completely sober"
(d) All of the above
22. Louisiana state legislature : voting to ban cockfighting next year
(a) Major League Baseball : instituting steroid testing in 2004
(b) Hillary Clinton : being against the Iraq war in 2007
(c) The Pope : declaring in 1992 that the church erred in condemning Galileo
(d) All of the above
EXTRA CREDIT

23. Minor league manager and former MLB player Wally Backman was ejected from a game in which he:
(a) Cursed out an umpire who had just ejected one of his players
(b) Kicked dirt on home plate, hurled 22 bats onto the grass and dumped a bucket of baseballs down the third-base line
(c) Made his way to the radio booth to confront a play-by-play announcer who said Backman was being "childish"
(d) Took the ballpark promotional theme "Day Care Night" a bit too literally
(e) All of the above
24. Washington Nationals pitcher Jesus Colome went on the disabled list with:
(a) A soft-tissue infection in the right buttocks
(b) Know what? We're not gonna go there
25. A Ugandan soccer team claimed it missed a match against a rival team because its players were:
(a) Stricken with diarrhea
(b) Stricken with soft-tissue buttocks infections
(c) At the bottom of a bridge somewhere, spooked by traffic
(d) Watching an advance screening of "Live Free or Die Hard"
ESSAY QUESTION

English soccer star David Beckham donned a football uniform -- including shoulder pads -- while filming an adidas promo with New Orleans Saints running back Reggie Bush. View a photo here, then in 800 words or less describe what Beckham looks like.
ANSWER KEY: 1-2, a; 3, all answers acceptable; 4, a; 5, a, though d is a good guess; 6, d; 7-8, a; 9, d; 10, a; 11, c; 13, e; 14-16, a; 17, e; 18-19, a; 20-22, d; 23, e; 24-25, a; Essay Question: Any answers that include variations on "someone auditioning for the role of warrior-elf in the upcoming 'Hobbit' movie," "unwitting proof that the NFL may need a tougher performance-enhancing drug policy" or "less silly than Joakim Noah on draft night" are acceptable.
Patrick Hruby is a columnist for Page 2. Sound off to Patrick here.