OK, sure: Al Davis sounds bitter. And batty. And probably in need of some applesauce and crackers.
But what if he's just misunderstood? What if his Crypt Keeper mien and silver 'n' black tracksuits are simply a ruse, camouflage for the tender heart of a sensitive … poet?
Re-read Davis' angry missive to Lane Kiffin. Re-watch the General Partner's rambling press conference. Flimsy groundwork for pending legal action? Or a one-two punch of inspired verse and touching spoken word?
With a nod to the Slate article that gave us the idea, Page 2 presents the unexpected poetry of Al Davis:
---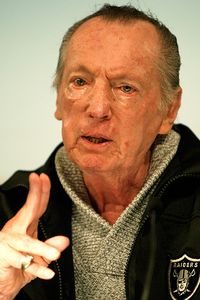 Jed Jacobsohn/Getty Images
Is Al Davis a bitter, browbeating football bully … or a gifted, misunderstood poet?
"Fortress of Solitude"
I left you
Alone.
During training camp
In hopes that you would cease
Your immature
And destructive
Behavior
However --


You continue
---
"No. 1 Heartbreak"
It hurts
Because
I picked the guy
I picked the wrong guy
---
"A Dream Deferred"
I never dreamt
That you
Would be untruthful
In statements to the press
As well as on
So many other
Issues.
---
"The Autumn Winds of Change"
The Raiders
And I
Will no longer stand
Silently by
While you continue to hurt
---
"God is a General Partner"
The General Partner
Has the exclusive right
To do
All things
Which in its sole discretion
Are necessary
---
"Father's Day"
I know that
You wanted to bring your father in
To run
The defense
And that


Monte told me that


He wanted to come
Here!
Even though he is under contract to Tampa


However --
I did not want
To tamper
With another
---
"Vertical Passing Attack"
Get over it
And coach --
This team!
On the field.


That is what
You were hired
To do
We can win!
With this team!
…
Do not run
---
Kirby Lee/NFL/Getty Images
In Davis' most recent role of jilted general partner, he has penned some of his finest material.
"Wandering Eyepatch"
You were
Explicit
About your desire
To sign Javon Walker
And DeAngelo Hall
Amongst others
All were a must to sign
In your eyes
---
"Fourth and Long"
I just couldn't go on much longer
With the
What I would call
The propaganda
The lying
That had been going on
For weeks
And months
And a year


And time

He had
A few questions.
He says
Does that mean that
I don't get paid?
I said
That's what I'm saying


To you
---
"Mortensen's Message"
Mortensen had the story!
Exactly the way it went down
It could've been
No one else
Other than John Herrera
And Mike Taylor
To have given that story
To Mortensen


And Mortensen had
A couple of things
In the story
That got me
To the point
Where I am
---
"Gather the Moss of Regret"
We traded Randy Moss!
For a fourth-round draft choice
Randy Moss!
For a fourth-round draft choice


And everyone here
Coaches!
Look at the film
His foot was bothering him
Everyone around the country!
That he can't run
Anymore


Well
I'd seen him …
Seen him run


They talk now
Boy!
If we had a playmaker


Well
All he caught
Was over 20 touchdowns
Last year

If we had a playmaker!


But those are the facts of life
---
"At Play in the World of Love"
I believe
That there are players
We live with them
They've got to play

For us


And no matter what you think
Of Al
We gotta love 'em


That's the way this world is
---
"Against the Dying of the Light"
We'll get back
We'll be back
The Raiders
Will be back


That's
Uh


I have unshakable confidence
The will to win


And I just know
That the fire
That burns brightest
In this building!
Is the will to win


And we will win


We will
Win