Commentary
Helping out at Super Bowl media day
Originally Published:
February 2, 2010
By
Patrick Hruby
| Page 2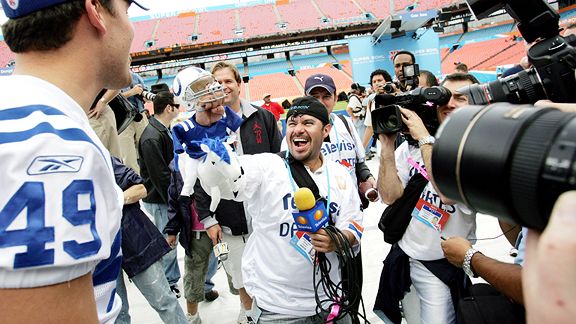 Roberto Schmidt/AFP/Getty ImagesSuper Bowl media day is already a circus, so why not fully embrace the madness of the spectacle?
We've said it before and we'll say it again: Super Bowl media day is, like, totally crazy! Wild and wacky! A XLIV-ringed fishbowl circus! Totally meta-postmodern!
As such, there are no new story angles. None. Only clichés, remixes and quietly desperate self-cannibalization. Which is why Page 2 is happy to present another round of suggested interview questions for our friends in sports journalism -- even the ones wearing full-size bee costumes.
Godspeed, compadres, and better you than us ...
Dwight Freeney, Colts defensive end: Is your ankle to Terrell Owens' ankle what Usher and Justin Timberlake are to Michael Jackson?
Peyton Manning, Colts quarterback: Have you ever considered quitting football and pursuing a career in Hollywood, simply for the increased Japanese endorsement potential?
Peyton Manning, Colts quarterback (II): The last time your team was in the Super Bowl, you demanded that teammates keep their wives and families out of the team hotel. Have you ever coached at an Eric Mangini summer camp?
Peyton Manning, Colts quarterback (III): The Wall Street Journal recently calculated that the average football broadcast contains 11 minutes of actual game play. Should we still be impressed with all of your "film study"? (Note: For maximum effect, make air quotes gesture with hands.)
Reggie Bush, Saints running back: When you watch the average episode of "Keeping Up With the Kardashians," is it comparable to Kim watching you fumble twice and accidentally lateral to the other team?
Joseph Addai, Colts running back: Exactly how much time have you and Peyton wasted this season practicing handoffs?
Jim Caldwell, Colts head coach: Tony Dungy allowed players to bring food into team meetings. You reportedly don't. Do you think I could spin a 1,000-word feature out of that?
Bill Polian, Colts team president: Do you sleep easier knowing you won't have to rest any of your key starters in order to avoid pre-Pro Bowl injuries?
Sean Payton, Saints head coach: You once coached Quincy Carter to a 3,000-yard passing season. Why is John Madden the one with the signature video game?
Gregg Williams, Saints defensive coordinator: Your stated game plan involves tackling Peyton Manning. Did that take extensive scouting?
Jermon Bushrod, Saints left tackle: That's your porn name, right?
Dallas Clark, Colts tight end: That's still your porn name, right?
Jeremy Shockey, Saints tight end: Are you excited for the opportunity to finally earn a Super Bowl ring?
Jeremy Shockey, Saints tight end (II): A number of NFL players have agreed to donate their brains for concussion research. Would you consider doing the same, and how would you react if researchers subsequently declined your offer?
Curtis Painter, Colts quarterback: Who are you, and what have you done with Jim Sorgi?
Mark Brunell, Saints quarterback: Wait -- you haven't spent the last two years calling bingo games for senior citizens?
Jahri Evans, Saints guard: If Lawrence Taylor had been a defensive tackle instead of a linebacker, would Sandra Bullock star in a movie about your life?
Bob Sanders, Colts safety: What's the biggest difference preparing for Drew Brees instead of Rex Grossman, besides not being able to sleep through defensive meetings?
Garrett Hartley, Saints kicker: Biggest moment of your life so far -- game winner versus the Vikings, or when the new Kings of Leon album dropped?
Jeff Saturday, Colts center: How can your fans wave those white towels indefinitely, knowing what happened to Apollo Creed?
Patrick Hruby is a freelance writer and ESPN.com contributor. Contact him at PatrickHruby.net.