Commentary
Q&A with a Tiger Woods impersonator
Originally Published:
April 15, 2010
By
Patrick Hruby
| Page 2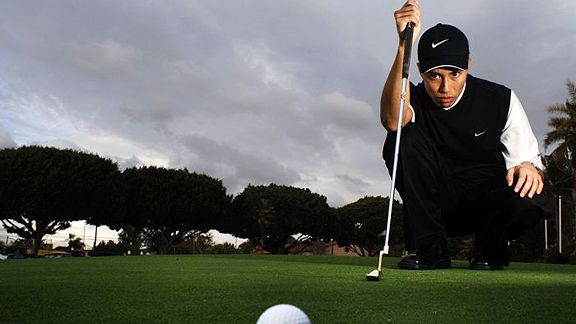 tigerwoodslookalike.com
Maybe you've heard: Being Tiger Woods is a bit of a hassle these days. But what about being a Woods look-alike?
Page 2 caught up with Herme Chua, a 38-year-old database administrator from Monrovia, Calif., who also works as a Woods impersonator.
Page 2: What sort of impact have Woods' sex scandals had on your look-alike business?
Chua: After the scandal broke, I've gotten a lot more attention. Some of the offers have been a lot weirder than normal, like appearing at adult clubs and being in an adult film.
What did the adult film and club offers entail?
I won't give the name away, but I believe it was a major adult film company, and they just wanted me to appear like I was texting someone. I was promised there wouldn't be any sex or nudity. [The clubs] told me that it would be six different cities on six nights. They just wanted me to show up. I would have bodyguards. They said that they hired three of Tiger's mistresses to be there.
I didn't even get far enough to discuss money, because I didn't want to be a part of it. I'm Catholic, and I'm active in my son's school and help coach the track team.
Anything else?
I've been in a couple of spoof videos that appeared on YouTube. [Editor's note: you can see one here]. I also appeared on the "Maury" show.
What was that like?
They contacted me and asked if I wanted to be a part of their celebrity look-alikes show. It was a lot of fun, and because of the scandal, they brought in a bikini model to join me in some funny shots, like her watching me text and chasing me with a golf club. I got booed by the audience. I had never been booed before, so that was a first. I didn't really mind because I knew it was directed at the real Tiger.
What kind of gigs did you typically do before Woods' scandals?
Birthday parties, conventions, bar mitzvahs, videos, movies and golf tournaments. Most of the time I just need to meet and greet people and have photos taken with them, but other events require speeches or even acting. I had to give a speech every day during the KLM Open golf tournament in the Netherlands.
How did people treat you?
People were always positive.
What was your most memorable gig as a Woods impersonator?
[+] Enlarge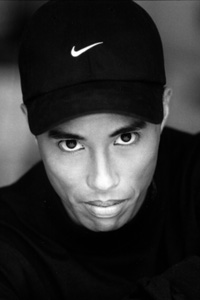 tigerwoodslookalike.comHerme Chua has worked as a Tiger Woods impersonator since 2000.
The "Live with Regis and Kelly" show. I was working from home, and the TV was on, and it happened to be on their show. They announced that they were having a celebrity look-alikes search. I entered online and they flew me out to New York on a Tuesday. It was a fun experience -- I even got Kelly to autograph an "I (heart) Kelly" T-shirt for me.
On the plane ride home, I watched the movie "The Pursuit of Happyness" and thought to myself that even though my chances of winning the contest were pretty slim, if I did happen to win, I should donate some of it to a homeless shelter. There were all types of look-alikes that entered the contest, like Oprah, Angelina Jolie, Jennifer Aniston and Dr. Phil. When the show announced the winner on Friday, I couldn't believe it -- I had won, out of nearly 10,000 entries, and the grand prize was $10,000.
After talking it over with my wife, I ended up donating a total of $5,000 to the Union Rescue Mission -- the largest homeless shelter in L.A. -- and $1,000 to the Tiger Woods Foundation. I also got my employer to match my donations, so a grand total of $10,000 went to the Union Rescue Mission and $2,000 went to the Tiger Woods Foundation.
I believed that it was truly a blessing, and I had to share it.
How much does a gig pay, and how often do you work?
[Pay] really varies, and it really depends on the type of gig it is. Sometimes you get paid SAG/AFTRA rates, while others will pay whatever rate you ask for. I probably get anywhere between 10 to 20 gigs a year.
How did you get started with this?
In 2000, I attended a golf tournament in Palm Desert called the Battle at Bighorn. I was watching Tiger play, and people on the sidelines were asking me for photos or autographs. After that happened, I did some research on the Internet, found some agencies that specialized in celebrity look-alikes and e-mailed them my story. Within the next two to three weeks, I got my first Tiger job.
Do you ever get mistaken for Woods outside of your gigs?
I was riding on a plane one time and one of the flight attendants said "It's Tiger Woods riding on our plane!" I often see people staring at me. Most people realize that I'm not the real thing, but once in a while, you fool some people. It's fun to watch how they act: starstruck, in awe. I hate to ruin their experience, but I can't let it go on without breaking the news to them.
Have you ever met Woods?
I have not, but I would love to meet him one day.
What can Woods do that would be most helpful to you as an impersonator?
Tiger needs to return to popularity again. I think he eventually will. The public will forgive him over time; after all, we are all human, and we are not perfect. If he is more conscientious towards the fans, like smiling at them and talking to them, he can win them back.
Patrick Hruby is a freelance writer and ESPN.com contributor. Contact him at PatrickHruby.net.