Commentary
Freddy Adu was the Next Big Thing
Updated:
May 13, 2010, 12:46 PM ET
By
Patrick Hruby
| Page 2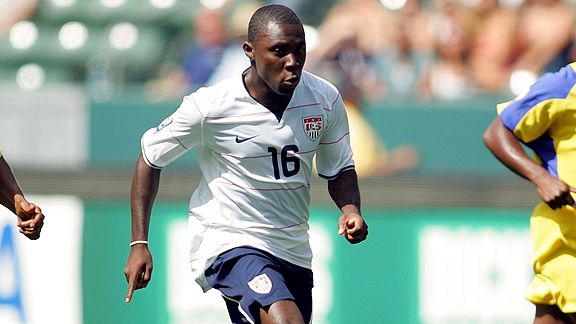 Victor Decolongon/Getty ImagesFreddie Adu, playing here for the U.S. team several years ago, was left off the World Cup roster.
Has it only been six years? It feels like so much longer. In early 2004, I stood on the sidelines of a sun-kissed soccer pitch in Bradenton, Fla., watching Freddy Adu make his unofficial D.C. United debut in a scrimmage against the U.S. national team. As far as I remember, his performance was unremarkable; on the other hand, Adu was 14 years old. Which is why Leslie Stahl of "60 Minutes" was there -- gamely pretending to know something about soccer -- and why every Adu pass and ball feint was captured by not one but two camera crews.
He was the Next Big Thing.
National news stories. A commercial with Pelé. Turning down European clubs such as Manchester United to become the top pick in the MLS draft. At the time, Adu's future seemed both limitless and preordained, because this is how it works with Next Big Things: we place them in an echo chamber of expectations, fashion a narrative and wait for them to trace over the words. We ought to know better; experience ought to teach us so; as Adu himself told me, "You know what? I have a lot of time."
Only we can't help ourselves.
Sports are tangible, but caring about sports is essentially an imaginative exercise -- it takes as much to ascribe meaning and import to the kicking of a plastic ball -- which leaves athletes both the heroes and the prisoners of our projected anxieties and desires. Soccer savior. Face of the future. Embodiment of an accelerating world. Adu was kid kicking a ball. The rest was us. The way it always is. The way it is with the NFL draft, with the rush to de-annoint LeBron James. In theory, we could simply let things happen and then weigh in; in practice, we'd be bored to tears.
Adu continues to kick balls. Not as well as we hoped. The former Next Big Thing has bounced around MLS and Europe; this week, he was left off the U.S. World Cup squad. He seems old, finished. He is only 20. Stahl has moved on. Our imaginations have, too. Adu tore up the narrative. He still has a lot of time.
Meanwhile, Page 2 takes a look back at what people have been saying about Adu when through the years:
"At some point we'll look at it again, but 13 is just too young."
-- MLS Deputy Commissioner Ivan Gazidis, Sports Illustrated, March 2003
"He does things on the field that other soccer players wouldn't think about. In that regard, he has done very well."
-- D.C. United teammate Earnie Stewart, Washington Post, February 2004
"There are going to be times where Freddy plays and he might not do anything individually but does great things for the team."
-- D.C. United captain Ryan Nelsen, Washington Post, March 2004
"The adults around Freddy are causing the problem."
-- U.S. national team coach Bruce Arena, New York Times, October 2005
"When we signed Freddy, there was an expectation that really was unrealistic, that he would become a superstar in MLS as a teenager."
-- MLS deputy commissioner Ivan Gazidis, New York Times, August 2007
"When the spotlight is on like that, just learning every day what you need to do to become a better player, earning the respect of your teammates -- all those things sometimes become second to the spotlight, and I think now Freddy has seen the bigger picture. He is maturing. It is a process."
- U.S. soccer coach Bob Bradley, Associated Press, June 2008
"The things he can do on the ball are special."
-- U.S. soccer star Landon Donovan, ESPN The Magazine, July 2008
"Freddy is still young, and he will tell you there are things along the way he did right and things he did wrong. Now he has to take all those things to the situation he is in and show he is continuing to grow."
--U.S. national team coach Bob Bradley, Yahoo! Sports, February 2010
"I watch video of me playing well in the Under-20 World Cup or the Olympics, and I'm like, 'Man, how can I not be playing here?' It's taken me the last year and a half to figure it out. I was always satisfied with making one or two plays during training and thinking I had a good practice."
-- Freddy Adu, Sports Illustrated, April 2010
Nina Mandell contributed to this article.
Patrick Hruby is a freelance writer and ESPN.com contributor. Contact him at PatrickHruby.net.