Commentary
Page 2's NFL Preseason Hall of Fame
Originally Published:
August 23, 2010
By
Patrick Hruby
| Page 2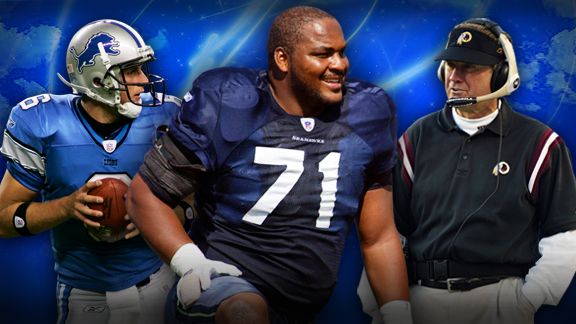 ESPN.com Illustration
Among the great, searing injustices of modern sports -- No. 15: the death of the bullpen car; No. 76: the failure of state and federal legislators to pass a constitutional amendment prohibiting uniforms containing teal -- one stands alone.
Namely, the lack of a Pro Football Preseason Hall of Fame.
MORE PRESEASON WARRIORS
Did we overlook your favorite NFL exhibition superhero on the list below? Send us your suggestions for the next class of the Preseason Hall of Fame.
Think about it: Every August, young n' hungry NFL wannabes risk life and limb for our grudging amusement, blocking and tackling and playing the sport America loves above all others, albeit sloppily and without the benefit of said sport's top players.
Nevertheless, are we not kinda sorta entertained?
If Jordan Palmer nicks his hand while throwing a pair of Hall of Fame Game interceptions, does he not bleed?
More to the point, if league owners continue to charge for preseason games as part of regular-season ticket packages, shouldn't those games count for something?
They should. And now? They do. Introducing Page 2's NFL Preseason Hall of Fame, a place to honor the individuals, teams and entities with the greatest impact on the month of August.
Without further ado -- and with ceremonial plaid sports coats that are at least five percent more garish than their mustardy Pro Football Hall of Fame counterparts -- please welcome the Class of 2010 ...
Steve Spurrier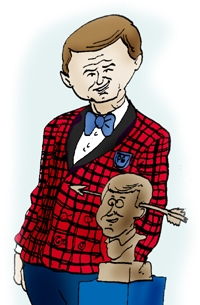 Position: Ol' Ballcoach
Team: Washington Redskins
Preseason bio: Heading into the 2002 American Bowl in Osaka, Japan, the newly minted Redskins coach summarized his complex offensive game plan like this: "We're going to pitch it around." Washington did just that, throwing 45 passes and five touchdowns in a 38-7 victory over the San Francisco 49ers that resembled Spurrier's fun 'n' gun era at the University of Florida -- in part because former Gator Danny Wuerffel quarterbacked the Redskins' unstoppable aerial onslaught, a revolutionary system that put the NFL's stodgy, hidebound, no-fun offensive coordinators on immediate notice.
Non-preseason bio: Finished 12-20 with Redskins, including a 20-10 loss to that same 49ers team in the 2002 regular season; resigned two seasons into a five-year, $25 million contract; habit of calling pass plays more than 55 percent of the time -- despite surrendering umpteen sacks and having a Pro Bowl runner in Stephen Davis -- left Washington's players wondering aloud to reporters, "What the hell are we doing on offense?" Osaka. That's what!
A.J. Trapasso
Position: Punter
Team: Tennessee Titans
Preseason bio: Made a memorable preseason debut by running a fake punt for a 40-yard touchdown against the Buffalo Bills in the 2009 Hall of Fame Game, arguably the greatest preseason play of the decade. Two weeks later, punted a ball into the Megatron high-definition television screen at the Dallas Cowboys' brand new stadium, generating an entire week of sports talk radio debates revolving around: (A) Jerry Jones' hubris; (B) if they can move the screen for a U2 concert, why can't they move it for football? (C) will punts off the screen be included in "Madden 11"?
Non-preseason bio: Waived by Titans during final preseason cuts; claimed by New York Jets but released the next day; spent a total of 44 days on the Tampa Bay Buccaneers' and Tennessee Titans' practice squads; signed and released by Denver Broncos during 2010 offseason.
The 2008 Detroit Lions
Position: Surprisingly not prone and/or hunched over in abject dejection.
Team: Yes, they are. Er, technically speaking.
Preseason bio: Led by unflappable quarterback Dan Orlovsky, workhorse runners Artose Pinner and Brian Calhoun and Drew Henson's unblemished (1-for-1) passing performance, the Lions got low, vindicated Matt Millen's much-maligned managerial skills and mauled all four of their preseason opponents by a combined score of 80-32, becoming only one of a couple dozen squads -- well, maybe more, but who's counting? -- to complete a perfect NFL preseason. Take that, Mercury Morris.
Non-preseason bio: Delivered the single most inept play of the season -- and also posted the worst record in NFL history at 0-16, joining the 1976 Buccaneers as the only winless teams in 50-plus years of professional football.
Fun fact: The '76 Bucs were quarterbacked by none other than Preseason HOF'er Spurrier!
Walter Jones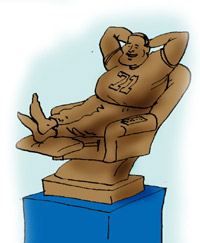 Position: Left tackle
Team: Seattle Seahawks
Preseason bio: He was Brett Favre before Brett Favre. Jones staged three consecutive training camp and preseason holdouts from 2002-2004 -- supposedly because Seattle's franchise tag prevented him from collecting a $10 million signing bonus, but also because he didn't much feel like sleeping in jammed-together college dorm beds and watching third-string quarterbacks overthrow street free-agent wideouts. (Fact: Even without the bonus, Jones was still among the highest-paid players in league).
Non-preseason bio: One of the dominant pass protectors of his era, Jones didn't participate in a single 2004 training camp practice ... and subsequently didn't allow a single regular-season sack. For showing that minicamps, OTAs and other year-round football practices -- we talking about practice! -- are maybe just a wee bit overrated, Jones gets our preseason HOF nod.
Ola Kimrin
Position: Kicker
Team: Denver Broncos
Preseason bio: Kicking for the Broncos in a 2002 preseason game against Seattle, Kimrin -- a former NFL Europe kicker and Swedish club soccer player -- booted a 65-yard field goal, which would have been an NFL record ... had it been kicked in a regular-season game. In 2004, he kicked a last-second, game-winning field goal to lift the Redskins over the Broncos (sweet justice!) and became front-page news in his home country.
Non-preseason bio: Kimrin was cut by Denver in favor Jason Elam -- one of the men whose 63-yard record Kimrin would have broken -- and bounced from the Cowboys to the Redskins (6-for-10 field goals in regular season games) to the Titans to NFL Europe to the Miami Dolphins before retiring in 2006.
Colt Brennan
Position: Quarterback
Team: Washington Redskins
Preseason bio: Dismissed as an undersized product of the system coming out of a pass-happy University of Hawaii offense, Brennan -- whose Hollywood QB-sounding name alone merits Preseason HOF consideration, along with Brock Berlin -- led all NFL rookies in 2008 preseason touchdown passes, yards and quarterback rating, three statistical categories that are, in fact, tracked. Tossing a last-minute, game-winning touchdown pass against the New York Jets -- on his 25th birthday, no less -- made Brennan a cult hero among Redskins fans, and even hip surgery that forced him to miss the entire 2009 season did little to cool the ardor.
Non-preseason bio: Has yet to take a regular-season snap, not even to take a clock-killing knee. Forebodingly gave up his No. 5 number for new Redskins quarterback Donovan McNabb, then was cut during 2010 training camp. Currently in camp with the Oakland Raiders.
The Astrodome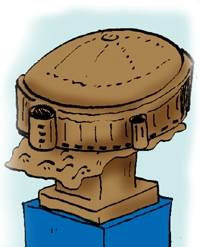 Position: Planet's first domed stadium was once considered the Eighth Wonder of the World ... around the same time (1965) MIT scientists performed the first computer-to-computer connection over a long-distance phone line. In other words: there's a first for everything.
Team: Home to the Houston Oilers
Preseason bio: In 1995, the Oilers and San Diego Chargers were forced to cancel an exhibition meeting because the Astrodome's artificial turf was too lumpy and raggedy. Believed to be the first time an NFL game was canceled outright -- remember: the league played a full slate of contests just two days after the Kennedy assassination -- the nixed Oilers-Chargers tête-à-tête lifts the Astrodome into the Preseason HOF for a single, simple reason: the less preseason football, the better.
Non-preseason bio: Hosted the first NCAA basketball game broadcast in prime time, Elvis, the Billie Jean King-Bobby Riggs "Battle of the Sexes" tennis match, Madonna, the NBA All-Star Game, the Rolling Stones, the Houston Astros, the 1992 Republican National Convention and, of course, Wrestlemania, the latter of which set a stadium attendance record. Go figure.
Quotable: Said then-Chargers receiver Shawn Jefferson, "As it turned out, we came halfway across the country for nothing" -- an assessment that would have applied even if the game had been played as planned.
Victor Cruz
Position: Wide receiver
Team: New York Giants
Preseason bio: An undrafted free agent from noted pigskin powerhouse UMass, Cruz earned overnight folk hero status by catching six passes for 145 yards and three touchdowns against the New York Jets during the recent "Monday Night Football" game that also served as the housewarming party for the new Meadowlands stadium. His best play? A slick, one-handed, highlight-reel grab 'n' sprint against Jets backup corner Dwight Lowery that may stand as the Manning-to-Tyree of preseason football.
Non-preseason bio: None as of yet. He was held to two catches for 30 yards in second preseason game against Pittsburgh. On the other hand, who cares? Earned a "Hard Knocks" shout out from Jets coach Rex Ryan, plus a congratulatory Tweet from LeBron James. Put him in the Hall!
VETERANS COMMITTEE SELECTIONS
The 1950 Los Angeles Rams
Position: All of 'em
Team: Duh
Preseason bio: Hung 70 points -- that's not a misprint -- on the Baltimore Colts in a preseason game. Why? Because a touchdown pass from quarterback Bob Waterfield to Fred Gehrke with one second left that would have given the Rams 77 points was nullified by a penalty. According to the book "The Pro Football Chronicle," Los Angeles coach Joe Stydahar said after that game, "Sure, we poured it on. I wish we could have beaten them by a hundred points." Asked a follow-up question about what is best in life, Stydahar cited the dual pleasures of seeing his enemies driven before him and hearing the lamentations of their women. (Note: we made the last part up).
Non-preseason bio: The Rams had the league's top offense, scoring 38.8 points per game. The Colts possessed the league's worst defense, surrendering 38.5 points per contest. When the two squads met in the regular season, Los Angeles scored -- you guessed it -- 70 points.
Babe Laufenberg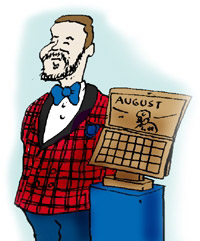 Position: Quarterback
Team: Washington Redskins
Preseason bio: Easily the most popular third-string signal-caller in Redskins history, and perhaps the franchise's best-known player who never saw action in a regular-season game. Like Brennan, Laufenberg led Washington to a last-second, come-from-behind preseason victory (over New England in 1985); like Brennan, he inspired cult-like devotion from local fans (men apparently grew "Save the Babe" facial hair to show solidarity with the bearded Laufenberg). Cut in favor of Jay Schroeder, Laufenberg returned to the Redskins when starter Joe Theismann suffered a career-ending leg injury, then was axed again to make room for eventual Super Bowl MVP Doug Williams.
Non-preseason bio: Started six games for San Diego following Dan Fouts' retirement, throwing for 778 yards, four touchdowns and five interceptions; threw one touchdown and six interceptions as a Cowboys backup in 1990. Credited with giving former Cowboys fullback Darryl Johnston the nickname "Moose," which could be his most significant NFL accomplishment.
Leon Hess
Position: Team owner
Team: New York Jets
Preseason bio: Taking a stand for truth, justice and the American way, Hess made sure the Jets were the last NFL team to force season-ticket holders to purchase preseason tickets. Never mind the Preseason HOF; the man deserves a Presidential Medal of Freedom.
Non-preseason bio: With the exceptions of the New York Sack Exchange and three seasons of the Bill Parcells era, Hess presided over a fairly lousy period in franchise history -- but then again, he did own the Jets.
Ron Vander Kelen
Position: Quarterback
Team: 1963 College All-Star Team
Preseason bio: Once upon a time -- from 1934 to 1976, actually -- the NFL preseason kicked off with an annual contest between the defending league champion and a team of top collegians, held at Chicago's Soldier Field. Perhaps predictably, the college kids didn't fare so well, winning a single game between 1959 and the '76 finale. That lone victory? A 20-17 stunner over the '63 Green Bay Packers, a Vince Lombardi-coached team that went 14-1 the previous season and featured 10 future Hall of Fame players. Vander Kelen was instrumental in the upset, completing nine of 11 passes for 141 yards and the game-winning touchdown, a third-down toss to former Wisconsin teammate Pat Richter.
Non-preseason bio: Vander Kelen threw for 401 yards in the 1963 Rose Bowl, nearly leading Wisconsin back from a 42-14 halftime deficit against USC. Nevertheless, he went undrafted by the NFL and ended up with the AFL's Minnesota Vikings, where he started five games over five seasons.
Fun fact: Vander Kelen was born in, yes, Green Bay, Wis.
LIFETIME ACHIEVEMENT AWARD
Brett Favre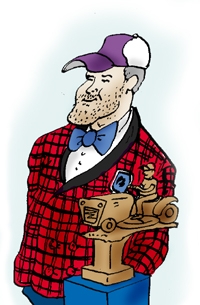 Position: Lawn-mower jockey; living, breathing high school football Jugs machine
Team: Green Bay Packers New York Jets Minnesota Vikings
Preseason bio: When you can angle for a more lucrative contract, jockey to sign with the team of your choosing, hang out at home and completely dominate the news cycle, year after year, without actually having to play in a preseason game, or sit through the soul-sapping tedium of training camp ... well, you're doing something legendary. And very, very right.
Non-preseason bio: Accomplished pitchman; distinguished weeper; pretty good football player.
Cartoon illustrations by Kurt Snibbe.
Special thanks to Dan Daly, Bill Williamson, Paul Lukas, Aaron Schatz, Thomas Neumann and Paul Kuharsky for contributing to this article.