Commentary
Reggie Bush inspires revisionist history
Originally Published:
September 9, 2010
By
Patrick Hruby
| Page 2
The Heisman Trophy Trust is apparently considering retroactively stripping the award from 2005 winner Reggie Bush, who has been accused of accepting money and other benefits from sports agents while playing for USC, according to reports.
But why stop there?
Here at Page 2, we love the notion of retroactive justice. Of righting wrongs, making amends, balancing the scales years after the fact. None of us can actually change the past -- don't worry, Hootie, your 16 million sold copies of "Cracked Rear View" are forever safe -- but there's nothing to stop us from making a toothless, largely symbolic stab at it.
Herein, a list of historical sports and pop culture figures whose awards and accomplishments we'd like to see revoked and revised:
Gino Torretta
[+] Enlarge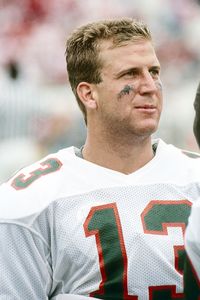 James D. Smith/Getty ImagesMiami's Gino Torretta completed
a whopping 56.7 percent of his passes en route to the Heisman.
Award: The 1992 Heisman Trophy.
Revocation rationale: Never mind the former University of Miami quarterback's pro football bustitude. The Heisman is a campus award. And during the '92 college football season, Torretta was probably the third-best signal-caller in the state of Florida, behind Florida State's Charlie Ward and Florida's Shane Matthews. Three years ago, Sports Illustrated ranked the past 20 Heisman Trophy winners. Torretta was No. 20.
Suggested amends: Re-award the stiff-armed statuette to runner-up Marshall Faulk, who at low-profile San Diego State rushed for 1,630 yards and 15 touchdowns despite late-season injuries.
Cuba Gooding Jr.
Award: 1996 Academy Award for Best Supporting Actor, "Jerry Maguire."
Revocation rationale: Four words: SHOW ME THE MONEY! Four more words: SHOW ME THE MONEY! Four words on top of that: "Snow Dogs." "Boat Trip." Also, did you know that Gooding as Rod Tidwell can inspire your next corporate event with his style and humor? Yes he can! SHOW HIM THE MONEY!
Suggested amends: Send a cyborg back to 1996 -- not to terminate Oscar voters, but rather to present them with VHS tapes of "Chill Factor."
Mark McGwire and Sammy Sosa
Award: 1998 Sports Illustrated Sportsmen of the Year.
Revocation rationale: Because in retrospect, the Great Home Run Chase was more juiced than a Mr. Olympia contest.
Suggested amends: Un-retouch this cover photo so that needle pockmarks and bacne are clearly visible.
Britney Spears
Award: No. 16 on the 2009 Maxim Hot 100 List.
Revocation rationale: It's debatable -- highly debatable -- that jailbait pop tart-turned-cautionary tale cliché Spears belongs anywhere near a list of the supposedly hottest 100 females on the planet. What isn't debatable is her position on said list: No. 16, way ahead of Eva Mendes (No. 24), Angelina Jolie (No. 26), Blake Lively (No. 33), Beyoncé (No. 53) and Padma Lakshmi (No. 95). If Maxim was in charge of the NCAA tournament brackets, Coppin State would be a No. 2 seed.
Suggested amends: Maxim dropped Spears to No. 54 on the 2010 list. Better idea? Expand to a "Hot 1,000,000,000" format, or else leave her off entirely.
Mike Brown
Award: 2009 NBA Coach of the Year.
Revocation rationale: Lead your club to a league-best 60-plus wins and then get bounced in the conference playoffs? A fluke. Do the very same thing the next season? A pattern. Fair or not, the captain goes down with the ship.
Suggested amends: Replace Brown's award with a blank wine-and-gold colored baseball cap, given that there is no actual Roman numeral for "zero."
Eugene Robinson
Award: The 1999 Bart Starr Award, given to athletes who exhibit "high moral character."
Revocation rationale: On the morning before Super Bowl XXXIII, then-Atlanta Falcons safety Robinson received the award from the Christian group Athletes in Action; that evening, he was arrested for soliciting an undercover female police officer posing as a prostitute. (Note: irony is not a formal criminal charge.)
Suggested amends: Robinson subsequently announced that he would give back the award ... which was actually the right thing to do, a decision we can't in good conscience make fun of. Rats!
John Rambo
Award: A "thumbs up" from film critic Gene Siskel for "Rambo III."
Revocation rationale: Never mind the artistic merits of a film that: a) features a baby oil-slathered Sylvester Stallone killing an evil Soviet commander by driving a tank into his helicopter; b) was lauded by the 1990 Guinness Book of World Records as the most violent movie ever made (221 acts of violence, 70 explosions, 108 on-screen character kills). Instead, simply consider the plot: Rambo goes to Afghanistan to fight the Russians, teaming up with the Mujahideen ... a.k.a. Osama and Company.
Suggested amends: "Rambo V: Taliban Takedown" or bust.
Michael Phelps
[+] Enlarge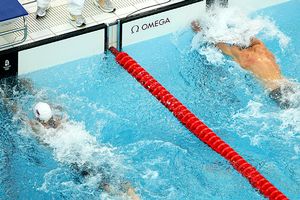 Nick Laham/Getty ImagesMaybe we need instant replay in Olympic swimming?
Award: 2008 Olympic gold medal in the controversial, hotly contested 100-meter butterfly swim race.
Revocation rationale: In 2009, Christophe Berthaud, the general manager of official Olympic timekeeper Omega, admitted that Serbia's Milorad Cavic actually touched the underwater time pad first, while Phelps was simply the first man to push the pad.
Suggested amends: Give both swimmers gold medals. Seriously, how hard would that have been?
Kevin Costner
Award: 1991 Academy Award for Best Director, "Dances With Wolves."
Revocation rationale: Believe it or not, "Goodfellas" was actually directed by Martin Scorsese.
Suggested amends: Send Scorsese a belated care package containing flowers, fruit, chocolates, the 1991 Oscar statuette and -- because schadenfreude-driven laughter is the best medicine -- a copy of the Costner-directed "The Postman."
LeBron James
Award: 2009-10 NBA MVP.
Revocation rationale: Plenty of NBA MVPs -- David Robinson, Steve Nash, Kobe Bryant, Karl Malone and others -- have failed to lead their teams to league titles in the same season. Only James, however, spent the entire subsequent summer participating in a self-created media frenzy that culminated in the tacit admission that he's not good enough to carry a team to a championship. The lesson for future MVP winners? At least act the part.
Suggested amends: Re-inscribe James' name on the trophy in comic sans font.
Paris Hilton
Award: Razzie Award for Worst Actress of the Decade, "The Hottie and the Nottie."
Revocation rationale: An utter travesty. On one hand, Hilton can't out-act a dripping cheeseburger; on the other, Mariah Carey received 70 percent of the 2001 Worst Actress vote for "Glitter," making her the Razzies' biggest single individual vote getter of the decade. Incompetence like that shouldn't go unrewarded!
Suggested amends: Add ceremonial first pitch to 2011 Razzies; invite Carey to throw it.
Joe DiMaggio
Award: 1947 American League MVP.
Revocation rationale: Red Sox outfielder Ted Williams won the Triple Crown yet saw the Yankees' DiMaggio earn MVP honors. Legend has it that a Boston writer who feuded with Williams spitefully left his name off the ballot; in reality, the Splendid Splinter simply lost a close, one-point vote.
Suggested amends: Force ESPN to apologize for its vote-affecting, blatant Yankees-Red Sox bias -- oh, wait ...
Eric Clapton
Award: 1992 Grammy for Best Rock Song, "Layla."
Revocation rationale: "Layla" is a fine tune. But Clapton's contemplative, bluesy, unplugged version is NOT A ROCK SONG. Meanwhile, Nirvana's epochal "Smells Like Teen Spirit" not only rocked but also solved a larger socio-musical problem (hair metal) than it spawned (copycat grunge).
Suggested amends: Given that the Grammys have a long history of egregious musical crimes -- No. 23: couldn't get enough Milli Vanilli; No. 146: snubbed Metallica to hand extreme flutist Jethro Tull the inaugural award for Best Heavy Metal Performance in 1988 -- a full United Nations investigation is in order, complete with show trial at The Hague.
The 1972 Soviet Men's Olympic Basketball Team
[+] Enlarge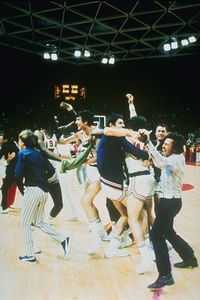 AP PhotoThe '72 U.S. men's basketball team celebrates -- prior to the Soviets getting three more chances to win.
Award: Gold medal.
Revocation rationale: The Soviets stole it. Plain and simple. You know it. I know it. Coach K knows it. With the United States leading by a point and three seconds left, game officials gave the USSR not one, not two, but three chances to inbound the ball and score. To this day, American players refuse to accept their silver medals, which are kept in a Swiss vault. Read more here.
Suggested amends: Rewrite the ending of "Rocky IV" so that after Gorbachev stands and applauds Balboa's "we all can change" speech, members of Russia's '72 basketball squad appear ringside, bow their heads in silent shame and hand their gold medals over to Paulie.
Paul Hornung
Award: The 1956 Heisman Trophy.
Revocation rationale: A fine all-around offensive player, Hornung won the trophy despite playing for a Notre Dame squad that finished 2-8, the only time the Heisman has been awarded to a player from a team with a losing record. He also became the first player to win the Heisman without gaining the most first-place votes -- not exactly a shock, given that the second- and third-place finishers, Johnny Majors and Tommy McDonald, arguably had better seasons. Of course, that's not the crazy part. The crazy part is this: Jim Brown finished fifth in the Heisman voting, despite amassing 14 touchdowns and 986 rushing yards on 6.2 yards per carry ... and also being Jim Freaking Brown, arguably the greatest football player ever.
Suggested amends: Create a special award for athletes who were hosed because of racism; give it to Brown and Jesse Owens, who didn't win the 1936 Sullivan Award as the nation's top amateur athlete despite sticking it to Hitler at the Berlin Olympics.
You
Award: 2006 Time Magazine Person of the Year (complete with reflective cover!)
Revocation rationale: OK, sure. Time's pandering cover line -- "You control the information age. Welcome to your world" -- was mostly correct. But here's the problem: you made "The Da Vinci Code" the second-highest grossing film of 2006. You made Daughtry's self-titled album the No. 9 seller of the year. You voted Taylor Hicks an "American Idol" winner, and you ensured that Britney Spears, Paris Hilton and Lindsay Lohan were three of the year's top 10 non-adult Internet searches. In short, Time Magazine may have misjudged you.
Suggested amends: Well, you could start by not hanging on the Kardashian clan's every single tweet. But that's just a suggestion.
Lt. Tom "Iceman" Kazansky
Award: Top Pilot, Navy Fighter Weapons School, 1986.
Revocation rationale: Everyone knows Lt. Pete "Maverick" Mitchell deserved the award, even though he's dangerous.
Suggested amends: Put Kazansky's stuffy, arrogant, play-by-the-rules award where it belongs -- in the ladies room, with the plaque for the alternates!
Christian Laettner
Award: Member, original Olympic basketball Dream Team.
Revocation rationale: Including Laettner -- who averaged 12.8 points and 6.7 rebounds per game over a 12-season NBA career -- on the greatest hoops squad ever assembled is like putting Gerald Ford on Mount Rushmore. Especially when Isiah Thomas was left off the roster.
Suggested amends: If digital film editing can be used to insert Forrest Gump into famous historical events, it can be used to remove Laettner from Dream Team footage.
"American Beauty"
Award: 1999 Academy Award for Best Picture.
Revocation rationale: Like everyone else, the Academy makes mistakes. Think "How Green Was My Valley" topping "Citizen Kane" in 1941; "Driving Miss Daisy" winning in a year when "Do the Right Thing" wasn't even nominated; the regrettable triumphs of "Crash" and the aforementioned "Forrest Gump." Still, no Oscar flub is greater than "American Beauty," a remarkably silly film whose pretentious art house packaging masks themes (suburban American life is so rote, repressive and soul-destroying!) and characters (midlife crisis guy! Uptight woman! Rigid homophobe who's gay!) that are way more clichéd than the society it attempts to send up. Oh, and the flying plastic bag? That wasn't an insightful metaphor. That was a reason to keep the recycling bin closed. So much beauty!
Suggested amends: Place Oscar statue in said plastic bag. Place bag in trash can. Voila!
Nick Nolte
Award: People Magazine's Sexist Man Alive, 1992. No, really.
Revocation rationale: This.
Suggested amends: Actually, some things can't be fixed.
Scoop Jackson, Dave Wilson, Thomas Neumann, Mike Philbrick and Cam Martin contributed to this article.
Patrick Hruby is a freelance writer and ESPN.com contributor. Contact him at PatrickHruby.net.