Commentary
Randy Moss inspires homecoming list
Originally Published:
October 6, 2010
By
Patrick Hruby
| Page 2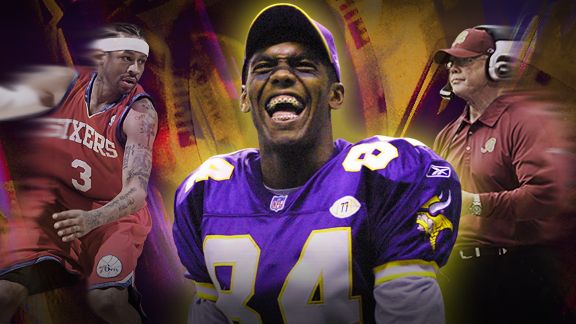 ESPN.com Illustration
Randy Moss is heading back to the Minnesota Vikings. But will a return to his original team -- the squad with which he once established himself as the NFL's most feared offensive player -- be a boon to the talented, mercurial and aging receiver?
History suggests otherwise.
Thomas Wolfe was wrong: You can go home again. Just don't expect a parade. A quick survey of previous sports and pop culture homecomings reveals decidedly mediocre results:
Ken Griffey Jr.
Opening act: Smiling, sweet-swinging Seattle center-field phenom considered the best player in baseball; hit .292 with 417 home runs and 1,216 RBIs for the Mariners while winning 1997 AL MVP award and helping revive local enthusiasm for a franchise that flirted with relocation; grungelike domination of the 1990s best exemplified by his otherworldly performance in his namesake Nintendo game, in which a cheat code made it literally impossible to bat with Griffey and not smack a homer.
Return engagement: After an injury-ridden stint in Cincinnati -- a sort-of homecoming for Griffey, whose father played for the Reds -- Griffey re-signed with the Mariners in 2009 and hit 19 homers as a part-time designated hitter despite a left knee injury; in 2010, the 40-year-old Griffey hit just .184 with no homers and had to deny reports that he fell asleep in the clubhouse during a game before retiring in June.
Homecoming verdict: Meh. First season back in Seattle was modestly successful, as Griffey's teammates carried him off the field after their final game; second season was less necessary than a Temple of the Dog reunion, between Napgate -- what, Bobby Bonilla wasn't around to play cards? -- and a steep production decline that led to Griffey getting ingloriously benched.
[+] Enlarge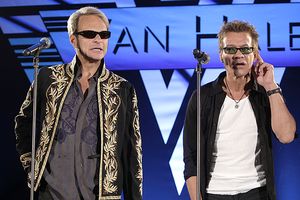 AP Photo/Kevork DjansezianDavid Lee Roth and Eddie Van Halen are together again, which should end well. Right?
David Lee Roth
Opening act: Rolling Stone once described the Van Halen front man -- who left the band in 1985 in part to pursue a solo career, in part because Roth and Eddie Van Halen pretty much hated each other -- as "the most obnoxious singer in human history, an achievement notable in the face of long tradition and heavy competition." And to think: This was written before Roth did the flying splits in the video for "Jump."
Return engagement: Coming off an adult Vegas lounge act -- what, you were expecting philharmonic conducting? -- Roth rejoined Van Halen in 1996 for all of four months, as Roth and Eddie Van Halen openly feuded at the MTV Music Awards and the band dumped Roth for the guy who sang "More Than Words." Oh, the indignity!
Homecoming verdict: Incomplete. On one hand, Roth and Van Halen joined forces for a lucrative, well-received 2008 concert tour; on the other, they have yet to record any actual, you know, new music.
Allen Iverson
Opening act: Diminutive, ultra-athletic, volume shooting -- read: chucker -- guard captivated Philadelphia and national fans alike with fearless playing style and "keepin' it real" attitude; carried Sixers to 2001 NBA Finals and won regular-season MVP award; made a Larry Brown-coached team almost watchable on offense; joined Jim Mora, Mike Gundy and Dennis Green on the sports news conference Mount Rushmore.
Return engagement: After announcing plans to retire from the NBA in late 2009, The Answer rejoined the Sixers for a two-and-a-half-month stint marked by Iverson missing five games and the All-Star Game, both reportedly to be with his ill daughter; later reports indicated that Iverson also has gambling, alcohol and financial problems.
Homecoming verdict: Depressing. Recent reports that Iverson considered playing in China are all the sadder given that his alleged personal issues might make fellow guard/Vaseline-eating expat Stephon Marbury seem centered and stable.
[+] Enlarge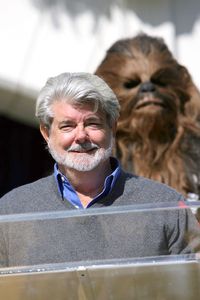 Michael Buckner/Getty ImagesGeorge Lucas can't quit Chewy.
George Lucas
Opening act: "Star Wars," only the greatest toy-merchandising racket in human history. (Oh, and the original trilogy is pretty good, too. Except for the Ewoks. Teddy Ruxpin is no match for an Imperial Stormtrooper, no matter how lousy of a shot the latter has proved to be.)
Return engagement: Three words: Jar Jar Binks. Two more words: Hayden Christensen. One more word on top of that: Yippeee!
Homecoming verdict: Painful. Like trying to engage hyperdrive ... and then settling for the safety of a live asteroid field. As Yoda might note: Stilted dialogue, wooden acting and green-screen special effects do not an entertaining series of movies make. Perhaps "Howard the Duck" wasn't a fluke.
Mark Messier
Opening act: Led the New York Rangers to the 1994 Stanley Cup -- the franchise's first title in 54 years -- by notching a hat trick in a playoff elimination game and the Cup-winning goal in Game 7 of the finals. Became beloved New York sports icon and was dubbed "Mr. June" by new mayor Rudy Giuliani.
Return engagement: Left New York for Vancouver in 1997 over a contract squabble, then returned from 2000 to 2004. In a welcome-back news conference, Rangers symbolically buried a hatchet, and Messier guaranteed a playoff berth, much as he once guaranteed a Game 6 victory over the rival New Jersey Devils in the 1994 playoffs. Unlike in '94, Messier was unable to deliver, as the Rangers missed the postseason all four years.
Homecoming verdict: Ho-hum. Make good on a sports guarantee and you're Joe Namath; fail to make good and you're Matt Hasselbeck -- "We want the ball, and we're going to score."
Luke Perry
Opening act: As soulful, tormented, you-just-don't-understand-man! bad-boy loner Dylan McKay on "Beverly Hills, 90210," Perry parlayed boozing, drug addiction, Mexican swordfighting and general good-looking, play-by-his-own-rules rebelliousness into one of the most iconic roles in 1990s prime-time television. (Fun fact No. 1: Perry was 24 when he started playing the 16-year-old McKay. Fun fact No. 2: Perry originally auditioned for the role of Steve Sanders.)
Return engagement: Came back as a "special guest star" for "90210's" final two seasons.
Homecoming verdict: Who knows? Like the rest of America, we didn't watch the last two years of the show.
Scottie Pippen
Opening act: Chicago Bulls forward/defensive stopper was both Robin to Michael Jordan's Batman and a fine player in his own right, earning a spot on the original Dream Team and a spot on the NBA's list of its 50 Greatest Players.
Return engagement: After productive campaigns in Houston and Portland, re-signed with Chicago in 2003. Injuries limited Pippen to just 23 games in which he averaged 5.9 points and 3.0 rebounds per contest -- well below his career averages -- and he retired the next offseason.
Homecoming verdict: A dud, and not the deliciously milk-chocolaty kind. Pippen went on to make a bigger impact at age 42 during a 2008 cash-grab stint in Scandinavia, averaging 14 points and 10 rebounds over three games.
[+] Enlarge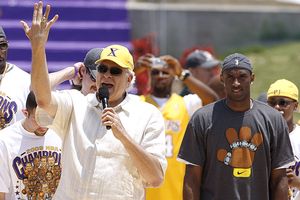 AP Photo/Matt SaylesPhil Jackson won even more titles and got a nifty hat upon returning to the Lakers.
Phil Jackson
Opening act: Coached the Los Angeles Lakers to three straight NBA titles, then left after the club's implosion against the Detroit Pistons in the 2004 Finals. In a subsequent tell-all book, "The Last Season," Jackson labeled Lakers superstar guard Kobe Bryant "uncoachable."
Return engagement: The last season? Uncoachable? That's so 2004. After taking time off to swim in the Pacific Ocean and watch the Australian Open in person, Jackson returned to the Lakers in 2005, later steering the club to back-to-back titles on the strength of Bryant's scoring prowess and the acquisition of Pau Gasol from Memphis in exchange for smallpox-infected blankets and three magic beans.
Homecoming verdict: A resounding success. The exception that proves the rule. Just check out that hat!
Steve Jobs
Opening act: Turned nascent Apple computer into one of Silicon Valley's pre-eminent companies.
Return engagement: Turned flailing Apple computer into one of the world's pre-eminent companies.
Homecoming verdict: Apple's stock price on Sept. 16, 1997, the day Jobs returned as CEO? $5.48 per share. The company's stock price on Tuesday? $288.94 per share. Do the math.
New Kids on the Block
Opening act: Came in as "Hangin' Tough" boy-band lions, topping Forbes magazine's 1991 list of the highest-paid entertainers and spawning their own "Hammerman"-esque Saturday morning cartoon. Went out like "NKOTB" lambs, as laughably transparent attempts to remain relevant/exude adult sex appeal -- read: "Dirty Dawg" -- couldn't keep the group from being on the wrong side of pop music history.
Return engagement: A series of mediocre solo careers preceded the group's 2008 reunion, which produced a return-to-boy-banditry album called "The Block" that went gold ... in Canada.
Homecoming verdict: Predictably tepid. On one hand, the group performs on yearly concert cruises -- a slight step-by-step down from 1991 estimated merchandise sales of $400 million -- and reportedly will tour with whatever remains of the Backstreet Boys next year; on the other hand, NKOTB's 2008 tour featured Lady Gaga as an opening act -- seriously! -- that ought to count for something.
[+] Enlarge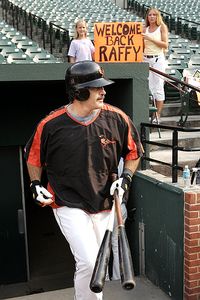 Win McNamee/Getty ImagesWelcome back, Raffy! Wait, nevermind.
Rafael Palmeiro
Opening act: From 1994 to 1998, averaged 32 home runs and 111 RBIs per season for the Baltimore Orioles.
Return engagement: From 2004 to 2005, amassed one Jose Canseco steroids-use accusation, one positive steroids test, multiple steroids denials, one reported nonexplanation to an MLB panel regarding his positive steroids test, one 10-day suspension, one pair of earplugs (to block out boos in Toronto) and one congressional finger-wag for the Orioles.
Homecoming verdict: About as helpful to the woebegotten O's as an actual shot of vitamin B-12.
Joe Gibbs
Opening act: Coached the Washington Redskins to three Super Bowl titles from 1982 to 1991. More impressively, did it with three different quarterbacks.
Return engagement: From 2004 to 2008, compiled a 30-34 record with one playoff victory and two postseason appearances.
Homecoming verdict: So-so. Play calling, talent acquisition and game management all were sore spots compared to Gibbs' butt-kicking first go-round; in his defense, he did outperform Steve Spurrier.
Sean Connery
Opening act: Bond. James Bond. Only the suavest, most iconic movie badass of all time.
Return engagement: "Never Say Never Again."
Homecoming verdict: Deflating. When Connery retired from Bond-dom in 1971, he told reporters he would "never" play the British superspy again; 12 years later, the 53-year-old actor reprised the role in a campy, mostly mediocre flick that made money -- about $160 million, almost as much as "Octopussy" -- but ends with Bond winking at the camera. No. No. A thousand times no.
Billy Martin
Opening act: From 1975 to 1978, managed the New York Yankees to two World Series appearances and one championship; after constant feuding with team owner George Steinbrenner and star slugger Reggie Jackson, was forced to resign when he told reporters that the duo deserved each other because "one's a born liar, and the other's convicted" -- the former insult a reference to Jackson, the latter to Steinbrenner making illegal donations to Richard Nixon's 1972 presidential campaign.
Return engagement: Take your pick! Martin returned in 1979 and was fired after a hotel fight with a marshmallow salesman; returned again in 1983 and was fired after a third-place finish; returned again in 1985 and was fired after breaking his arm in a fight with one of his pitchers; returned again in 1988 and was fired in June despite a 40-28 record.
Homecoming verdict: Inconclusive. At the time of his 1989 Christmas Day death in a car crash, Martin was working as a special consultant to Steinbrenner and preparing to manage the team the next season. Honestly, did he ever really leave?
Also receiving votes: Rickey Henderson to the Oakland A's, Tom Glavine to the Atlanta Braves, Pamela Anderson to Tommy Lee, Coca-Cola to its original formula, Andy Pettitte to the New York Yankees, the Beetle to Volkswagen and Dorothy to Kansas.
Patrick Hruby is a freelance writer and ESPN.com contributor. Contact him at PatrickHruby.net.
Nfl Team Apparel Youth Minnesota Vikings Stefon Diggs #14 Charcoal T-shirt Shop »