Commentary
2010: A month-by-month review
Originally Published:
December 30, 2010
By
Patrick Hruby
| Page 2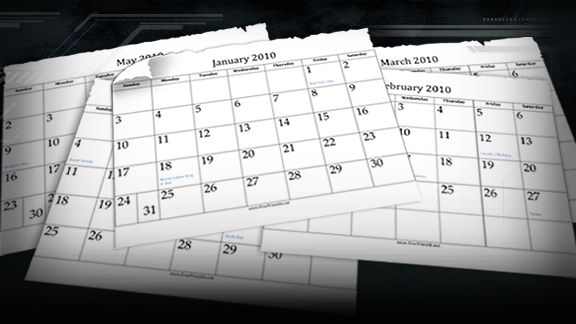 ESPN.com Illustration
The end of the year means year-end lists: best this, greatest that, the signature people and happenings of the past 12 months.
But what about the other stuff?
Oddities. Dubious achievements. World Cup-pickin' octopi. The events that made us laugh, raise an eyebrow, shake our spinning heads at the utter absurdity of our world.
In other words, the fun stuff.
As 2010 draws to a close, Page 2 looks back at a few of our favorite things from the year that was:
January
And those were the positive reviews: Pop musician and longtime Minneapolis-area resident Prince was mistakenly still trying to sandbag his way out of a recording contract so moved by Minnesota's playoff victory over Dallas that he composed and recorded the song "Purple and Gold," a tune described as "bloody horrible," "friggin' awful" and "an elevator music fight song."
"Case in point: my poll numbers." After Kentucky achieved college basketball's No. 1 ranking, President Obama called the team and said, "There is that tendency once you get to No. 1 to let down a little bit."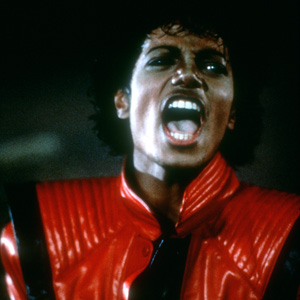 Michael Ochs Archives/Getty ImagesThe "Thriller" video will be preserved for future generations.
In no way did this foreshadow the midterm congressional elections: The Wildcats lost their next game.
Best 20-years-late impression of Jon Lovitz's "yeah, that's the ticket" guy EVER: Skier Bode Miller said he would attempt to qualify for tennis' U.S. Open following the Vancouver Games.
What, the Library of Congress can't type "Baseball Boogie" into YouTube? The Library of Congress announced that Michael Jackson's "Thriller" would become the first music video to be preserved for eternity in its National Film Registry.
In case Aquinas' five proofs for God's existence aren't sufficient: The NCAA announced that beach volleyball will become an official Division I sport in 2011.
We're gonna need a bigger boat: Nude photos of Portland Trail Blazers center Greg Oden were leaked onto the Web.
February
No kidding -- those poor Haitians don't even have massage therapists! Said North Carolina basketball coach Roy Williams, "Our massage therapist told me, 'You know, Coach, what happened in Haiti is a catastrophe. What you're having is a disappointment.' And I told her that depends on which chair she was sitting in, because it does feel like a catastrophe to me, and that's because it is my life."
Right, so what do you get if you win? A promotion for the shoes-and-apparel-selling website Zappos promised customers a day with the New Jersey Nets, including "the chance to rub elbows with Head Coach Kiki Vandeweghe!"
[+] Enlarge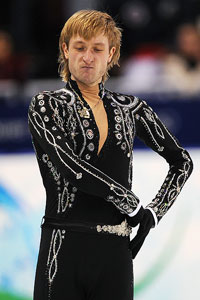 Vincenzo Pinto/AFP/Getty ImagesEvgeny Plushenko went platinum.
Nope. And clearly, neither was Team Russia: After Canada's men's Olympic hockey team beat their Russian counterparts 7-3, Pravda asked, "Was the Canadian ice hockey team on drugs?"
Was Evgeni Plushenko on drugs? After losing the men's figure skating competition to American Evan Lysacek, Russia's Plushenko claimed on his website that he won a "platinum medal."
At least he didn't lay claim to a platinum medal: After defeating Yale's Kenneth Chan at the national collegiate squash team championships, Trinity College's Baset Chaudhry unleashed a nose-to-nose primal scream in his diminutive opponent's face.
Not on the banned substance list? Viagra: Despite stocking the Olympic Village with 10,000 condoms -- approximately 14 per resident -- organizers had to import an emergency shipment when supplies ran low.
"Wizards? You mean D.C.?" Memphis Grizzlies center Hasheem Thabeet -- the No. 2 pick in the NBA draft -- was demoted to the Dakota Wizards of the D-League.
In the airline's defense, typing can burn up to 30 calories an hour: Director Kevin Smith engaged in a Twitter war with Southwest Airlines after he was kicked off a flight for being too fat.
"That's not a knife. This is a knife," Greg Oden said in an Australian accent: Nude photos of San Antonio Spurs guard George Hill were leaked onto the Web.
March
Marking the first and only circulation increase by a print newspaper in the past decade: After the student newspaper at Texas A&M-Commerce wrote a story detailing the drug-related arrests of two school football players, members of the team stole every copy of the publication.
Sure, but isn't that the whole point? Said school athletic director Carlton Cooper of the football players accused of theft: "I don't think they are smart enough to do this on their own."
[+] Enlarge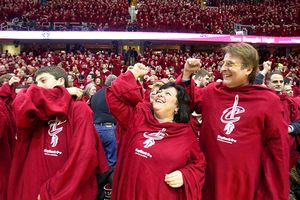 AP Photo/Tony DejakCavaliers fans in happier times.
Twitter would have been totally unprofessional: Los Angeles Clippers owner Donald Sterling fired general manager Mike Dunleavy via e-mail.
Everyone give generously! That means you, Pete! Andre Agassi apologized for making repeated comments about Pete Sampras being cheap during a Haitian relief charity tennis match.
He later expressed interest in signing Jerome James: Prospective Nets owner Mikhail Prokhorov lost a $53 million deposit after backing out of a deal to buy a $530 million French Riviera home.
The blanket with sleeves ... that doubles as an NBA free-agency bitter tears absorber: Cleveland Cavs fans set a Guinness World Record for the greatest number of people simultaneously wearing a Snuggie of the same color.
Unlike, say, boxing: PETA protested a Mike Tyson reality television series about racing pigeons, saying it was cruel to animals.
April
Global warming: man-made eco-catastrophe, or clever tip-increasing conspiracy by Churchill Downs bartenders? The Kentucky Derby offered a $1,000 mint julep made with water from a 10,000-year-old Pacific Ocean glacier.
Department Of Ideas That Would Have Worked So Much Better Eight Years Ago: Tiger Woods reportedly had a 90-person bodyguard detail at the Masters, the better to prevent run-ins with any of his former mistresses.
The New York Post immediately offered the pilot a back page headline-writing job: An airplane flew over the Masters trailing a banner that read, "Tiger: Did you mean Bootyism?"
Because Dunkin' Donuts is totally déclassé: Golfer Phil Mickelson went to Krispy Kreme while wearing his Masters green jacket.
Steal? Sure. Lie? Never! Before foiling a robber who grabbed the purse of a woman outside Walmart, minor league pitcher Curt Petersen approached the assailant and asked, "What are you doing?" To which the assailant replied, "I'm taking her car."
[+] Enlarge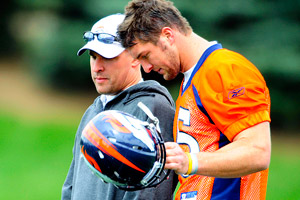 Ron Chenoy/US PresswireThe juice level was much higher in April.
Department Of Fights That Surprisingly Had Nothing To Do With Pert Plus: Chicago Bulls general manager John Paxson shoved coach Vinny Del Negro and had to be restrained over a dispute involving Joakim Noah's playing time.
#miami #boybandstageintroductions #bigtwoandahalf: NBA free agent-to-be Chris Bosh asked Twitter followers where he should play next.
Drawing on the legal precedents of New York Giants v. Coughlin and America v. Cowell: After finding junior hockey player Chris Doyle not guilty of assault in a case involving drinking and punching a door at an ex-girlfriend's apartment, Judge John Douglas of Prince Edward Island said, "If [Doyle] was charged with being a colossal [expletive], I would find him guilty."
Authentic game-day pricing would have meant $8.99 per can: Convenience store 7-Eleven introduced "Game Day" beer, selling for $8.99 per 12-pack.
Another case for Judge John Douglas! Miami Dolphins general manager Jeff Ireland asked NFL draft prospect Dez Bryant if his mother was a prostitute.
But Jeff Ireland is the inappropriate one? Said NFL draft prospect Tim Tebow of his meeting with Denver Broncos coach Josh McDaniels, "It was just intense, and it was ball, and it was juice. The juice level in that room was high, and it was awesome."
May
In his defense, he was watching the Mariners: Seattle slugger Ken Griffey Jr. allegedly fell asleep in the team's clubhouse during a game.
Cause of Accident -- Mild Irony: While driving to a news conference to announce his World Cup roster, Argentina national soccer coach Diego Maradona ran over a journalist's leg.
"Seriously! Retract it into your body or something!" Shouted Maradona at the man he struck with his car, "What an [expletive] you are! How can you put your leg there where it can get run over, man?"
In the dog's defense, his owner put his face where it could get bit, and also is a bit of an [expletive]: Maradona's previous World Cup preparation was delayed when he needed minor facial surgery after being bitten by his dog.
So ... they made the Earth rotate more quickly? Disgraced Canadian sprinter Ben Johnson claimed in an autobiography that steroids didn't make him run faster.
In related news, Tiger Woods is still allowed to use a mobile phone: Hank Haney resigned as Woods' swing coach via text.
Living up to his last name! After Woods withdrew from a tournament with an injury, golfer Paul Azinger tweeted, "Could this have been prevented with a good Swedish massage?"
Seattle was quietly left off the book tour itinerary: Former Southern Cal football coach Pete Carroll released a book titled "Win Forever."
Exhibit A: Brendan Haywood's contract: Dallas Mavericks minority owner Ross Perot Jr. sued majority owner Mark Cuban for reckless mismanagement of the team's money.
Kindhearted Flyers fans decline to set car ablaze: Following Game 1 of the NHL playoff series between Montreal and Philadelphia, Canadian hockey writer Pat Hickey discovered that Flyers fans had covered his car with trash, slashed one of its tires and stolen his Quebec license plates.
June
Because SEC regulations forbid major league teams from selling subprime mortgage tranche credit default swaps: After Philadelphia's Roy Halladay pitched a perfect game against Florida, the Marlins offered to sell excess tickets from the game at face value.
Item we included solely for the Internet search engine optimization value: Lady Gaga gave Lady Gaga's middle finger to Lady Gaga fans watching Lady Gaga visit Citi Field. Lady Gaga.
Oh, heck -- what's a few more unwitting page clicks? Lady Gaga also made a postgame appearance in the New York Yankees' clubhouse, where she reportedly wore an unbuttoned team jersey over a bra and bikini bottom, groped her chest and appeared intoxicated. Lady Gaga.
[+] Enlarge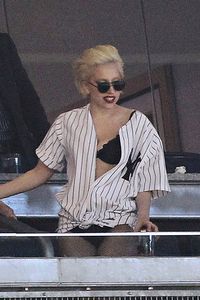 Al Bello/Getty ImagesLady Gaga wore her pinstripes -- and not much else -- to a Yankees game.
Unlike, say, a pair of sweaty, underwear-clad men attempting to pin each other in a confined space: On the set of "The A-Team," MMA fighter and film star Rampage Jackson told the LA Times that "acting is kind of gay."
Department Of No, Really, We Didn't Make This Up: Jackson had a cameo in a 2008 movie titled "Midnight Meat Train."
To protest the new "A-Team" movie, Mr. T eschewed BA for OBP: To protest the BP gulf oil spill, a minor league baseball team in Florida said they would no longer take "BP" before games, but rather "hitting rehearsals."
It was almost as if he wanted to be somewhere else: Basketball player LeBron James showed up hours late to an eponymous appreciation day in his hometown of Akron, Ohio.
His soul, by contrast, remained safely ensconced in plastic bubble wrap: James reportedly was presented with a "beautiful crystal trophy," which already had been packed away.
Ignoring their pleas, security threw them directly into a briar patch: Thirty women wearing dresses of a Dutch brewery that did not pay FIFA for advertising rights were kicked out of a World Cup game, garnering an enormous amount of free publicity.
The NCAA promptly ruled that live worms qualify as an illegal inducement: Two Bethel University freshmen became the first students in the nation to receive athletic scholarships for bass fishing.
Department Of Things We Would Like to Bet On, Only No Sports Book Is Dumb Enough To Give Odds: Skier Bode Miller lost in straight sets in his first (and only) U.S. Open qualifier match.
Patrick Hruby is a freelance writer and ESPN.com contributor. Contact him at PatrickHruby.net.