Commentary
2010: Month-by-month review, Part II
Originally Published:
December 31, 2010
By
Patrick Hruby
| Page 2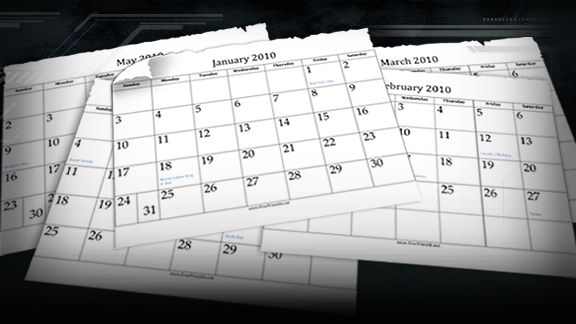 ESPN.com Illustration
The end of the year means year-end lists: best this, greatest that, the signature people and happenings of the past 12 months.
But what about the other stuff?
Oddities. Dubious achievements. World Cup-pickin' octopi. The events that made us laugh, raise an eyebrow, shake our spinning heads at the utter absurdity of our world.
In other words, the fun stuff.
On Thursday, we covered the first six months.
Now, As 2010 draws to a close, Page 2 looks back at a few of our favorite things from the second half of the year that was:
July
Comic Sans font: Not just for elementary school PTA newsletters! LeBron James decided to join the Miami Heat, sparking owner Dan Gilbert's angry response in a decidedly informal typeface.
Of course, 27.2 gallons were actually salty tears: In Cleveland, where fans had been party to LeBron's Nike "Witness" campaign, a local brewery sold 30 gallons of a beer dubbed "Quitness" in three hours.
"I feel a great disturbance in Miami, as if millions of Dolphins fans suddenly laughed out loud and then were silenced because their heads exploded." Alabama football coach Nick Saban said that the way James left Cleveland did not show "the kind of trust and respect you'd like to have in a team organization."
Pot. Kettle. Black. Discuss: Saban also called sports agents who contact college athletes "pimps."
[+] Enlarge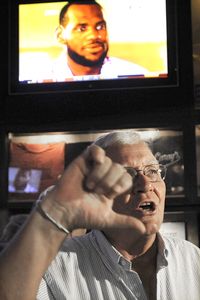 AP Photo/Paul BeatyCleveland Cavaliers fans didn't enjoy July too much.
Bored, broke and bruised is no way to go through life: Prior to a minor league baseball game, Jose Canseco lost a boxing match against the 60-year-old athletic director of the University of Arkansas-Little Rock.
1. There is a Major League Eating; 2. Competitors can afford contract disputes; 3. Thousands of unemployed college graduates picked the wrong line of work: Due to a reported contract dispute with Major League Eating, Japanese competitive eater Takeru Kobayashi was barred from participating in the Nathan's Fourth of July hot dog scarfing contest.
In his defense, that's pretty expensive for a man purse: Former Seton Hall basketball coach Bobby Gonzalez was arrested for allegedly shoplifting a $1,395 men's satchel.
"Also, do you want to think about your parents doing it? Just gettin' it on? 'Cause I sure don't." Asked by HBO's Andrea Kramer about former USC player Reggie Bush's parents allegedly receiving improper benefits in the form of a new home, former Trojans coach Pete Carroll said, "When you were growing up, Andrea, did you have any idea of your parents' mortgage situation? Think about it. None of us do. I couldn't tell you how much my mom and dad paid for our house."
When future Chinese historians explain the decline and fall of America, this will rank with imperial overreach and six seasons of "Arli$$": Dallas Cowboys rookie wide receiver Dez Bryant's refusal to carry a teammate's shoulder pads following practice became a major national story.
Terrell Owens, Chad Ochocinco and the 2010 Cincinnati Bengals were not included in the study: Researchers in the Netherlands found that soccer teams with the most enthusiastic goal celebrations were more likely to win matches.
August
Brett Favre sent an electronic message that was short and disappointing? Two weeks before he returned to the Minnesota Vikings, Favre hinted at retirement by reportedly sending teammates a text message reading "this is it."
Day 1, free weights; Day 2, endurance run; Day 3, manure shoveling: Houston Texans linebacker Brian Cushing claimed a positive performance-enhancing-drug test result was the result of "overtrained athlete syndrome."
New and improved, chastened and humbled, blah blah blah: Pittsburgh Steelers quarterback Ben Roethlisberger changed the name of his hometown in the team media guide from Findlay, Ohio to Cory-Rawson, Ohio because he didn't like what people in Findlay said about him following sexual assault allegations.
[+] Enlarge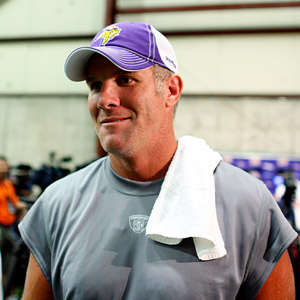 Adam Bettcher/Getty ImagesAugust: Brett Favre is back. Everything's gonna be great, right?
Fourth grade? Given the maturity level, we were guessing kindergarten: Cory-Rawson isn't an actual town, but rather the name of a school Roethlisberger attended through the fourth grade.
"Damn the torpedoes, America needs to see MRIs of my buttocks abscess!" CUE "BATTLE HYMN OF THE REPUBLIC." END SCENE: Former Rep. Tom Davis of Virginia said that former major league pitcher Roger Clemens was given a choice to not testify before Congress about his alleged performance-enhancing drug use, but insisted upon telling his story to the public.
Coach of the Year: University of Central Florida football coach George O'Leary said he gave permission for Axis magazine to hold a photo shoot in the team's locker room featuring UCF alum and Playboy model Shanna Marie McLaughlin wearing a shirt and underwear featuring the school's logos.
In related news, the National Re-Gifting Association announced a major uptick in its Q1 2011 projections: Los Angeles Lakers forward Lamar Odom announced that he and wife Khloe Kardashian will release a unisex fragrance in time for next Valentine's Day.
On the plus side, the fire managed to dry the seats! After leaving his Porsche convertible out in the rain, Canadian figure skater Kurt Browning attempted to dry the interior with a leaf blower; he then placed the still-hot leaf blower in his garage, starting a fire that burned most of his house down.
Happily ever after, or something: Pro football wide receiver Chris Chambers married the same woman he filed 11 separate stalking and/or harassment complaints against in 2009.
September
Even Greg Oden was impressed: The New York Yankees unveiled a monument to former owner George Steinbrenner that measures 7 feet wide, 5 feet high and weighs 1,500 pounds.
Total number of people inspired by Sammy Sosa's congressional testimony: 0 1: During his introductory press conference with the Chicago White Sox, baseball slugger Manny Ramirez mostly pretended to not speak English.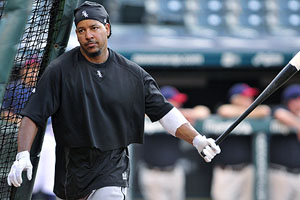 Jason Miller/US PresswireQue lastima, Manny?
Favorite ice cream: vanilla. Favorite Kardashian: Kim. Favorite MLS team: What's MLS? Asked to list his favorite teams, Washington Nationals draft pick Bryce Harper selected the Dallas Cowboys, the New York Yankees, the Los Angeles Lakers and Duke basketball.
"Your honor, citing the precedent of Vader v. Skywalker, I ask that DNA evidence be dismissed." Despite a reported 2007 DNA test showing "0 percent probability of paternity," a Washington, D.C. lawyer filed a $4 million suit against LeBron James' mother, claiming he is James' father.
And with that, prized prospect Pigpen reopened his recruiting: Stating that his squad had "the worst shower discipline of any team I've ever seen," University of Tennessee football coach Derek Dooley instructed his players on how to scrub using soap and a washcloth.
Also, Santa is fake, the Tooth Fairy is actually Mom and Dad and Balboa-Drago was totally fixed: During a radio interview, former Notre Dame quarterback Joe Montana said that in the real-life version of the events depicted in the movie "Rudy," "the crowd wasn't chanting," "nobody threw in their jerseys" and that players carrying Rudy Ruettiger off the field "were kinda playin' around."
Terrible news. Did he save par? While hitting out of heavy rough, a California golfer inadvertently ignited a 12-acre wildfire by striking his club against a rock, sending sparks into dry scrubs.
However, he still will accept as much money as you'd like to give him: Said Washington Redskins defensive tackle Albert Haynesworth, "Just because somebody pay you money don't mean they'll make you do whatever they want or whatever. I mean, does that mean everything is for sale? I mean, I'm not for sale."
October
Breaking News -- Cycling Champ Clean For Entire Weekend: Four days after Tour de France champion Alberto Contador blamed a failed doping test on contaminated meat, he reportedly flunked a second test for a different substance.
Winner of the 2010 Gatorade Cooler Peace Prize: Baltimore Orioles second baseman Brian Roberts confessed that he missed the final six games of the regular season with concussion-like symptoms after reacting to a strikeout by hitting himself in the helmet with a bat.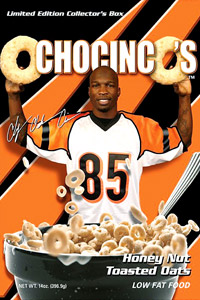 Courtesy of PBLsports.comBecause of a wrong toll-free prefix for a number listed on Ochocinco's cereal, callers were directed to a phone sex line instead of a children's charity.
Well, duh -- it might have been hit No. 999,999: Said Roberts of hitting himself in the head, "It's something I've done a million times, but I still can't tell you for sure if that was [what caused the symptoms]."
Yes milk and crunch and yes I said I will donate yes I will yes: A telephone number for a children's charity listed on the back of boxes of Cincinnati Bengals receiver Chad Ochocinco's self-branded breakfast cereal mistakenly connected to a phone sex line.
In other words, about one-third of the team's total payroll: After betting against the Pittsburgh Pirates for all 162 regular-season baseball games, fan Greg Mercer earned a net profit of $324.32.
Tom Brady's Street Cred: 2001-2010. Survived by UGG boots endorsement: Pop star Justin Bieber dissed New England Patriots quarterback Brady's long hair in a rap song.
Live and learn: A year after nearly dying in a car crash, American soccer forward Charlie Davies was reportedly pulled over in France for driving 125 miles per hour.
Oh, right, it all makes sense now: Davies subsequently claimed he was actually a passenger in the car and that he lied to police to protect the driver, a French club teammate who was afraid of losing his license.
"CSI" stands for: (a) Crime Scene Investigation; (b) Convenient Self-Interest; (c) All of the above: After Tennessee receiver Kenny Britt was involved in a bar brawl, Titans coach Jeff Fisher conducted his own on-scene, late Friday night investigation of the incident and cleared Britt to play; Britt had a record-setting performance in a Tennessee victory.
With quotes like that, he won't have to worry: Discussing the difference between American and Russian women, Washington Capitals star Alex Ovechkin said, "There are an awful lot of heavyset [Americans]. But Russian girls have nice trim figures. I couldn't imagine myself being with an American girl."
Because running 26.2 miles ... hurts? A Chicago Tribune headline read: "Chicago Marathon cheaters: why do they do it?"
November
"Trust me: I know all about doggin' it." Before being waived by the Minnesota Vikings, Moss reportedly lambasted a team caterer's lunch spread, claiming he "wouldn't feed this to my dog."
And also, a pony: Isiah Thomas said he still believes he can help the New York Knicks win an NBA title.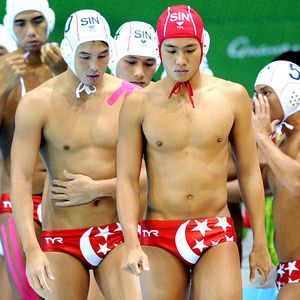 Lim Sin Thai/Straits Times/AFP/Getty ImagesThe Singapore water polo team went with an ill-advised swim trunk design for the Asian Games.
In related news, someone associated with the Cleveland Browns successfully executed a tackle: An 8-year-old New York Jets fan wearing a team jersey was allegedly tackled in the parking lot of Browns Stadium by a drunk, adult Cleveland fan.
She then picked sand out of her sports bra and skintight bottoms: Following a defeat against Indonesia at the Asian Games, a member of Yemen's women's beach volleyball team claimed bikini-clad cheerleaders were a distraction and "had something to do with our losing the match."
And you thought bikini-clad cheerleaders were distracting: Singapore's Asian Games men's water polo team wore custom swimming trunks featuring the Singapore flag's crescent moon near the groin area.
Surprisingly, the school still offers a geography major: Texas Christian University announced plans to join the Big East.
#whyhasthouforsakenme? After dropping a potential game-winning touchdown, Buffalo Bills receiver Steve Johnson authored tweets to God reading, "I PRAISE YOU 24/7!!!!!! AND THIS HOW YOU DO ME!!!!! YOU EXPECT ME TO LEARN FROM THIS??? HOW???!!! ILL NEVER FORGET THIS!! EVER!!! THX THO..."
But only because the Wu-Tang Clan's "C.R.E.A.M." would have been more appropriate: The University of Alabama fired a part-time stadium worker who played "Take the Money and Run" when Auburn quarterback Cam Newton took the field.
December
"I meant, literally, right here, on this spot. You know I'm right." Baltimore Orioles designated hitter Luke Scott told Yahoo! Sports that President Obama "does not represent America" and "was not born here."
Really, if there's one sport where forged age-related documents have never been an issue, it's professional baseball: Added Scott, "I was born here. If someone accuses me of not being born here, I can go -- within 10 minutes -- to my filing cabinet and I can pick up my real birth certificate and I can go, 'See? Look! Here it is.'"
Auburn football doesn't have enough lawyers already? A federal judge granted an Alabama lawyer and lifelong Auburn football fan's request to hold off scheduling a trial so he and his family can attend the BCS Championship Game on Jan. 10.
[+] Enlarge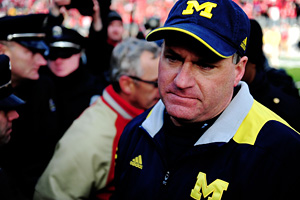 Andrew Weber/US PRESSWIRERich Rodriguez got a little emo in December.
"I'd like to thank Carl Weathers, Mr. T and baby oil." Sylvester Stallone was named to the 2011 class for induction into the International Boxing Hall of Fame.
In related news, researchers announced that wearing a bow tie reduces oxygen flow to the brain by 98 percent: Addressing Philadelphia Eagles quarterback Michael Vick's previous dogfighting conviction, substitute Fox News talk host Tucker Carlson said, "I think, personally, he should have been executed for that."
Also provided free of charge? The perfect metaphor for being a fan of the 2010 Vikings: While asking Minnesota Vikings fans to help dig out the school's snowed-in campus stadium in order to host a game between the Vikings and the Chicago Bears, the University of Minnesota noted that it would provide shovels.
Sportsman of the Year: Asked if he wanted to say "told you so" to his previous three teams after making the Pro Bowl, Denver Broncos receiver Brandon Lloyd replied, "No, I want to say [expletive] you. And I mean that in the most professional way."
We were thinking "Welcome to the Jungle" and an impromptu Oklahoma drill, but hey, whatever works: During a Michigan football banquet, coach Rich Rodriguez told his team that he found solace in the lyrics of Josh Groban's "You Raise Me Up," then had his players hold hands above their heads as the song played through ballroom speakers.
Amen! Said Groban on Twitter: "Coach Rodriguez, I'm very flattered but crying to You Raise Me Up is SO five years ago. #playwelcometothejungle."
Patrick Hruby is a freelance writer and ESPN.com contributor. Contact him at PatrickHruby.net.