Commentary
What if ESPN 3-D had existed all along?
Originally Published:
January 11, 2010
By
Shane Igoe
| Special to Page 2
Last week, ESPN unveiled plans to launch a new 3-D network.
As this new technology remains to be seen, we can only wonder how wild it would have been to witness other memorable sports moments in eye-popping 3-D.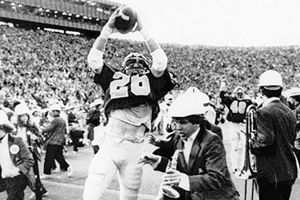 AP Photo/Oakland Tribune/Robert Stinnett"Oh, no! He won the game and crashed onto our coffee table!"
1. The Big Game between Stanford and Cal in 1982
You don't have to be a Stanford Tree or Cal Bear to get goose bumps while watching what became known simply as The Play. Imagine you could watch -- scratch that, you could RELIVE -- that play from a first-person perspective.
Let's suppose the now-ubiquitous Cyclops camera seen on football broadcasts everywhere was equipped with one of these modern 3-D lenses and was hooked up and hovering over Cal's Memorial Stadium that fateful Nov. 20 afternoon in Berkeley back in 1982.
This technology would make it seem as if you were on the field dodging Stanford band members from the comforts of your own living room.
Imagine your POV. Moen receives the kick, and, scrambling, he laterals it to Rodgers. Rodgers pitches it to Garner, who dodges more tacklers before pitching it back to Rodgers. Just before going down, Rodgers somehow flips it to Ford, who blindly throws a lateral over his shoulder as he falls forward to an oncoming Moen. Of course, Moen finishes the play with a leap into the end zone and onto an unsuspecting Gary Tyrrell, a Stanford trombone player.
Also consider: Boise State upset over Oklahoma in 2007 Fiesta Bowl. Instead of telestrators scratching outlines of these old-school plays, imagine experiencing the hook-and-ladder and Statue of Liberty firsthand in 3-D.
2. Janet Jackson's halftime performance in Super Bowl XL
Believe it or not the FCC is still trying extract $550,000 from CBS. We can only imagine how big the fallout would have been had it been broadcast in 3-D.
Also consider: Streakers. The BCS title game was interrupted by one of these so-called "idiots." The announcement of ESPN 3-D must have been well-received by Morganna the Kissing Bandit types. At least the World Cup means this unfortunate side effect of 3-D technology will be shared the world over.
[+] Enlarge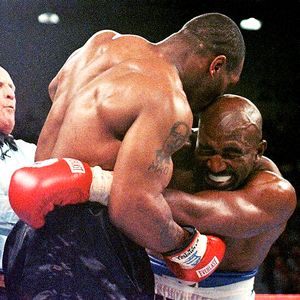 Jeff Haynes/AFP/Getty ImagesChomp, chomp: Maybe being closer to the action won't always be such a great thing.
3. Mike Tyson vs. Evander Holyfield II
Originally billed as "The Sound and the Fury," this 1997 fight would be remembered as the "Ear Biting Brawl." Not since the days of "Jaws 3-D" would one witness a scarier set of chompers coming right at you.
Also consider: Fan Man drops out of nowhere during the 1993 Holyfield-Riddick Bowe bout. Imagine his parachute wrapping around the top of your own TV. Surreal.
4. The 1970 "Agony of Defeat" Ski Accident
Long before the days of the Winter X Games, sports fans enjoyed catching up with ABC's "Wide World of Sports."
And who could forget Vinko Bogataj?
He's featured in the show's opening credits, in which he completely bites the dust, tumbles down the entire hill and then violently careens into a retaining fence. Interestingly enough, the Slovenian suffered only a mild concussion from his infamous fall, whereas we might very well sustain more serious injuries just witnessing the scene in 3-D.
Also consider: Winter Olympics. Although suggestions for revitalizing the Winter Olympics abound (our personal favorite is moving it to this exotic locale) we believe 3-D technology could single-handedly revamp the Winter Games.
Imagine Shaun White landing a trick off the back of your sofa, or Eddie the Eagle ski-jumping into your living room, or desperately trying to squeeze into a Team Jamaica bobsled (minus John Candy, of course). 3-D technology can make such scenarios a reality.
5. Roberto Alomar's Spit Incident
Alomar was just a hair's breath away from Hall of Fame selection this year (he fell eight votes shy). And while he'll most likely earn induction at some point, we all know that Alomar's ultimate legacy will be hawking a loogie at an umpire in 1996.
Had ESPN 3-D been around, we all could have experienced the horror that umpire John Hirschbeck faced as he got a taste of Alomar's spitball.
Also consider: A 3-D step through of the Magic Loogie sequence as seen in a 1992 Seinfeld episode featuring Keith Hernandez.
[+] Enlarge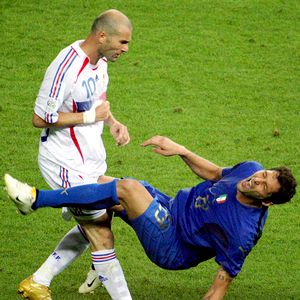 John MacDougall/Getty ImagesIf they ever invent a way for players to hear what fans say from their own living room, Zidane might just enact revenge right through the TV.
6. Zinedine Zidane's infamous 2006 World Cup head-butt
Pardon moi? You said what about ma soeur?
This follicularly challenged Frenchman's noggin might soon come right through your TV screen as not only a World Cup promotion gag but also a reminder not to trash his kid sister.
Soccer seems to finally be gaining a foothold in the American sporting conscious, so it will be interesting to see if 3-D coverage of the World Cup will kick-start a full-fledged futbol craze in America.
Also consider: A 3-D version of Henry's hand ball in the highly controversial France-Ireland qualifier could have possibly shed more light on the incendiary infraction. Purists and pundits might also want to check out Maradona's "Hand of God" goal in 3-D to examine just how divine the goal was for the Argentine legend.
7. Randy Johnson's 2005 camera shove
You might recall that upon his arrival in New York City, the recent retiree reached out with his hand to block a photographer.
A 6-foot-10 southpaw is intimidating enough on the mound, but what if the Big Unit took over your TV unit?
Also consider: ESPN 3-D might have rendered Johnson's famous bird vaporization into something more like Nintendo's "Duck Hunt," except with a bazooka.
8. The Lambeau Leap
With this new technology, you can catch your favorite Packer players as they seemingly jump right onto your couch each week.
Also consider: Touchdown celebrations. If you thought they were over-the-top, choreographed productions already, ESPN 3-D should undoubtedly take end zone dances to a whole new level.
9. Dr. J's behind-the-backboard finger roll
Dr. J's baseline bucket around a towering Kareem in the 1980 NBA Finals would only be more awe-inspiring if it was reconstructed using modern 3-D technology.
Also consider: Any posterized dunks. In fact, we think 3-D could revitalize the dunk competition and get some big names back in the contest.
10. The Catch -- 1982 NFC Championship Game
Any acrobatic grab would be greatly enhanced in 3-D, including David Tyree's Super Bowl XLII catch. But for the top 3-D catch, we just have to call "Red Right Tight, Sprint Right Option."
The play sets up perfectly for the viewing audience. Joe Montana rolls out while Dwight Clark sprints across the back of the end zone behind Cowboys cornerback Everson Walls. Clark and Walls would have ended up in 3-D viewers' laps.
Also consider: Immaculate Reception and Music City Miracle.
Can you think of any eye-popping or glaring omissions in this list of the top potential 3-D sports moments? Share your opinions by tweeting your own ideas to @espn_page2.