Commentary
Homer and Marge Simpson, Olympians?
Originally Published:
February 11, 2010
By
Shane Igoe
| Special to Page 2
Over the years, "The Simpsons" has provided fans with numerous sports-themed episodes -- from "Homer at the Bat" to "Saturdays of Thunder" to "Team Homer" (aka the Pin Pals bowling episode).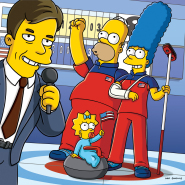 Last Sunday, the cast was featured in a Super Bowl ad. And this coming Sunday, they will tackle a Winter Olympic sport -- namely, curling.
How the Springfield crew is able to transition from bowling to bonspiels and broomsticks remains to be seen, but Rob LaZebnik -- writer of the "Boy Meets Curl" episode -- pointed out that due to her dutiful housekeeping skills, "Marge has developed and honed a natural sweeping ability over the past 20 years."
Page 2 caught up with Homer and Marge Simpson before their big Olympic debut on Sunday:
Page 2: Congratulations on making it to the Vancouver Games! Just out of curiosity, how long was the trip from your hometown of Springfield? Was it a short drive from, say, the Oregon area? Or was it a much longer trip from, say, the state of Illinois?
Marge: All we can say regarding our trip is that Homer drove the car nonstop and peed only in a coffee can.
Page 2: Marge, you recently graced the cover of Playboy. As you embrace this new sport, were you tempted to appear in the buff for the "Women of Curling"calendar?
Marge: Hrrrmmmmppp.
Homer: One naked photo spread is plenty for a shy housewife with a figure like Olive Oyl's.
Page 2: One of the mascots of the Vancouver Games is a Sasquatch named Quatchi. Homer, seeing as how you were once mistaken for a Sasquatch, do you have any plans to track down Bigfoot during your downtime in Vancouver?
Homer: Yes, I hope to find Sasquatch -- I met him once and, I'm ashamed to admit, he beat me at checkers.
Page 2: Marge, you once cross-country skied -- do you plan to catch any other Olympic events, and what athletes are you and the other Springfield residents excited to see?
Marge: Our friend Mr. Smithers was excited to watch the biathlon until he found out what it actually was.
Page 2: Ten years ago, the town of Springfield was actually vying to host an Olympics, but the bid was undone by your son Bart. Homer, any chance your mascot Springy will be popping back up in a possible Springfield 2020 campaign?
Homer: Springfield can no longer bid for the Olympics, as our town already has a debt bigger than Greece's.
---
Just for the record, we also posed Homer a question involving performance-enhancing drugs. We weren't sure whether the silence on the other end of the phone was an indictment of himself, or whether Homer was just too busy trying to determine whether Olympic medals are actually filled with chocolate or not.
At any rate, there you have it, an actual interview with Homer and Marge Simpson -- a husband and wife team … of Olympic curlers.
Shane Igoe is a sports and entertainment writer based in Los Angeles. He can be reached via his Twitter page.