Commentary
Woodstock and the sports connection
Originally Published:
September 14, 2009
By
Matthew Iles
| Special to Page 2
Woodstock celebrated its 40th anniversary this summer. That's got to make even the most committed hippies feel old, because no matter how many flowers you put in your hair, it's clear there will never be another Woodstock.
Today's helicopter parents would never let it happen. When it comes to your own children, "Peace, Love and Happiness" are transparent code words for "Drugs, Sex and Rock & Roll."
Weren't they always?
In any case, it can be easy to forget that 1969 was also a memorable year in sports. There were legendary games and larger-than-life stars, not to mention possibly the greatest blurring of athletic and political boundaries in our nation's history. It was a cacophonous time for pop culture.
So we donned our groovy time-traveler hats and decided to examine this momentous year and compare it to our less-psychedelic, more-Twitterific present day.
Lighters ready? Enjoy the show!
[+] Enlarge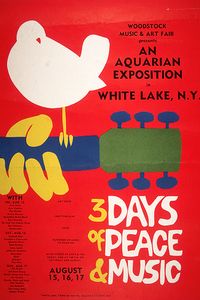 Blank Archives/Getty ImagesWoodstock attracted an estimated 500,000 spectators to see 32 musical acts in upstate New York
Then -- Arlo Guthrie: Guthrie was as much a musician as a political activist. He's best known for his 18-minute, Vietnam protest tune "Alice's Restaurant Massacre," which later became somewhat of a Thanksgiving radio tradition. Of course, Thanksgiving is much different these days; it's when Christmas starts.
Now -- Mos Def: While the rest of the rap genre tends toward materialistic lyrics and club-banging beats, Mos Def has stayed true to his roots. A political activist (and cinematic actor) in his own right, Mos pulls no punches with his Iraq War criticism on his newest album "The Ecstatic."
Then -- The Miracle Mets: In their first seven seasons, the Mets never finished better than 16 games under .500. But in 1969, they exploded for 100 wins and a World Series championship. They were slapped with the all-too-befitting nickname "Miracle Mets," and then spent much of the next 40 years (1986 championship notwithstanding) in hapless prayer, on the DL, or both.
Now -- The Cardiac Cardinals: Kurt Warner started over Matt Leinart, adding insult to injury. Then Arizona made the playoffs, couch-potato fathers threw "Never say never!" into overdrive, and #rollingmyeyes trended like wildfire on Twitter. But when the Cardinals actually punched their Super Bowl ticket, it was like the kid who's always picked last on the playground straight dunking over everybody. Well, almost everybody. Fate got fickle; the magic ran out. In a karmic twist, the most implausible Super Bowl run fell short when the Steelers pulled not one, but two rabbits out of their hats.
Befuddling Berra: Perhaps the English language's most hilarious assailant, Yogi Berra was also an assistant manager for the 1969 Mets. "We were overwhelming underdogs," he once reminisced, wreaking linguistic havoc on all within earshot. Nearly 40 years later, the Cardinals suffered the painful truth of yet another Yogi-ism: "The other team could make trouble for us if they win."
A Cardinal in Canton? At 24, Tom Seaver won the Cy Young after going 25-7 with a 2.21 ERA and 18 complete games. At 37, Warner was older than anybody on the Mets' roster. But unlike the Loveable Losers, we had already read Warner's romance novel once before, with enough grocery-bagging anecdotes to make us puke. Still, if Canton does ever commission a Warner bust, he'd join Seaver as his team's Hall of Fame lone wolf … at least until Larry Fitzgerald dons the garish yellow jacket.
Then -- Joe Cocker: Cocker performed one of the most memorable acts of Woodstock. His contorted faces and spasmodic body gyrations stole everyone's attention, and even earned its own parody on "Saturday Night Live."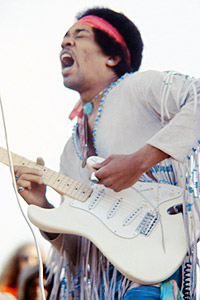 Barry Z Levine/Getty ImagesJimi Hendrix delivered one of his many performances for the ages at Woodstock.
Now -- John Mayer: Some think he is this generation's most gifted guitarist. Others think he's a hack. But we can all agree on his utterly ridiculous "O" face. If your buddy did this while strumming the acoustic in the basement, you'd punch him -- no questions asked. Still, Mayer knows how to cover a song, and "Bold As Love" is the perfect segue for our next artist, Jimi Hendrix.
Then -- Bill Russell, player/coach/NBA champion: Russell led the Celtics to an NBA Finals upset over the Lakers serving as both the head coach and star center, earning his 11th championship in 13 years. Like the nearly 93 million miles separating the Earth and the Sun, that number is simply unfathomable.
Now -- Brett Favre, player/flip-flopper/retail spokesman: Favre is older than three NFL head coaches: Denver's Josh McDaniels, Tampa Bay's Raheem Morris and Pittsburgh's Mike Tomlin. Backup and eight-year veteran Sage Rosenfels has just three times as many career starts (12) as Favre has had retirement-related news conferences (four).
Decisiveness: After dropping the first two games of the '69 NBA Finals, Russell ordered a double-team on Jerry West -- a move later hailed as vital to the Celtics' championship. It's safe to say Favre would struggle a bit more making calls in the crunch as a player-coach. To be fair, though, he has shown contrition for his dithering in the past -- at least when there's an endorsement check involved.
The Attire: Favre may look silly in purple, but it's nothing compared to what we might see from a player-coach in the NBA today. In fact, the mere concept is downright cringe-worthy if we still had short shorts. Gah, bad image of Stan Van Gundy!
Then -- Jimi Hendrix: Hendrix is the Michael Jordan, Wayne Gretzky and Muhammad Ali of electric guitar. Or perhaps, they're just the Hendrixes of their respective sports. Either way, he was a star, a celebrity among celebrities. Watch his Woodstock rendition of "The Star-Spangled Banner" and you'll see what we mean. Go ahead, we'll wait.
Now -- Kanye West: Kanye is the modern incarnation of Narcissus. He started a useless sunglasses craze, he left Mike Myers out to dry, and he even made Taylor Swift cry! In fact, his unapologetic ego is so large that South Park devoted a whole episode to tearing it down. And to the knee-slapping joy of many, it worked beautifully.
Then -- John Wooden: Wooden's head coaching career began in 1932 with a forgettable 6-11 season at Dayton High School in Kentucky. He never had a losing season again. The Wizard won an unprecedented 10 NCAA titles in 12 years, and none was more personal than the 1969 matchup against his alma mater, Purdue. The Bruins crushed the Boilermakers by 20, which isn't unusual considering UCLA won those 10 championship games by an average of 13.4 points.
[+] Enlarge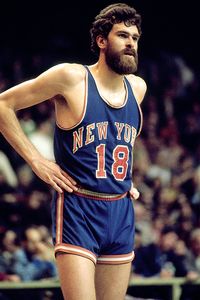 Dick Raphael/NBAE/Getty ImagesTake a step back in time with Phil Jackson. Is that a Knicks uniform or a wrestling singlet?
Now -- Phil Jackson: The Zenmaster earned his record 10th NBA title earlier this year. Wait, everyone knows I won 10, right? Yes, Phil, we got it. Now you've got more titles than Red Auerbach, but not Wooden. So, who's the greatest of all time? It's impossible to say, of course, so they've since taken to a fierce penmanship battle.
Hardwood to Hard cover: Wooden has penned six books, while Jackson can only claim five. Wooden focuses on his overall life philosophy and imparts lessons in such works as the "Seven-Point Creed" and "Pyramid of Success." Jackson has written about his experimentation with LSD, Native American spiritual practices, and, oh yeah, basketball.
Apples and oranges: Wooden and Jackson are a textbook example of why you can't reconcile time when comparing legends of different eras. Similarly, Roger Federer has a case for being the unequivocal best men's tennis player ever, despite being denied a sixth consecutive U.S. Open title by Juan Martin del Potro on Monday. Yet despite owning more Grand Slams than any other man in history, he's never won them all in one calendar year. But in 1969, Rod Laver did just that. For a second time. Granted, Laver didn't have a rival such as Rafael Nadal, who has already prevented Federer from completing the feat twice.
Then -- The Grateful Dead: Known as much for their intensely devoted fans as for their music, the Dead was a megaband of the acquired-taste variety. Deadheads were (are?) a borderline cult who followed the band on the road for years. This is tough for sports fans to relate to, though, since they never exhibit such levels of unadulterated obsession.
Now -- Radiohead: One of today's biggest bands, Radiohead also inhabits the fringe. Yet their following is no less devoted. In fact, the band offered its album "In Rainbows" at any price -- including free. If Lions tickets were priced this way, do you think fans would voluntarily pay? Would they even take them for free? Nope, that's what we thought.
Then -- Head coach John Madden: Handed the reigns to the Raiders in 1969, Madden became the league's youngest head coach at 32. He retired after 10 years with zero losing seasons and a Super Bowl ring. His .763 career winning percentage is still the best by a coach since 1930.
Now -- Pixilated legend John Madden: Retired from the sidelines, he spent 30 years on TV -- sometimes squiggling obscurely to direct our attention to, well, what exactly we're still not sure, and sometimes screaming at us about foot cream. (There's even a rumor he endorsed a defective popcorn popper that never reached the shelves.) But his best career move by far was lending his name to some newfangled football simulator two decades ago.
Pass the Buck: Pittsburgh's Franco Harris made a shoelace grab to beat the Raiders in the 1972 playoffs, and the Immaculate Reception was born (no pun intended). Madden allowed the higher-power "explanation" to persist, rather than take ownership of the loss himself. Decades later, he invites the NFL's best players to grace his video game cover, and suddenly a curse is born. Sounds like some sort of voodoo revenge is afoot (pun 100 percent intended).
Man and Myth: We honor important political leaders with national holidays. We remember cultural icons through tasty ice cream flavors (a la Cherry Garcia). For this Hall of Famer and broadcast legend, though, we pay homage with calloused thumbs and wasted afternoons. Despite truly impressive accomplishments elsewhere, Madden will be most remembered for a wildly popular toy that he presumably has no idea how to operate.
What other connections do you see between Woodstock and today? Think different bands compare more closely to these rock legends? Think Favre would look good in short shorts? We want to hear your thoughts. Sound off on the conversation page below.
Matthew Iles is an editor for ESPN.com.
MOST SENT STORIES ON ESPN.COM