Single page view
By Scoop Jackson
Page 2
Heaven. Hell. One minute.
You have no idea what he's been through. None of us do. No disrespect, but Bruce Weber's moment came in an instant, without warning, and ended tragically. Plus, Weber is 48 -- not 19.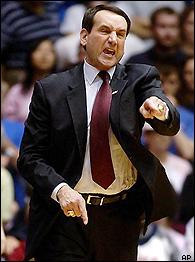 'Hey! You over there! Why aren't you paying attention to me?!'
Everything was right, for once in his life. Sports Illustrated had dissected it, given him the literary equivalent of a SportsCentury segment. He was on Jerry Stackhouse pace, J.R. Reid status, on the verge of never not being mentioned as a living legend in the (sorry, UConn) college basketball capital of the world. He'd listened to Tupac, loved Jay-Z. All eyes were on him because his gift was too often his curse. He was the most feared man player in unprofessional basketball. Then it happened.
"Your moms has ... "
Sometimes, dealing with cancer is easier for those who have it than it is for those who love the ones with the diagnosis. The cancer, for Rashad McCants' mother, was discovered in December. A sick Christmas gift. Since then, two surgeries. The doctors say it's all gone, but it never is. Her, she's good. Him? He's a whole 'nother story.
"You know how kids are; they think cancer means death," Brenda Muckelvene says of her son. "When it really doesn't at all."
Tell that to his body, tell that to his mind. Tell that to the infection that ran through his intestinal system and kept him out of the last four games of the season and took 10 pounds off his frame in less than two weeks. It's like secondhand chemo. But Clemson and Georgia Tech didn't care. Not supposed to.
That's why the one minute will sit with him until Friday, when the tournament begins for him. Heaven. Hell. He survived it. But to go further, he has to return to he.
Last weekend, Roy Williams had a decision to make in less than a minute. He knew he had the most talented player in the country on his bench, but is the conference title that important when something bigger is part of the plan? Williams can't look at anything other than Rashad's eyes. They are more than windows to the kid's soul; they are what will determine the fate and future of the University of North Carolina basketball program over the next three weeks. So with one minute left in the game against G-Tech, the game that would put him in the conference finals -- which in some parts of town is bigger than winning the national championship -- for the first time in his Chapel Hill reign, Williams knew the calling.
UNC down, 76-72. McCants stood at the free-throw line. The ref handed him the ball three times. He missed two -- just as Darius Washington did for Memphis. The difference for McCants: more time on the clock. And a higher power intervened on his second miss, gave UNC the ball on a turnover. On the left side of the court, from 23 feet away, Rashad released. Nylon. 76-75. Down one. Thirteen seconds left. Timeout called. Heaven. The Man is back.
Yet Rashad stood on the court, no smile. Angry that he missed those two free throws.
With 4.6 seconds left, 78-75 the score, McCants made a curl around a pick set exclusively for him. In the exact same spot where he'd found Heaven less than 12 seconds earlier, he found Hell. Iron. He stood there as Tech celebrated around him, hands on hips, flashing back to the last month of his life. He grabbed the front of his jersey and put it in his mouth and followed his teammates through the tunnel. Afterward, he only had one thing to say: "You know ... that was supposed to go in."
Think Bobby Brown. Think Mike Tyson. Think that Rashad McCants is college basketball's answer to those two. Misunderstood. Manic-depressive? Moody. Unpredictable. Issue-oriented. Bipolar? Think that he is the one player who will win or lose the entire tournament for the Tar Heels. Think of the chance they'd have without him. Think none.