Single page view
By Scoop Jackson
Page 2
And then there were four.
He stood at the free-throw line with the score tied in the second overtime, thinking about the last time he was here, two weeks ago. He didn't want to go back there, back to that Big Ten Tournament game, where he missed those two free throws that cost his team not only a shot at the title, but a seeding more representative of how thorough his team really is.
Still, those misses re-entered his head as the ref handed him the ball. Nylon. Nylon. Then it happened two more times, two more free throws. And those misses were still there, still creeping back into his head. More nylon. Finally, after the fourth make, the missed 15-footers, the earlier ones, evaporated. Four-for-four from the stripe in the final 12 seconds. His team wins by six. Do the mathematics. Alan Anderson will never have to think about those misses, ever again. ...
* * * * *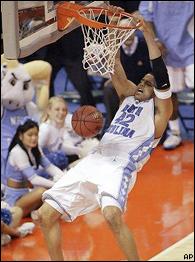 Sean May's been the key to Carolina's run to the Final Four.
He yelled at no one, but said something to everyone. Something happened when his man, his teammate for life, his boy went down. When the drama of outside life attacked Rashad McCants' body, game and spirit, he knew. He got vocal, his game got loud. All of a sudden, the team no longer belonged to someone else -- not Raymond, not Rashad, not Roy. It belonged to him. He became the best big man, if not the best player, in college basketball.
But it wasn't his 20/20s that did it. It was his vision -- his vision to see deeper than the surface of what this team needed to advance, not just survive. He put arms around necks, hands on chests, fingers on temples. Listen, believe, think. As one Carolina fan said, "Sean May is better than Brad Daugherty ever was because Daugherty never communicated or led his teammates the way May does." And it began the minute the spiritual leader's spirit was stolen, when the chosen leader could no longer lead the chosen few, when something divine intervened ...
* * * * *
He couldn't put any pressure on his foot. Or his leg. Sprained anterior or posterior tibial, pulled hamstring. Both. It was too late in the game; the pressure was too tight. The best player on the team -- its leader -- had just fouled out with 4:02 left. He, the reserved one of this clique, had left the game with 5:42 left, never expecting to come back. The game before this one made him a star. Twenty-five points. Elite Eight status for a team that should've been ranked No. 4 instead of seeded 4. He was this year's Lionel Chalmers. The brotha who was singing Mighty Mouse songs. Here he came again, injured foot and all, to save the day.
But this time, he couldn't pull off another miracle by putting points up on the board. He had to somehow will his birds back into a game against a flock that was dropping threes like Iverson, Marbury, D.Wade, Q.Rich and Ben Wallace were all on the same squad. It was an uncliché game where you hated to see someone lose. Dude didn't feel that way. And despite his teammate's 21 second-half points, it was he, Taquan Dean, who sat next to his coach the next day, Easter Sunday, and talked to Greg Gumbel, Seth Davis and Clark Kellogg about how the West was won ...