Single page view
By Scoop Jackson
Page 2
INDIANAPOLIS – It was supposed to end like this, wasn't it? The ball in his hands, the game still undecided? The only thing he needed was for his last shot to drop.
The Pacers weren't even supposed to be here. Game 6 in the Eastern semis? Reggie Miller's career was supposed to be over the day that "thank you" Bentley rolled out on the court a month ago. Then it was supposed to be over in Boston 10 days ago.
Somehow, his shot just kept dropping.
He would no longer come to Conseco early.
He would no longer yell at David Benner before games.
He would no longer look down at his feet before he let the ball go, to make sure they were behind the line that defined his career.
He would no longer have to save a team.
With 6:07 left Thursday night, he rose off the bench to enter a game for the last time. ESPN's Rachel Nichols made the statement that everyone in the place – including the Pistons – was thinking: It's going to come down to him! He was 9-for-12 at the time, 21 points. The game was his to win, never to lose. He just needed to get the ball. He needed the clock to keep going down whenever he had the ball in his hands.
---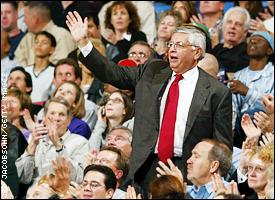 The Commissioner is a man of the people when it comes to fostering diversity.
He has a tendency to do this, you know … play for other people, play for the love of someone else.
Jermaine O'Neal, once again, knew that the stakes were much bigger than advancing the series to one more game and a chance to advance to the next round. He knew this was all about extending a career that might be one of the most important in basketball history.
See, this game was not about Miller. It was about a young team leader who played in a series against the world champs with only one arm. It was about O'Neal battling against Rasheed and Ben Wallace, solo. Left-handed. Never once saying anything about how injured he really is.
Because he knew. He knew deep down that the man who gave him the opportunity to become who he has become in this game was about to say goodbye. Jermaine promised this man when he came here that he'd get him a title. And even though he knew it wasn't going to happen tonight – and, therefore, that it wasn't ever going to happen – J.O. wanted to let his hero know that he was going out doing whatever he could to keep his promise.
O'Neal scored 22 points, had 11 boards and swatted three shots. All with 40 percent mobility in his right (shooting) shoulder. He gave this last game more than everything he had. He did everything he could to extend Reggie's career. He tried.
This meant more to Reggie than anything else. The attempt, not the outcome. This is the reason he is able to leave with his head held high.
---
It was hard to watch and not get caught up in the moment. Even in the stands, it was hard to concentrate on which was more important: the possibility that this was Reggie's last game, or the possibility that this was the game that knocks the Pacers out of the playoffs.
The reminders were omnipresent. Tribute books, I (heart) Reggie T-shirts, commemorative white leather basketballs engraved with his career stats, Ron Artest jerseys offered at 25 percent off.
And the chants. … They'd chant his name three times, then stop. Then they'd chant again. Three times, then stop. It went on all night. Reggie. Reggie. Reggie.
Yet you asked yourself as the clock kept ticking …
At what point is the adrenaline going to stop?
At what point will they realize that this is it?