By Scoop Jackson
Page 2
CHICAGO -- He was asked the question before it all began. And in his classic Terry Francona style, he gave the perfect damn-that-was-a-stupid-question answer. And maybe it was.
The question: Can you talk about the importance of Game 1 and then Game 2, versus if you win or lose Game 1, you know, the perspective on Game 2 as well?
His answer: "If we lose tonight, I'll come in and try to tell you that we're going to try to win tomorrow. If we win tonight, I'm going to come in and tell you we'll try to win tomorrow."
Duh.
Then Francona sealed it: "Hopefully, we can win three before we lose three. That would be my perspective."
After losing Game 1 by a 14-2 score, Francona humbly said, "Hopefully, they had their day; and hopefully [tomorrow] will be ours."
Tomorrow, unfortunately for his Sox, just became one day away.
---
When you haven't been somewhere since 1917, how do you act once you get there?
On the South Side of Chicago, inside U.S. Cellular Field, where the White Sox took a 2-0 lead in their AL Divisional Series Wednesday night, the answer is: You act like a damn fool.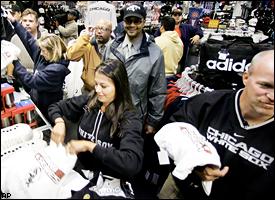 AP
White Sox Fever is catching on at the Grandstand souvenir store near U.S. Cellular Field.
But at the same time, you act like the fat lady is still in her bed fast asleep and the concert doesn't start until Sunday night.
As bananas as 40,000 people can get at once, these White Sox fans still know that this means nothing. So what that they were at one time the most invincible team in baseball? Even the die-hard, bleed-black White Sox fans knew that fate would be as big an opponent as anyone they'd face all year.
Now, fate has put their team in a position to play the second cruelest trick in baseball history on them. Because two years ago, they watched fate play the most fatal of tricks on the team with which they share the city. From that, they know, deep down in their souls, that two games mean nothing.
But still, they exhale.
"The best thing that ever happened to them is that they played bad baseball in September," local radio voice Jonathan Hood said after Tadahito Iguchi golfed a two-out David Wells pitch over the left field fence to give the White Sox the 5-4 lead. "Either Ozzie [Guillen] is a genius, or Ozzie is a genius."
Throughout the year -- especially in the final month of the season -- the White Sox manager flipped the lineup like he was managing minimum-wage high-school kids flipping burgers at McDonald's, and he did it with a team an entire city believed has a chance to win a World Series.
"Every day, they'd come in and look to see if they were playing or not," Hood verifies. "No one understood what he was doing. I think now they do."
And in two games, he's proven that his team can play the game any way the opposing team wants to play. They can win big (14-2) or close (5-4); the players at the bottom of the lineup can kill you (A.J. Pierzynski, 3-for-3 with two home runs out of the 7 hole in Game 1) or team MVPs can murder you from the top (Iguchi's home run was the winning hit in Game 2); they can consistently put strong starting pitchers on the mound (Jose Contreras and Mark Buehrle in the first two games, and both know their best is yet to come); they can be two games up in a five-game series without the postseason numbers from Carl Everett and Jermaine Dye, their two most important offensive players, who everyone said they'd need to win.
So as the fireworks went off and a feeling of ignorant bliss filled the air, the backs of the minds of White Sox fans stayed focused.
"It's a beautiful feeling," one fan said inside the BullPen bar. "But it won't be so beautiful if we gotta come back here on Sunday. I don't want to be back here on Sunday."
---
Losing three games in a row is nothing new to the world champs.
They've survived it before; they might have a chance to survive two in a row this time.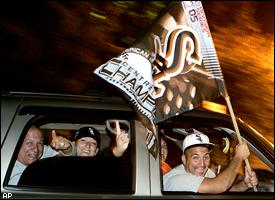 Sound the sirens again. The Sox are in the Series.
As Manny Ramirez and Jason Varitek left the clubhouse without saying a word Wednesday, they -- along with everyone else on the Red Sox roster -- knew that 0-3 miracle comebacks happen only once in four lifetimes. And in a five-game series … 0-3 means it's a wrap.
They also left the clubhouse knowing that the biggest difference between last year and now is who they put on the mound.
"I'm not even sure who our No. 1 starter is," Johnny Damon said the other day.
"It's not news that our pitching needs to hold the opposing team down," Papi Ortiz followed. "We don't get that, we're going to be in trouble."
And as the players filed onto the bus that would take them to O'Hare Airport for the flight back to Boston and the hope that another miracle will find them over the next two games, the one who should be with them, the one player who could save them from the situation in which they find themselves, isn't anywhere to be found.
A White Sox fan in a "Vote For Pedro" shirt walked by as the bus pulled out.
God sure has a twisted sense of humor.
For four innings on Wednesday, they looked like themselves, the "idiots" who had the baseball world in love with them.
It started with a third-pitch single down the third base line off Damon's bat. Even in the press box, you could hear the moan. Disgust was about to set in. Game 1 had been a fluke. The champs were back.
It was 6:10 p.m., Central.
The sky got dark quickly. More quickly than the night before. Two more cracks, two more sets of moans. Boston was up 2-0.
It was 6:15 p.m.
Their swag was back.
The most hated pitcher in the game not named Kenny Rogers was on the hill, tossing flames.
It started to feel like last year again.
One Tony Graffanino error later, one bad pitch later, it was over. Boston down 4-5.
It was 7:35 p.m.
"If you're going to point the finger at anyone," David Wells said after the loss, "point it at me."
Now it's all about the psyche. How will the team here to defend what it took 86 years to get handle the team that is on an 88-year World Series drought and had the best road record in the majors this year?
How does a manager look at the Angels' highlights and watch Orlando Cabrera play error-free and come up with big hits in their first two games, when he was doing those things for you this time last year? How does that same manager look at his lineup and act as if it doesn't bother him that Pedro Martinez isn't in his rotation?
How do you tell a mentally shocked team to take it one game at a time, when you're two games from being back in it?
How do you outlie someone?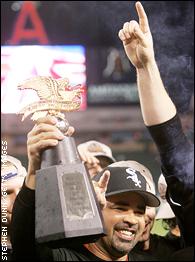 Hail the conquering local hero, skipper Ozzie Guillen.
Because as you read this, Ozzie Guillen is telling the White Sox that they are down 0-2. He's telling them that it's no longer a game-to-game situation; instead, it's inning-to-inning. He's telling them that they have nothing, that the Sox of Red are the champs. He's telling them that the next game Boston wins will be the last game they lose.
Ozzie is telling his Sox that he doesn't believe in destiny.
Last year, Francona was able to make his Sox believe that they were destined to win the whole damn thing; that it was their time.
Now, he has to find a way to make this year's team believe their time ain't up. Same speech … without the same players, without the same belief.
"The comfort I have is in our ability to play," Francona said with a straight face to the media Wednesday night.
"I know they're not panicking," were the words Ozzie used when the lights were on him.
Whoever is the best liar will win the series?
---
On the front of USA Today's Sports Weekly, Contreras' image looms large over the city of Chicago. He won Game 1, and Boston will see him again if it goes to Game 5.
The cover line under his face reads: "A Title On The Horizon?"
The deck below reads: "The Cubs couldn't do it. Now the White Sox fans hope their team can end Chicago's long World Series drought."
The Red Sox saw it before they left. That was them, last year.
If it goes five, the series will end on Oct. 8.
The paper goes off sale on Oct. 11.
Scoop Jackson is an award-winning journalist who has covered sports and culture for more than 15 years. He is a former editor of Slam, XXL, Hoop and Inside Stuff magazines and the author of "Battlegrounds: America's Street Poets Called Ballers" and "LeBron James: the Chambers of Fear." He resides in Chicago with his wife and two kids. You can e-mail Scoop here.