Now the real season can begin.
The Super Bowl is over, the Gators shocked the world, Maurice Clarett made it interesting, LT made it lovely, Southlake won a third straight Class 5A championship in Texas and Calvin Johnson showed us all who really is "Next."
But now it's official. As of Feb. 6 (gotta give time for the Colts to celebrate, right?) the basketball season is about to be as open as Britney Spears' legs in a photo op and as out-of-control as Lisa Nowak without a restraining order. Which means for the next five months (no disrespect to spring training or Opening Day), the game of basketball -- and everything that comes with it on all levels -- will take over our sports lives, 25/8/366. All ball, always.
So with this healthy obsession about to jump off, here are 30 things we all need to pay attention to and look for until C-Webb and Sheed lift that trophy in the D.
Or until Steve and Amare lift it in PHX. Or Dirk and J-How hoist it in Dallas. Or ...
The First 15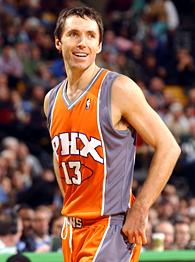 Brian Babineau/NBAE via Getty Images
Nash will be smiling if he becomes the first player to win three straight MVPs since Larry Bird from 1984-86.
• Steve Nash getting his third MVP in a row. This will without any reasonable doubt be the hot-button discussion of the second half of the NBA season, probably creating more debate, arguments and disagreements (and fights) than who's going to win the championship.
• O.J. Mayo either getting expelled from school or his team getting beat (and his getting outplayed) in the state championship. It's like the six years of fame have finally caught up with him. Not that the "bumping" of the ref was the last straw, but that was the last straw. Words spoken on the concrete and around the AAU circuit are that he's finally become overrated, words outside of USC are he's not going to be worth it. And if he doesn't dominate the last month of his high school career, everyone will know that Bill Walker really was more than just his Scottie Pippen.
• A team other than North Carolina, Florida, UCLA, Ohio State, Texas A&M, Wisconsin or Kansas shocking everyone in the NCAA Tournament ... but not making it to the Final Four. Because of the age limit Stern and Co. pimped into the NBA, there will be no George Mason this year getting to play the day before and/or the day after April Fool's Day. But there will be one squad -- not necessarily a mid-major but one with some sort of "one shining moment" obscurity -- that will dramatically crash the Elite Eight.
• LeBron James finally letting his frustrations be known in an interview with Stephen A. Smith. Not that I know LB like that, but from the outside looking in I can see it coming. He's been cool all season long, carrying the load, saying nothing. Doing the right thing. But soon he's going to need to pop. The whole "defense-first" style that Mike Brown has been pushing with no results, the inconsistent play of his teammates, the fact that the Wizards are having a better season than the Cavs, is all going to come crashing down on "NBA Shootaround."
• The Houston Rockets healthy all at once. That will be at the end of March. Trust me.
• Pat Riley coming back (coincidentally) right when the Heat either reach .500 or secure the No. 8 spot in the East. Everyone sees this coming but will act surprised when it does. It's like the Robin Harris joke about the Peeping Tom seeing his wife naked, "I ain't gotta look at this -- here!"
• The Jordan Brand All-American Classic in the Garden (April 21) outshining the McDonald's All-American game. After years in D.C. and last year in MSG, Jordan's high school showcase is going to be the fly game to play in since Sonny Vaccaro deadened the EA Classic and the Nike and adidas summer camps are (reportedly) history. The players are going to want to be down with Mike and from now on his game in NYC is going to be where they start.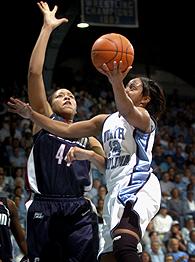 AP Photo/Sara D. Davis
If you haven't seen UNC point guard Ivory Latta yet, you're missing something special.
• Duke verses UNC tonight!!! Ivory Latta verses Lindsey Harding? Act like you already knew.
• Billy Packer not saying a damn thing this year on Selection Sunday. Remember last year? Remember how Packer lit into committee chair Craig Littlepage, basically challenging his competency, screaming on him about how many "small schools" made it? Bet your tax returns that Packer will be quiet as a mouse urinating on cotton on March 11.
• 2.11.2007. Gilbert Arenas claimed this was going to be his next 50-point game and that Nate McMillan (not the Blazers) was going to be the victim because of his involvement in having Agent Zero cut from the Olympic squad. Although GA will not score 50 in the game (he'll probably end up with around 44), he will have two more David Robinsons before the season is up. And one more in the playoffs.
• The battle between Kevin Martin and Monta Ellis for the Most Improved Player of the Year award. Both have come out of nowhere (not Martin if you saw that shot against the Spurs last year and not Ellis if you saw him play in high school) and teams have not found a way to stop them. The two baby-faced assassins will be battling to see who's more valuable to his team. The winner will use it to his advantage come contract negotiation.
• Pau Gasol getting traded to an Eastern Conference team: New Jersey? Miami? The Bulls? Seriously, Gasol is going to wind up somewhere and have an impact instant as grits. It's just a question of which team? And how soon?
• Michael Jordan as a judge in the dunk contest at All-Star Weekend. It's just too bad he won't have any of the players that could challenge his legacy in the contest to judge. But if Nate Rob needs 15 more attempts to complete one dunk again, Jordan just may come out of his 20-year exodus to "kiss the rim" one more time.
• The Celtics and the Sixers trying to lose games to better themselves in the Greg Oden lottery ... only neither will get the first pick. Boston will probably finish first, Philly third. But the last turned at the lottery will be Memphis, which will make the Grizzlies the winner of...
• The Kevin Durant lottery. Because Greg Oden is not coming out.
Friday: The second 15
Scoop Jackson is a columnist for Page 2 and a contributor to ESPN The Magazine. He'll also be the host of ESPN Original Entertainment's "NBA Live: Bring It Home" which debuts on Feb. 11. Sound off to Scoop and Page 2 here.