DENVER -- He's a different person now. Not even close to the one he was before he got here. For the four-fifths of the world who wanted Allen Iverson to change, your wish finally has come true. Because the AI you see now, the one who is battling to get the Nuggets past the Spurs and (hopefully, eventually) into the NBA Finals, is the one who never expected to have his life turn out the way it has.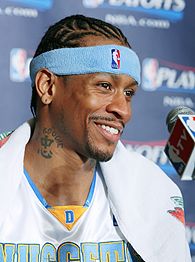 Garrett Ellwood/Getty Images
It's apparent that Allen Iverson is happy to be in Denver -- even after
a Game 3 loss against the Spurs.
He walked into Room 3 on the ground level of the Pepsi Center on Saturday night with his new Yankees black bottom-brim New Era cap resting on top of the white doo-rag that was keeping his character-defining cornrows F.T.D. (fresh to death). Jim Gray followed close behind. "What's going on?" Gray asked as Iverson took a seat, adjusting his eyes to the light beaming in his face as a sound man attached a small microphone to his Yankees blue button-up. "It's a documentary," someone told Jim. "They're finishing up a documentary on Allen's life."
As the film started to roll, the Iverson who no one has seen since his days as a child began to emerge, began to tell the story that never really has been told. And through all of the reminiscing of his life coming up in the "sewer" (as he said John Thompson called it), from his football days in Newport News, Va., to his battles with a certain security guard during his four-month stint in jail to getting to know songwriter Bruce Hornsby when he was young, the smile on his face indicated how he is not who he once was.
His life story is one thing. What his life has become is another.
It's amazing the impact a trade can have on a player. Especially when that trade sends the player to a place he's been to but never experienced. Allen Iverson's life before he came to Denver was confined to concrete. All he knew was 'hood and hardship, the ghetto and ghetto fabulousness. East Coast livin' to the utmost. He rep'd it like no other.
Now out West, a serenity inside of him has taken over. He's still the same AI, but even as he sits in the NY fitted, he is no longer in an NY state of mind.
Even though the Nuggets lost Saturday's game and are down 2-1 in their first-round series against San Antonio, it has no effect on how Iverson feels now. He's in the playoffs. He's on a team that has a legit chance to advance. He's playing for the first time in his professional career without the pressure of carrying an entire franchise on his 165-pound frame.
For the first time as an adult, Allen Iverson is at peace. Like the difference between Alex Rodriguez last year and now.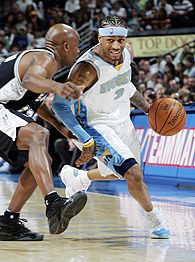 Brian Bahr/Getty Images
Iverson still knows how to turn the corner when the situation calls for it.
"Man, I feel like a whole new person." Iverson said. "After everything I did for them in Philadelphia, I don't think it had to end the way it did, with them not letting me play, not letting me into the arena. But I do appreciate Billy (King, Sixers GM) sending me here. This is probably the best thing that could have happened for me."
In his own words he asks me, "How could you not love being here?" Inhaling the altitude, absorbing his new release on life.
"Are you happy?" I ask him.
He just looked at me and responded -- with that smile you can see from his eyes, "Can't you tell?"
"This trade changed him," Iverson's personal manager, Gary Moore, said just before the Nuggets were introduced to the largest home crowd in franchise history. "He finally got to see the other side of life. He sees how life really can be."
The weather, the school systems (for his kids), the mountains (even though he hasn't gone there yet), the peacefulness, the cleanness, the attitude of the people, the reduced stress, the embrace he's gotten since his plane landed here in that January snowstorm.
As someone once said, "Even Stevie Wonder sounds different out here when you hear him on the radio."
I make the comment that this is all good, but once Chuck (Allen's nickname) retires from here, he's going to move back to Philly to live as a king. Gary shot the comment down like Baron Davis did Dallas on Sunday night.
"Never," Gary said. "When he's done, Allen is staying out West. We love this. I can guarantee you that he is never moving back East to live."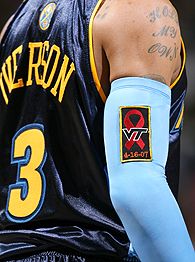 Garrett Ellwood/Getty Images
Iverson, a Virginia native, paid tribute to the victims of the Virginia Tech shooting with this patch.
And it's Gary's response to my comment where you find the new Iverson. His belief that AI will never return "home" has nothing to do with a love lost as much as it has everything to do with a love found. I tell him I've seen this happen before, seen it happen to my father. How he came to Denver 30 years ago from the 'hood in Chicago and never came back; how he stayed in Denver and never sold out; how the Mile High can take a brotha under.
Iverson seems to be falling into that same beautiful hole.
Because now it seems as if the AI the world has never seen is about to be on display for as long as he's in a Nuggets uniform. Nothing, it seems, can erase the feeling of utopia he now has inside. Not a San Antonio radio station skit that portrayed him as a weed-smoking thug or J.R. Smith's Fred Brown-like turnover that cost Denver the game or the fact that the NBA made Iverson (and Carmelo Anthony, who played at Virginia's Oak Hill Academy as a high school senior) remove their Virginia Tech tribute patches from their arm sleeves.
Nothing.
In the 40 minutes he sat and talked for the doc, the aura of Iverson could be felt by all who were in the room. Even when the conversation took serious turns, the smile never left his face, never left from inside of him. It's amazing how even though in the end he "requested" to be moved from Philadelphia, how it took a trade that he never really wanted to happen to get to this new place in his life. A place that, especially if he ever wins a championship, he may never leave. A place I think he's been trying to find since the first day he ever bounced a basketball.
Like they say: Be careful what you wish for in life, God just might make you happy. Even if you happen to be Allen Iverson.
Scoop Jackson is a columnist for Page 2 and a contributor to ESPN The Magazine. He's also the host of ESPN Original Entertainment's "NBA Live: Bring It Home". Sound off to Scoop here.