"The Pistons are over."
"The Bulls are out of Det." (Get it?)
"The lil' sleeping giant done woke up."
Those were the words of the Fed Ex man on Tuesday when he dropped off a package at my house.
"Whatever," I said, signing for the package. "The series is over tonight."
He said it wasn't. Said the Pistons made a big mistake letting the Bulls win that one game. Said it would lead to another one, then another one.
"Next time you have a package for me," I said, "just ring my bell and tell me I was right."
---
Having nothing to lose can be a funny thing sometimes.
The Bulls were down 0-3 against a team that appeared more invincible than Chuck Liddell. They were left for dead on Mother's Day. People at the United Center for Game 4 were wearing black armbands instead of pink ribbons. Waiting on Rev. Jesse Jackson to give the eulogy.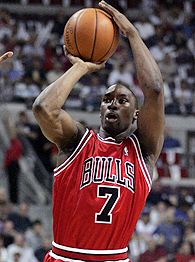 AP Photo/Duane Burleson
The Bulls need Ben Gordon to fill it up if they're going to complete their comeback against the Pistons.
Then -- almost magically -- the shots started falling.
Really
falling.
They shot 49 percent in Game 4. They shot 57 percent in Game 5.
All of a sudden, the team that Scott Skiles built -- a team that averaged only 76.7 ppg in Games 1-3 -- exposed Detroit's premature swagger.
After watching all those Chicago shots fall on Sunday, Pistons coach Flip Saunders said, "Now we've got a series." After watching more shots fall in the first half of Game 5 -- at a 72 percent clip -- Saunders was left speechless.
Now the Bulls have awoken.
The team that relies on jump shots the way Paris Hilton relies on Page Six and "Access Hollywood" has risen from its coffin and made some people believe it can do something no team in NBA history has done ever -- win a best-of-seven series after losing the first three games.
Many thought this Pistons team was different. Different than the one two years ago that let teams back into series, the one that sometimes fell behind only to play better with its back against the wall. That team took on the personality of its coach, Larry Brown -- who loved drama, who always made things more interesting (and difficult) than they needed to be.
Those Pistons -- especially after this year's sweep of the Magic in Round 1 -- were supposed to be played out like Bapes.
Instead, that dynamic has returned. Even Chauncey Billups has admitted it, saying, "Our team is not that good with a cushion." It's them, those same Pistons again. A three-game cushion is good for every other team in sports except them.
So now they've made it interesting. They've found a way to make something out of nothing, and they've given a team with nothing to lose four chances at life.
Are the Bulls this good? They can be. All they've ever needed is air and opportunity. The Pistons have given them both. ''The pressure may not be on them yet, but we are playing with a lot of confidence right now, and we don't feel any pressure," P.J. Brown said of his team, which can knot this series up with a win Thursday night in Chicago. "It's us against the world. Nobody believed before [Game 5], and nobody will believe in us the next game."
(Some people believe Ben Wallace's hair has been the difference. In Games 1-3 he wore his hair braided -- in Games 4 and 5 he sported the Don Cornelius 'do. And this isn't street conspiracy, this is part of a year-long on-going study conducted by the Chicago Sun-Times.)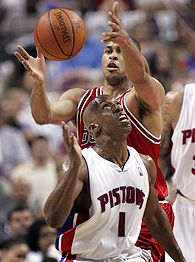 AP Photo/Carlos Osorio
Chauncey Billups and the Pistons have clearly taken their feet off the gas.
But the shots still have to fall. Just like Detroit shouldn't have reverted to that team of old, the Bulls can't revert to the team that shot so poorly in five of the nine games they've played thus far in this year's playoffs. As Saunders said after Game 5, trying not to sound panicky, "We've got to play the way we're supposed to, and I thought tonight we got a little bit out of character, that probably [has to do] with how [the Bulls] played. … Once a team like Chicago that can really roll like that, it can be tough to stem the tide."
Now it's Yogi Berra time for the Bulls. They don't have to win four games in a row -- just win one game at a time, four times consecutively. Two down, two to go. And it's all predicated on if their shots continue to fall.
Simple math: If the Bulls shoot better than 50 percent in Game 6, there will be a historic Game 7.
---
As I walked out my door to go to the Bulls' practice on Wednesday, to see if they're really ready for the Game 6 -- to see if the shots might drop -- there was a Fed Ex tag hanging on my door. No tracking number, no indication that I needed to come down to the office to pick a package up. I turned the tag over.
In big black ink: "Told ya! Go Bulls!"
Yeah, well … go UPS.
Scoop Jackson is a columnist for Page 2 and a contributor to ESPN The Magazine. He's also the host of ESPN Original Entertainment's "NBA Live: Bring It Home". Sound off to Scoop here.