What if Rafael Nadal didn't exist?
What if the player considered possibly the best ever didn't have a nemesis? A tormentor? An obstacle in his path, a thorn in his side, a pain in his ass? Would Roger Federer be considered as great if there was no Nadal? Or is he considered so great because Nadal exists?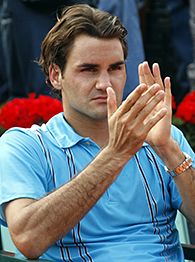 AP Photo/Michael Spingler
Federer is left to wonder, will he ever win the French?
Greatness is often defined by adversity, by what interrupts a person from achieving it. When you have an entire sport at your feet, in your hands -- at the end of your racket -- what meaning does the person who halts you from achieving unconditional greatness hold?
Think of tennis without John McEnroe interrupting Bjorn Borg, or basketball without the Pistons interrupting MJ. Think of boxing without Joe Frazier. Before Sunday's French Open men's final, Mary Carillo compared Federer-Nadal to Ali-Frazier -- one floats, the other counters. But her words reach far deeper than a simple analogy.
The French Open is the only thing in tennis Federer doesn't own. The one title that separates him from being Tiger, or Jordan, or Ali. Or Rod Laver.
That damn clay.
Federer finally beat Nadal on clay one month ago, at a tournament in Hamburg, Germany, ending Nadal's 81-match winning streak on the surface. That gave Federer, and his fans, hope. When both Federer and Nadal reached the French Open final again this year, the tennis world knew there was a decent chance that "Frazier" would lose.
But "Frazier" had other plans.
"I feel sorry for Roger," Nadal said after his 6-3, 4-6, 6-3, 6-4 win on Sunday. "He's a friend, a good person and a great champion."
By fighting off 16 of the 17 break points he faced, and winning five break points of his own, Nadal reminded Federer on Sunday that the entire tennis world is not his -- not yet.
Nadal reminded him by repeatedly attacking Federer's backhand with shots that -- almost every time -- had Federer making contact with the ball at eye level behind the baseline. He reminded him with a running forehand at deuce in the sixth game of the first set -- a shot that curved in the air as if it had left Josh Beckett's hand, hovering over the white chalk that divides the red clay -- a shot that Federer never recovered from (he lost five consecutive points after that). He reminded him by assassinating his confidence, by demoralizing his ambition, by crushing his thoughts of victory.
Since January, when he won his third Australian Open, this was all Federer had been thinking about. He said he was "almost" obsessed with the French Open and winning this title (the only Grand Slam title he hasn't won) this year. And after that win in Hamburg, Federer thought he had a great shot.
"Spin it anyway you want," he told the press afterward. "I'm disappointed to have lost. I could care less how I played the last 10 months or the last 10 years. At the end of the day, I wanted to win [this] match."
Nadal crushed Federer's heart. Interrupters of greatness do that. Somehow, they just know how.
Nadal has now won three consecutive French Opens. At 21 years of age, he is tennis' LeBron James -- only better. Nadal has never lost at the French. He's 21-0. And he has never even played in a fifth set. That might be the sickest stat in sports right now. He's never come close to losing in Paris. He hasn't even been pushed.
That damn clay.
That damn clay covered Nadal's back and long shorts when it was all said and done. Covered him while he hoisted the Coupe des Mousquetaires trophy over his head. Covered him just like he covered it during the 3-hour, 10-minute autopsy he conducted on Federer's hopes and dreams.
Like Frazier covered the former Cassius Clay in Madison Square Garden.
Over the last four years Roger Federer has amassed a record of 277 wins and 19 losses. Read that again, please. 277-19.
But of those 19 losses, seven have come by the racket of Rafael Nadal. Two (and counting) in finals at Roland Garros.
Yes, greatness loves company. But not when it's a clay-covered pain in the ass.
Scoop Jackson is a columnist for Page 2 and a contributor to ESPN The Magazine. He's also the host of ESPN Original Entertainment's "NBA Live: Bring It Home". Sound off to Scoop here.