CLEVELAND -- When asked if he was nervous before Game 3 of the NBA Finals, the biggest game in Cleveland history, he said, "Definitely not nervous. Very excited. Our city is like a mini-New York. Thousands of people all over town just here for the game. It's an amazing time to be in Cleveland, Ohio."
Down 0-3 means nothin'. He still has a job to do.
But this ain't LeBron talking. No sirrrr. This is the person who has to get the King prepped to pull a repeat of his Game 5 against the Pistons in Game 4 against the Spurs. This is the Cavs' last hope. Thursday night a DJ has to save their lives.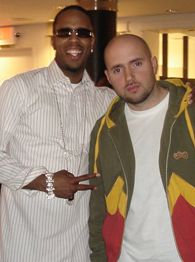 Mick Boogie (right), pictured here with Damon Jones, hopes to fire up the Cavs before Game 4.
By all standards that are applied to today's music, Mick Boogie is a star. A luminary. He's a hip-hop DJ who has built a rep on the streets -- from rap stars like Lil Wayne, Rich Boy and Al Fatz wanting to be on his now-defunct (legendary) mix tapes, from Diddy blessing him with the responsibility of "officially" blessing the world with the latest Biggie promo mix tribute, from L-R-G making him a "family member" in its clothing campaign, which already included hip-hop legends Kanye and Raekwon and Just Blaze.
But Thursday night -- at least between the hours of 7 and 11 -- he won't be at the clubs spinnin'.
Before each Cavs home game this season, Mick Boogie has been given the assignment of musically preparing the Cleveland players to go to battle. He's the in-house drill sergeant, but he speaks with his hands. Many teams and arenas around the NBA have DJs who get the crowd excited before a game, but not many (only the Cavs, and the Heat with DJ Irie) have a true hip-hop DJ -- one with worldwide recognition -- behind the ones and twos to provide the players with a soundtrack to ball to.
In most NBA arenas you hear cheesy top-40 music, "NOW" music, "stadium pop" music -- songs strictly for the paid attendees, nothing geared specifically for the players on the floor. But this year the Cavs decided to go ghetto … and it's turned into a revolutionary thang.
"Musically, I've been cooking up some special blends to play at the game, just to give the players that extra push," Mick said while taking a break between sets at The Q. "For example, LeBron loves Jay-Z. And he loves 'Party Like A Rockstar,' so I made a remix of Jay-Z's 'U Don't Know' over 'Party Like A Rockstar' that takes the energy level to a whole new level."
In an era when songs from the Village People ("YMCA") and Gary Glitter ("Rock and Roll Part 2") remain in heavy rotation and are considered standards at sports events, hearing the urban sounds of something "authentic" is as refreshing as seeing T.I. in Chevrolet commercials.
Most serious DJs, especially those who are rooted in hip-hop, don't mess with arena spinning or booking corporate gigs to feed the family. It would be too much like selling out, or spinning to an audience who really doesn't love or appreciate the music they play. That's the disconnect. Most members of the NBA audience -- the people who hold tickets to games, the ones the league desperately tries to market to -- are so distant from hip-hop that (generally speaking) they wouldn't know the difference between Young Buck and Young Jeezy, but they'll swear they love both artists.
But somehow, Mick sees through all of that. He knows that he has two audiences to serve -- and if nothing else, in hip-hop, you have to prove that you aren't one-dimensional.
"I kinda have two sets before a game," he said. "I have 10 minutes before the players come out which is super mainstream -- Rob Base ["It Takes Two"], Digital Underground ["The Humpty Dance"] -- that's for the crowd. Then once the players come out [the music] is strictly for them, the players. It's a drastic, drastic difference."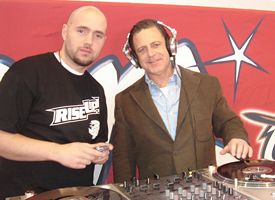 Cavs owner Dan Gilbert tried something different by hiring Mick.
For the Cavs there is only one person who can put that something "drastic" -- that something subconsciously necessary -- into their ears, heads and hearts to inspire them to ball like a symphony, to play like (as Kool G Rap said) "they are avenging their brother's death." And although music can't make shots fall … can't make a team shoot better than 36 percent from the field, or better than 3-for-19 from 3 … can't make the bench score more than seven points … can't guarantee Daniel Gibson has a better night than 1-for-10 from the floor … can't will a LeBron game-tying 3 (regardless of a foul) into the basket … can't stop Tony Parker from winning a Finals MVP … and can't stop a team from getting swept … it
can
put players in that personal zone essential in order to win. "Game mode," as they call it. And for a team that is collectively one of the youngest ever to make an NBA Finals, hearing "Throw Some D's" instead of "Sexyback" right before a game tips (or before the beginning of the second half, which are the only two times Boogie is on the tables during a game) -- well, that might make a difference in how the players play.
"In my mental thinking," explained Boogie, a native of Poland, Ohio, "if I'm LeBron, if someone can take my two favorite songs to a whole 'nother level, that gets me extra amped for the game."
And "amped" is an understatement for what the Cavs (and LeBron) need right about now.
"Y-y-y-yeah, y-y-y-yeah, y-y-y-yeah, y-y-y-yeah … t-t-t-totally dude!!!"
They will hear it. Before they come out of the tunnel, the James Gang will hear those words. Then, more than likely, these:
"You don't know … what I am going through."
Shop Boyz. Then Hova. The remix.
The music will blast. Then the Cavs will come out. Like rock stars.
The pressure will soar. The crowd, it will roar. Then it will be up to Mick Boogie to save them.
Scoop Jackson is a columnist for Page 2 and a contributor to ESPN The Magazine. He's also the host of ESPN Original Entertainment's "NBA Live: Bring It Home". Sound off to Scoop here.