Dear Pax,
Merry Christmas! I know, I know … you've been hearing that a lot since my man Adam Silver pulled your card Tuesday night. But given the circumstances, this is the closest thing to a Christmas gift your organization has gotten since He came back after that little baseball stint.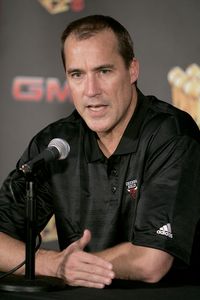 AP Photo/Jeff Roberson
Bulls general manager John Paxson has a very difficult decision to make.
On the real, though, that luck of the draw you just pulled off, bananas! I heard you on Waddle & Silvy, very diplomatic. Almost presidential. I liked that line, "The organization's responsibility is to put whatever player [we] draft in the position to understand what [the NBA] is all about." Very noncommittal.
But all that "You could be Barack's or Hillary's running mate" aside (Chicago baby, you know how we gotta stick together!), we both know what needs to be done. And I'm just writing to make sure you don't get swayed.
Michael Beasley's your dude, Pax. Again, I know, I know … I just said we Chi folks gotta stick together. But this here is something different -- a whole 'nother level of loyalty. Derrick Rose is homegrown like Harold's Chicken. But my question to you is, where does your loyalty lie: with the city, or with the team?
Kinda jacked up when it's put that way, huh? Yeah, I thought so, too. You're not supposed to feel bad for anyone on Christmas. But Pax, right now, I almost feel sorry for you.
Now, I lost a lot of sleep because of this. I'm not sweating because of the decision you have to make, but because my phones keep ringing and people keep screaming "Pooh!" into my answering machine. My iPhone has been going off like it has Tourette's, buzzing with text messages all night long. Here's one: "Rose or Bust!" Oh wait, here's the one I love the most: "The Bulls just messed around and got the No. 1 pick, if they don't pick Derrick Rose, (expletive) all Chicago sports forever!" The Sun-Times had Pooh on the cover (above Barack Obama and R. Kelly) with "The One" as the headline, along with a picture of him floating over the city's skyline and the word "jackpot."
All this pressure was instantly put on you to make a decision that may not be in the best interest of your team. Yes, Pooh is the best player available. And yes, he is from Chicago. And yes, he does have the chance to be the next CP3 or DW5. But all those people and media outlets trying to force your decision are thinking with their hearts, not their heads. Because if they were thinking with their heads, they'd understand that this no-brainer actually is closer to rocket science or akin to being a hedge-fund manager at a major investment bank, in your case. They'd know that the next 35 to 40 days are going to be a living purgatory for you. Hell, it might be worse than what you had to live through this whole season.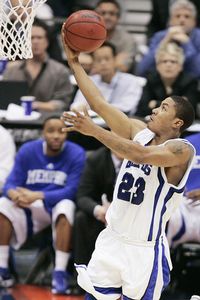 AP Photo/Matt York
It's only natural that Chicago fans want to see a hometown product, Derrick Rose, shine for the Bulls.
Your team is stockpiled at the guard position, and you have zero players who can score inside. Not a one. You've got a perimeter-shooting team that can't shoot, and no one who can drive to the basket off the dribble. Your team went from an Eastern Conference semifinalist to a 33-game winner in one year. You have several players who can go off for 20 to 30 points on any given Wednesday, but no one you can count on to stop scoring droughts that sometimes last longer than a whole quarter.
You have the worst shooting team in the NBA!
Shooting 43.5 percent per game, with no true back-to-the-bucket, take-the-ball-out-of-the-net scorer. Yet you are being pressed to draft someone who really doesn't solve your main problem.
Here's the thing. If you draft Rose, what are you going to do with Ben Gordon, Kirk Hinrich and Larry Hughes? You gonna trade Kirk and his contract? You gonna not re-sign Ben and lose him for nothing? Unless you plan to make a change with one or all of them soon, adding Rose to the mix is like the Knicks adding Steve Francis to a roster that already had Stephon Marbury and Jamal Crawford. And we all know how that turned out. All I'm saying is, with your squad built the way it is, where would Rose fit? How does he solve your biggest on-the-court problem?
Now, I know Rose can do the one thing that no one else on your roster seems to be able to do: attack the basket. I know he can score in the paint with ease. But good NBA teams -- teams that go beyond the conference finals, teams that can get past Boston in the next three years -- are teams that are built with balance. They are teams that are more than one- or two-dimensional on offense. Teams that don't have to rely on jump shots and teardrops in order to win.
And yeah, I've heard all of the Chris Paul and Deron Williams comparisons with Pooh. But you know, and I know, that what makes those two what they've become is the fact that they have players with a post presence to take the pressure off them to do everything offensively. CP has David West, an All-Star. D-Will has Carlos Boozer, another All-Star. Even Tony Parker -- whose game is very similar to what Rose's game will be, I think -- has Tim Duncan, and that tandem allows the team to continue to play for titles year after year. You got that player for Rose once he gets here, Pax? You got that plan in effect?
If so, you are a genius. If not, well, at least you didn't swap Pau Gasol for Kwame Brown.
(Plus, you still have to find a coach. Having the No. 1 pick probably just made the job a little more attractive, eh?)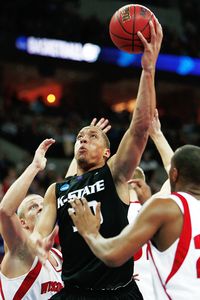 Jamie Squire/Getty Images
Beasley was a beast at Kansas State, and looks like he'll be one in the pros as well.
Look, man. All things real, Joakim Noah, Tyrus Thomas and Drew Gooden are not scorers in the paint. They are all good at what they do, but what they do is not what you need with the squad you have. Adding Mr. Beasley -- a 6-foot-10 beast who could be unstoppable in the East, except maybe against KG -- to what you already have wouldn't just make you better. It would make you
complete
. And when you are complete, you can compete. Johnnie Cochran told me that one.
But there's no way you can sell that to the city, is there? Not with 3 million people singing "A Rose Is Still a Rose" in unison. The city wants a superstar. Especially one who was born and raised in the 606 zip, a rose that rose through the bricks of Englewood. A kid we all grew up with. The city's thirsty for a player -- that one player -- whom you can build around, who will take the Bulls to the next level, give them an identity, do what LeBron's done. Like the Gatorade commercial says: Every game needs a hero. But you have to decide, is the one they want the right one for what you need?
You no longer have a choice now, do you? Chicago is not going to let you make one, is it? The way it's going early in your draft dilemma, if you don't pick Pooh, or if you choose B-Easy and it doesn't work out immediately (and even if it does, millions will want your head anyway), you'll be run outta here faster than Sammy Sosa, hated more than the goat that jinxed the Cubs or the cow that burned down the whole town.
Dude, empathy.
Well, my friend (I think I can call you that, seeing as how I'm trying to look out for you and all), I know June 26 can't get here fast enough. Sports hath no fury like a city in desperate need of a savior. And because you're going to be the one to decide who's going to save Chicago from the basketball paralysis you are largely responsible for, I can say only two things: God bless ya, and don't (expletive) it up.
Sincerely,
Scoop
Scoop Jackson is a columnist for Page 2.