It was about to happen. It was so close. The target on Alfonso Soriano's back was slowly moving to the front of his chest, and Cubs fans were about to pull the proverbial trigger. It's the worst thing that can happen to a team's most important player. That moment when you realize: "My team can win without me."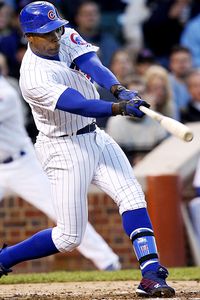 AP Photo/Nam Y. Huh
After a very slow start, Soriano's been heating up in May.
With every game it seemed more clear that Soriano's services might not be necessary. Indeed, this is where things were headed, a place no superstar wants to be. And as the bull's-eye crept closer to the center of his chest, he was just hoping he'd be allowed enough time to heal, to show Cubs Nation that he will be the reason "It's Gonna Happen" is gonna happen.
Oh, this was all before Soriano lost his $136 million mind at the plate just over two weeks ago. Before an eight-game stretch during which he went 19-for-33 with seven HRs and 15 RBIs. Before his team took over first place in the NL Central, with a current record of 30-21.
Did you notice how I called it his team?
Before his recent Lance Berkman/Chipper Jones impersonation, Soriano was close to being a forgotten -- if not hated -- man in Chicago. Greg Couch of the Sun-Times wrote a column about Soriano with the headline, "Wrong Man For Job." Steve Bardo basically called out his athletic manhood on sports talk radio during a segment dedicated to whether the Cubs need Soriano to succeed.
Soriano was still batting just .188 back on May 8. No one could forget his 2-for-14 performance in the 2007 NLDS sweep at the hands of the Diamondbacks. Plus, he had to go on the 15-day DL in April for trying to be fly on a routine fly ball. A $136 million salary, for this? The writing was on the ivy-covered brick.
Soriano came to the Cubs with a promise -- not one made by him, but a promise clearly understood by Cubs fans, who've waited 100 years now for a World Series championship. A promise of deliverance. Not from evil, but from hell. Soriano was supposed to deliver the lost ark to the city that's already disregarded the White Sox's 2005 World Series win, as if it almost doesn't count. And, after a little less than a season and a half with Soriano in a Cubs uniform, many people were beginning to believe that the end of the insufferable drought was going to have to happen not with Soriano's contribution, but in spite of it.
Or, as one die-hard Cubs fan said to me on Mother's Day, when asked about Soriano's post-DL play: "The goods weren't damaged, just overhyped and undependable." The Cubs played well without Soriano; they were tied for first when he came off the DL. Then they lost of five of seven games. What to do with a player with over $100 million left on his contract who was hitting below .200?
That was until May 10, in a game against the Arizona Diamondbacks, when Soriano went 4-for-5. That was when Mr. Soriano -- the one the Cubs had been waiting for -- came back to life. Now, the question is not how long this will last, but whether the Cubs and their fans have learned that they can't do this -- can't complete this miracle -- without him.
Much of the attention that's been focused on the Cubs has centered on the baptism of Kosuke Fukudome, and the baptism-by-fire of Kerry Wood in the bullpen. So the early struggles of Soriano were somewhat lost in the shuffle. But the reality is, even with Derrek Lee having an MVP-type season, and Aramis Ramirez making up for his own performance in last year's NLDS, and rookie catcher Geovany Soto's booming bat, and Mark DeRosa's hot start, and Zambrano trying to keep pace with pitchers like Brandon Webb and Dice-K, the Cubs are no better than a good team without Soriano. But when Soriano is hitting … it just might happen.
Which is why his return to life is so huge. The Cubs can ill afford to do without him. When a team emotionally and financially places its hopes and dreams on your shoulders, failure is no longer an option.
Because from this day forth, because of what we've just watched him do, it's Alfonso Soriano's World Series to lose.
Scoop Jackson is a columnist for Page 2.