WRIGLEY FIELD -- It's not panic time, but it is getting close.
The Cubs have seven losses in their past eight games. A 6½-game lead cut to 4 in a little over a week. The loss of their ace, Carlos Zambrano, for an undisclosed, unknown period of time. "Tired arm" syndrome infecting the entire pitching staff. April sensation Kosuke Fukudome hitting .221 in the second half and getting benched. Six straight losses last week -- their longest losing streak of the season, coming in the season's final month. Getting shut out twice while scoring more than three runs just twice in their past nine games. And with a record only two games above .500 (35-33) away from Wrigley Field and 13 of their final 19 games on the road, it's beginning to feel like 2003 again.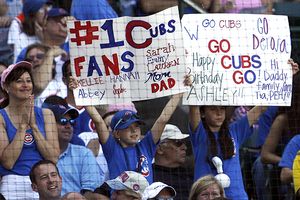 AP Photo/Nam Y. Huh
For Cubs fans, until a playoff berth is clinched, it will remain on-the-edge-of-your-seat time.
The people are starting to breath heavy.
Two games into "the funk" Alfonso Soriano said to the media, "There is no panic." Now, "… if we make the playoffs" crept out of Soriano's mouth while making a comment about Zambrano's injury.
If?
Pitching coach Larry Rothschild is getting more media time than the Bears beating the Colts in their season opener. Things are so iffy that the Cubs called up a pitcher from Triple-A (Kevin Hart) who has a 7.97 ERA in over 20 innings with the big-league team.
Some media pundits say it's not time to panic just yet, that the Cubs will still win the division and the wild card is a sure thing, but that if the city is thinking about the World Series, fans should be concerned.
Asked about this early in the losing streak, Cubs manager Lou Piniella put everything in plausible denial perspective: "Are we supposed to win every day? I don't think so. I think we've spoiled people, and we've gotten people used to (winning). But, every day, things don't go your way in this business. That's why you play 162 games, that's why you play six months."
And this being the sixth month, the most important month in the brilliantly cruel, realistically hyped 100-year World Series drought of this franchise, the "anything that can go wrong will go wrong" mindset that even the die-hardest Cubs fans have is understandably beginning to visit souls and membranes.
"The most important thing we have to remember," pitcher Ryan Dempster told the Chicago Sun-Times after he wasn't able to stop the drowning even though lately he's been looked at as the team's savior on the mound, "is that we have a really, really good team. You're going to go through bumps in the road and sometimes when they are late in the season, they're magnified a little bit."
Still, there's hope. It greets you when you walk around the city, it takes over you the instant you walk into the ballpark.
It's a simple image: a blue W.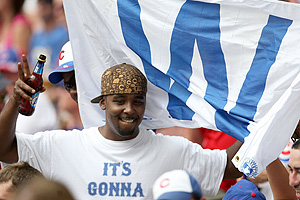 Jonathan Daniel/Getty Images
The W is everywhere in Chicago. Is starting to stand for "worry"?
You see it all over Chicago now. Like Obama T-shirts and "Gossip Girls," it's everywhere -- on flags, on the front of newspapers, in store windows. Inside the confines of Wrigley that W blesses more chests than LEE and FUKUDOME bless backs.
Everywhere you look it's staring back at you. Telling you something. Sending a message of hope.
The greatest glory in living lies not in never failing, but rising every time we fail.
That message from Nelson Mandela summarizes the Cubs' century of failing, the failures of the past week that are sensed on Addison and the doubt that might be sneaking into the clubhouse. And until the end of September, the message of victory that W is trying to send out will be interpreted as a message of survival, at least until the Cubs' bats ignite another winning streak.
Or as Derrek Lee told the Chicago Tribune after the voices reached the dugout, "I hear it, (that) the city is panicking. We don't feel any of it. Nobody says, 'Hey, we're panicking, let's win.' We're just concerned about ourselves in the clubhouse and getting back on the right track."
Pessimistically thinking, that blue W, once inverted, could stand for "Mets." And we all know what happened to them last September. The Cubs can't (im)possibly be headed down that road. Can they?
Never in the history of the Chicago Cubs has one letter meant so much. "Why so serious?" I asked a Cubs fans leaving Wrigley last week after a loss. He looked at me like I was joking. It was a dark night.
Win, baby! Win, dammit! Win … or go home. It is the beginning of the end or the beginning of the beginning for the franchise America has loved to love and loved to watch lose. The entire 100-year drought that has become the franchise's epilogue has come down to this final month.
Breathe easy. Exhale slow. Everything reduced to one letter. W … or die.
Scoop Jackson is a columnist for ESPN.com.