"This is for Philadelphia! This is for the fans!"
-- Phillies manager Charlie Manuel to Fox correspondent Jeanne Zelasko, minutes after his team won the World Series
The question was asked last week on ESPN's "First Take," when the Series was tied at one game apiece: Do Philadelphia fans deserve a championship?
Do the fans who booed Santa Claus, cheered while Michael Irvin lay motionless and threw batteries at J.D. Drew have the right to have something good happen for them?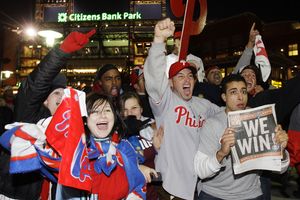 AP Photo/Gene J. Puskar
Regardless of whether Philadelphia fans deserve
a championship, the Phillies have given them one.
It's an odd (and almost insulting) question to ask about fans. This question would not have been asked about any other fans in any other American city. But this is Philly, a city where the fans seem to embrace the stigma placed on them and seemingly go out of their way to prove how "tough" they can be on opponents and on their own teams.
Such behavior alone makes the question a fair one.
For decades, the fans in and of Philadelphia have been painted as almost inhumane, recognized around the sports world as crowds who will turn on their teams, their players and even themselves. Now, after a collective 98 seasons in which their big four teams (Phillies, Sixers, Flyers, Eagles) had had nothing to show for their efforts, the city finally won a championship.
A World Series.
Now that it has happened, it's time to re-ask the question: Did Philly fans deserve what just happened to them? Do they deserve this World Series title?
It's a difficult question to answer. How does one separate wanting something for Philadelphia's players from not wanting to see the fans get anything? When did the fans supersede or become more important than the players?
(Keep in mind that "fan" is the root of the word "fanatic" and the Latin term "fanaticus," which is defined as "mad, enthusiastic, inspired by a god.")
Doesn't Donovan McNabb deserve a ring? Didn't Allen Iverson deserve one? Didn't Eric Lindros? How was it possible to follow and appreciate what Ryan Howard, Chase Utley and Jimmy Rollins have been doing over the years but not want something good to happen to them? To Jamie Moyer, at 75 years old, still freezing batters with pitches below the speed limit? To Brad Lidge, after Albert Pujols hit the home run off him in the 2005 NLCS? To Charlie Manuel, after his mother's passing during this year's NLCS?
How could anyone not want something good to happen for the Philly fans, at the expense of those mentioned above? It can't go both ways.
Or can it? The beauty of being a fan in Philadelphia is that loyalty is a two-way street, and they exercise that loyalty to a fault. When I witnessed Philly's reaction to hometown anti-hero Kobe Bryant winning MVP of the NBA All-Star Game (Bryant was booed unmercifully), I began to understand the depth of these fans' passion.
It took a friend of mine from North Philly to explain it: "We'll put on all of the Philly paraphernalia, and we ride or die with our teams unlike any other city. But at the end of the day -- or the end of a game -- we'll call you a bunch of [expletives] if you don't win or we think you didn't put out a serious effort to win. See, we are the city where we can talk bad about our own teams, but no one else can."
So now that the Commissioner's Trophy is officially in the Phillies' possession, how can we answer the question of what Philly fans deserve without separating them from the city's teams and players who have earned the right to a championship?
Easy. You simply look beyond the facade and stereotype of how the Illadelphia fans are portrayed and discover who they really are. Did you hear them during the three Series games played at Citizens Bank Park? Did you see them? Did you pay close attention to those fans throughout these playoffs?
There was honest joy in their screams and euphoria in their misinterpreted faces as white rally towels swirled 45,000 strong on every two-strike, two-out pitch. Their passion surpasses that of fans of every city or team in the past 20 years. There was no pretension (L.A.), no obnoxiousness (Boston), no fickleness (Florida … Marlins, Heat, Dolphins, choose one). Just straight concupiscence. It's a love (not hate) thing. How could you not want something good to happen for them?
That's why this World Series -- if we are to answer the original question honestly -- couldn't have happened to a greater collection of fans. They deserve it. Damn what people say about them, and damn how the world sees them.
Scoop Jackson is a columnist for ESPN.com.