DRAFFENVILLE, Ky. -- Imagine an oasis. Something beautiful that exists in the middle of nothing like it. A tangible dream. A once in a lifetime (or once a year) experience.
Imagine spending a day in that oasis.
Basketball in Kentucky. High school ball. Heaven. Seven of the top 20 teams in the nation in one day, in one gym. An oasis.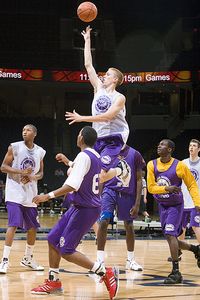 Jason O. Watson for ESPN.com
Jon Hood is regarded as the top senior in Kentucky.
The experience of watching 16 straight hours of basketball at the Marshall County Bill Keightley HoopFest on Dec. 6 was like nothing else. You discover the difference between the Nos. 1, 4, 5, 6, and 7 teams in the country is very small and on any day of the week, in any holiday tournament, one of them can go down.
I discovered that there's nobody in the state of Kentucky who doesn't know basketball. Fans may bleed Wildcat blue, but their knowledge of the game is universal. And they are not shy in letting you know everything they know. You also learn the average age of the Kentucky b-ball guru is about 60.
I discovered that the true basketball fans in Kentucky (which are different from Kentucky basketball fans) come out for basketball like those saved come to church. To them, a gym is a sanctuary. Even "Why aren't you in the NBA?" former University of West Virginia star Kevin Pittsnogle showed up to watch some games.
I discovered to never miss it when the No. 5 team (Oak Hill Academy of Virginia) in the country and the No. 1 team (Duncanville, Texas) in the country go up against each other -- even if you have to fly in two days early to get there in time, since there's no plane that flies to where you need to go.
I discovered that if you do miss that game, a midnight battle between the No. 5 team in the South (Montverde Academy of Montverde, Fla.) and the No. 6 team in the nation (Findlay Prep of Henderson, Nev.) will more than make up for it.
I discovered to pay attention when you hear the name Jon Hood. And when you see the 6-foot-6, Madisonville-North Hopkins (Ky.), on-his-way to U of K recruit play, try not to fall in love. And when he scores 30 points in a losing effort, well, you don't hold it against him.
I discovered how not to judge All-American players by one-game performances and how not to judge nationally ranked teams the same way.
I discovered that the backcourt of Julysses Nobles and Deville Smith of Jackson (Miss.) Callaway is the best in the nation. No questions asked, no disagreements from any scouts in attendance.
I discovered that Marietta (Ga.) Wheeler might, at No. 7, be overrated.
I discovered midway through a basketball marathon like this that unless there's a local or regional team involved (even if it's two of the top teams in the nation facing off) it is very hard for the teams playing to generate a state championship-centric level of intensity. It becomes clear how locally driven the game is at this level and how, more than in college or the pros, players feed off the positive or negative reactions of the crowd. So when no one is really rooting for or pulling for a particular team, it somehow doesn't allow the teams to perform at a level you know they are capable of when the crowd either loves or hates them.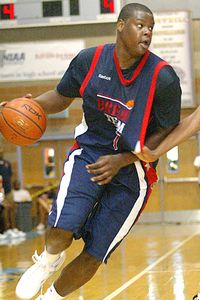 Reebok
Renardo Sidney is one of the few big men with big-time potential.
I discovered that the big man is extinct. That unless Derrick Favors of Atlanta or target=new>Renardo Sidney of Los Angeles or DeMarcus Cousins of Mobile, Ala., turns into Dwight Howard soon, guards and small forwards are about to take over the game in the next three years.
I discovered that Oak Hill Academy is the Yankees of high school basketball. They have a huge national following and fan base, but people hate them. I heard "evil empire" more than once. Even when they weren't playing.
I discovered that even teams ranked above Oak Hill still fear it.
I discovered that when Rick Pitino shows up to a high school basketball tournament in Kentucky, you see what life must have been like for Elvis.
I discovered that in every hometown there is a hero who plays just as well and is just as good as anyone in the state, but goes unknown and anonymous. In this case that player's name is Scott McKenty of Marshall County High.
I discovered that there are all-black teams in the country that can shoot and there are all-white teams that are extremely athletic. I discovered that myths to the contrary are ignorant.
I discovered that Simeon Academy (Chicago) doesn't walk into games with the same swagger as they did when Derrick Rose and Tim Flowers were on the squad a few years ago and that the same can be said about Oak Hill since Brandon Jennings departed. But both teams -- win (Oak Hill) or lose (Simeon) -- put in the same do-or-die-tryin' work.
I discovered that when you are the No. 1 team in the country at the time (Duncanville, Texas) and you are being pushed by an unranked, nothing-to-lose local team (Scott County) into overtime, that a player who scores only three points (Jamison Sterns) will be the reason you don't lose. You discover that positive energy, spirit and a refuse-to-lose will -- not All-American talent -- more often than not leads to wins in close games.
I discovered that Myck Kabongo of St. Benedict's (N.J.) is the truth.
I discovered that at 1:30 a.m. I still wanted to see more basketball. I discovered I have a problem.
I discovered that for the past 14 years in a small town in the state that subtitles itself as "basketball's heaven" a mini-miracle takes place. Annually, some of the best high school teams in the country find their way here. And on one particular Saturday I found myself at this place, in this oasis.
For one day I discovered heaven is no longer a playground. It's a gym in Kentucky.
Who knew.
Scoop Jackson is a columnist for ESPN.com.