He's at the "Is he?" point in his career. The accolades are dropping on him like rain.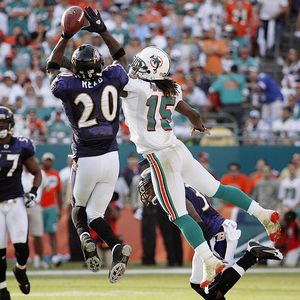 Ronald C. Modra/Sports Imagery/Getty Images
If the ball's in the air, odds are Ed Reed's on his way.
The conversation: reign.
He has to love it. So should we. If we are true sports fans to our cores, like we claim, then we love and live for moments like this in an athlete's life. And in our own.
It's that point that many athletes claim they'd die for, but one that most never work hard enough to reach. It's that moment that doesn't seem to happen enough, yet at the same time happens often enough for us to embrace it with significant and cautious deliberation whenever it occurs.
Is he -- Ed Reed -- the best at his position in the history of the game?
Don't you love it? Don't you love when this kind of question comes to the forefront of sports dialogue? Like when Tim Duncan made his case in 2005 for being the best power forward to ever play basketball. Or last season, when Dustin Pedroia won the MVP award, how he had some folks arguing about whether or not he might be the best player in the American League. Or a few years ago, when people were debating who was the greatest LT, Tomlinson or Taylor?
It's those moments that make sports; make us love to be alive, able to witness the performances and be a part of the arguments. And here we are again, at another one. This one courtesy of the new G.O.A.T of the NFL: Ed Reed.
"I've never seen anybody like him," Ravens defensive coordinator Rex Ryan said when asked about his player's G.O.A.T. status. "I've seen the difference he makes for this football team and the way he leads. His instincts are amazing. He's the guy that you want as a center fielder, [as the] point guard at basketball. He's like the ultimate playmaker, been a playmaker all his life. And the reason he makes so many plays is his preparation. I've never been around a guy that prepares more than Ed does, so he's ready."
Willing. Able. Five Pro Bowls and four first team All-Pro selections (including being the one and only unanimous selection in 2008) into it, we find ourselves at this point. After the 108-yard "touchback" (a term being remixed and reinvented for him, because technically that's what he's been doing -- he runs INTs back for TDs. Get it? Touchbacks?) against Philly in November to break a once-thought-untouchable record touchback of 106 yards (yeah, that one was his too), he decided to bring misery to Chad Pennington and the Dolphins like he was Kathy Bates. Two more playoff picks -- including one which he "touched back" from 64 yards away, on a run more unbelievable than the catch and run Brian Westbrook had that advanced the Eagles to Week 19. That play alone made the "Is he?" conversation impossible to avoid.
Nine interceptions this year alone -- matching the number he had in 2004, when he became only the third safety ever to win the NFL's Defensive Player of the Year award. That gives the argument a foundation. Plus the fact that over the past five years it seems as if Reed has balled on or above the level of the player who defines the franchise. I don't want to snatch the soul of the team or anything else away from Ray Lewis, but isn't it time to stop referring to the Ravens as Lewis' team? Hasn't Reed done enough in these five years to finally get top billin'?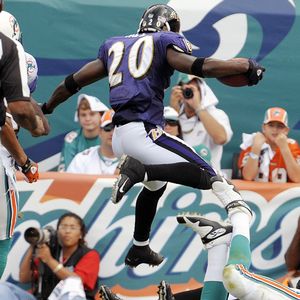 Al Messerschmidt/Getty Images
Reed doesn't just intercept passes -- he often takes them back to the house.
What more can I say? ESPN's Tom Jackson was the first to speak it (well, not really -- true Ravens followers have been screaming this for years), directly saying to Chris Berman before the Miami game that Reed might be the best safety ever. The rest of the nation just seems to have followed suit.
It slips out of people's mouths, like a secret. "Is he?" Anchors and parking attendants. Broadcasters and barbers. Co-hosts and cops. All asking -- saying -- is he better than Ronnie Lott? Better than Dick "Night Train" Lane? Better than Paul Krause? Better than Ken Houston? Better than Kenny Easley? Better than those who've played the position only periodically but have Hall of Fame credentials, like Charles Woodson. Better than his best contemporaries: Bob Sanders, Troy Polamalu, Rodney Harrison, Mike Brown (when healthy). All got gifts, but none can claim they are greater than he.
Not at this moment. Reed's moment. Reed's the one who finished third in the Defensive Player of the Year voting this season. He was named Defensive Player of the Month in December after helping Baltimore go 3-1 by posting a whopping six interceptions in four games, to go along with 16 tackles, one sack, one forced fumble and two fumble recoveries. Reed's the one who turned one of those fumble recoveries into a "touchback" in that "Uh-oh, the Ravens are for real!" win over the Redskins. Reed's the one who made the Baltimore Sun's Dan Rodricks use the term "bromance," admitting his man-crush on the brotha. Saying publicly what a few million of us were too timid to yell, admitting what we've all been whispering under our breath.
We're at that point where potential has met greatness and decided to go even further beyond.
"He recognizes formations," Ryan adds. "[Reed] recognizes the receivers that you have in the game -- any little tip. He may even recognize the offensive line, a certain stance or whatever, and, 'Hey, it's a pass,' or anything like that. His timing of blitzes is great. He's got great leadership skills, as well. He's just a student of the game. The thing is, he doesn't pretend that he knows it all. He just keeps learning."
And so are we. Learning by the month, by the week, by the game, that Ed Reed is official. The best defensive player on a team that already had the game's best defensive player. The best who's ever played the game at his position.
Our job from this point forward? To enjoy.
His job? To continue.
Scoop Jackson is a columnist for ESPN.com.