FORT LAUDERDALE, Fla. -- When I saw him walk into the gym, I paid him no mind.
He reminded me too much of me bac'n'daday: Lil' dude, cornrows, game face, couldn't dunk but had Dunks on his feet. Lil' did I know, he was far from I.
If diamonds are a girl's best friend, then diamonds in the rough are every sportswriter's BFF. What was this I was looking at? He's the go-to cat now that the All-America candidate is down?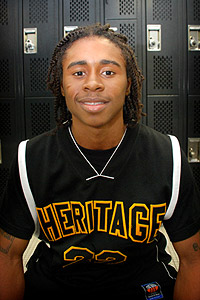 American Heritage School
Florida high school point guard Raymond Taylor plays in the shadow of teammate Kenny Boynton, but shouldn't be overlooked.
The symposium was a battle between the two best players in the state of Florida. Kenny Boynton vs. Brandon Knight. Boynton is a senior; Knight a junior. Both are averaging more than 30 points per game. Both are the "stars" of the reigning national AAU champion Team Breakdown. Them of the pink uniforms. Their respective high school teams -- American Heritage School and Pine Crest High, both of Broward County -- were set for the second round of what many think will be a four-round Hagler-Hearns for the state chip this season. (Round one went to Pine Crest 74-72, in December. Knight finished with 35, Boynton with 32.)
But Boynton did a Vince Carter. Rolled his ankle and was dipped in One God street gear and adidas shell-toes for the game. So the setup was upset. Enter the rough diamond.
He goes by the name of Raymond Taylor. Memorize it.
"He's 5-5, plays like he's 6-5, thinks he's 7-5," is how American Heritage coach Danny Herz broke him down. Then came the breakdown.
More than three thousand people packed the stands. Daft Punk's "One More Time" blasted on the PA. Pine Crest knew that with Boynton out, it was about to earn a fifth consecutive win over the only team that has a feasible shot at stopping its chance to repeat as state champ. But from the moment the ball went up, Taylor had the exact opposite in mind.
Jump shots. Tear drops. Jaw drops. The unknown kid who averages 15.4 points, 7.4 assists and 2.5 steals per game matched the superstar basket for basket. Whenever Knight pulled up from 30 feet for three of his 31 points on the night it seemed as if Taylor responded by making the other net move. It wasn't his insane quickness that killed Pine Crest. It wasn't the way he used his lack of height to his advantage. It wasn't the fact that those of us in the crowd who didn't know any better sat in shock for 32 minutes. It was the way he put his 29 points on the board, the way he disrupted the other team's D, the way we lost count of his steals and the way he balled.
ESPNRISE.com content

Who was he? Why has no one outside Broward County heard of him? Why isn't he on anyone's radar? Parade, McDonald's, RISE, Slam, USA Today?
ESPN?
Even though Taylor's height is the answer, as well as the reason you won't hear anything about him again until he enters college or finds a way to lead Florida Atlantic (the only school that really recruited him) into the postseason in the next four years, it seems like it's the ugly side of the "you can't teach height" cliché holding him back from getting noticed.
Holding us back from knowing him … and the beautiful relationship he has with this game.
"[Taylor] plays like this every game -- only in the first half," opposing assistant coach Isaac Smith said after his team's 73-69 loss. "It's just that Kenny [Boynton] takes over games in the second half, so no one gets to see how good Raymond really is over the course of a full game."
So good even Knight, the All-America candidate who guarded Taylor the whole second half, said afterward, "He's the best-kept secret in the country."
Said Taylor: "[Boynton and Knight] have been telling me every year when they come back from those all-American camps, they say that they've played against and seen the best point guards in the country and they still haven't seen anyone better than me."
After that he just smiles. Through it all. Through not getting the props, the recognition or the shine. Through not getting the national acclaim or hometown honor that would come to him if he was six inches taller. Even four more inches!
Still a smile.
Because in some way, like all of us who have gone through life vertically challenged but want basketball to define who we are, that smile says it all. It lets the world know we are happy no one knows about us, that everyone overlooks us, that every day we are proving someone wrong and every game we enter someone else's life who never saw us coming.
At no time in my life was I ever as good as Raymond Taylor. But I always wanted to be. That's what I saw when I saw me in him. Not someone I once was, but someone I always wanted to be.
When I saw him walk into the gym I didn't pay him any mind.
Probably because I knew I could never measure up to him.
Even if that measure stopped at 65 inches.
Scoop Jackson is a columnist for ESPN.com.