PHOENIX -- Big,
Just checkin' in before the festivities. Reminiscing on past All-Star Weekends: In D.C., when we got into the faux argument in the hotel gift shop where my cousin (a cop, not knowing we were playing) almost went at you and "Uncle" Jerome was about to take both of us out; in Las Vegas, when you summoned my kids and called my wife "Ms. Scoop." (I'm still dealing with that one.) It's always fun. All love. I know this one will be no different.
It's been a year and one week since you landed here in Suns City. At that time, many in the business felt your career was as over as Janet Jackson's, your skills more faded than acid wash jeans. And your promise of bringing a ring to Phoenix ... well, let's just say that promise was not exactly kept last season and this year doesn't look good either.
That week, I tried to defend against the "Shate" (Shaq + hate). I wrote a column, saying that before your contract was up you'd deliver a Larry O'Brien to the place where it gets so hot they punish their prisoners by putting jail cells outside. An organization that has been a part of the League for 40 years and never won the last game of a season was an organization ripe for you to become more of a hero than Hayden.
I saw where Steve Kerr was going with the trade. Far from brilliant, but it was Beastie Boy crafty. Heck, half of you and D-Wade won a title, so if you came to play at 75 percent, with the talent the Suns already had -- more talent than you've seen on one of your squads since "Blue Chips" -- no team could stop you all from hoisting 14.5 pounds of Tiffany & Co. in June.
But so far, so good? Uh, not so much. Last season, the Suns flamed out in five games in the first round to the Spurs. This season, Phoenix is 28-23 -- one game out of the final playoff spot in the West.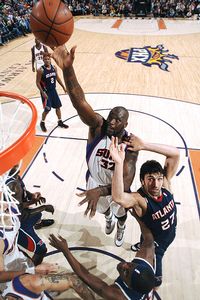 Barry Gossage/Getty Images
Despite Shaq's resurgence, the Suns are currently only the ninth seed in the Western Conference.
Now, I know this weekend is about you. Economy's dead, the usual fans that convene at All-Star Weekends instead played the crib and so far, compared to other cities that have hosted All-Star festivities, Phoenix looks just like what the city was built on: a desert. But you balled well enough (17.3 points and 8.9 rebounds per game) to make the squad and everyone knows there's no better host to any weekend than you (outside of Magic when his summer games were the best-kept secret in sports). No full-length white minks this time, just straight silk, homey. Heard you might even get up on the mike with T.I. during the Player's Association Ball. Grand hustle, my dude. The city is yours.
But once the game is over, once you make a bid to walk away with your third All-Star MVP trophy Sunday night, the fun and games will be over. As long as the Suns don't trade you (or Amare), the next two months might be the most important in your career.
Ninth place in the conference is no place for a team with two future first-ballot Hall of Famers and one potential future Hall member all still averaging over 30 minutes per game. The people in Scottsdale, Tempe and Mesa are running out of excuses in their conversations. Larry Fitzgerald is taking over a city where you all were the only thing that mattered. I heard Coyotes conversations! The fans here say this is the worst the Suns have looked since the Steve Nash Era began five seasons ago. But apparently they are no longer looking at Steve to lead them. They are looking at -- and putting the blame on -- you.
So I came here early to get a feel. I needed to test the climate, check the pulse of the city. Separate the real from the sports-radio callers. From my standpoint as a weekend visitor to your world, I can say that for the first time in a long time you can do something no one expects from you: get an underachieving team to the Finals.
People have always expected a lot out of you, but now it's different. See, the renaissance/flashback-like numbers you've been putting up have not translated to wins. Not like they used to. The team seems to be in disarray, losing to teams you know shouldn't be on the court with you (losing at home to Minnesota back in January was especially painful). I know you've been through this before a few years ago in Miami with people questioning you and your team. But the difference now is Steve and Amare aren't D-Wade. Terry Porter isn't Pat Riley. Louis Amundson isn't James Posey.
You are still capable of doing things no center in the L is capable of doing. At times, you can still dominate on offense and anchor a defense. But can you still bring the pain night-in, night-out, for 31 more games and 58 more days? Can you do something you've never done before: exceed expectations?
And this time, unfairly, it's all on you.
Now, knowing you, you don't see it that way at all. At least not to that extent. And I can respect that. No one knew when you got here that the Suns would later change coaches, change the direction of the team, change the entire basketball philosophy, trade Raja Bell and Boris Diaw. It all looked so good on the outside, didn't it? Like trusting Bernard Madoff with your money. Didn't know what you were getting into until you got here, did you? There was no way to know. Now the whole city is looking at you the same way the people in Gotham look at the Dark Knight: "Save us, Shaq ... or it's all your fault!"
The question is: Do you believe you have anything left to prove? Carry a team? Produce statement victories? Make the playoffs? Play close to .700 ball the rest of the way and avoid the 5 through 8 spots in Western Conference bracketology?
From the time I've been here, the one question I hear from hotel lobby to hotel lobby, bar to bar, shot to shot, is, "Do you all honestly have what it takes to compete for the NBA title anymore or is it all over?" Can the Suns pull off a playoff upset against an S.A., an L.A. (how sweet would it be to knock off Kobe in the first round?), a Utah, a New Orleans, maybe go deep in the playoffs ... maybe even shock everyone and make the Finals?
Do you all really want to win?
I want to believe there's still a chance because I still believe in you, Big! But after being here for only one day, I can't lie, I'm beginning get a little Meryl Streep myself. I'm beginning to have doubts.
I came to All-Star to have fun. Watch Dwight defend his dunk title, watch O.J. and Pooh give the second-year dudes the business in the Rookie Challenge, see how messed up H-O-R-S-E is going to be without White Chocolate.
I came here to watch you Rock Steady Crew during All-Star practice, read your Twitter page to see what you had to say about KB24 and PJ, watch you dunk on LeBron on Sunday night like you did David Robinson in 1996.
I came here to hear you call my wife Ms. Scoop again.
But I'm already looking past this weekend. Because as my cousin Brian Hall, who lives here, said to me, "When Shaq came here it was a good move, but now the team has given up on itself. There's nothing he can do."
From the end of this All-Star Weekend forward, it's about adding one final exclamation point to your legacy. Because as much as your legacy has been about dominance, it has also been about winning. You getting swept out of more playoff series than any other player is equivalent to critics focusing on Brett Favre's interceptions. It's weightless. You got four rings, dawg! Honor that. A fifth would silence all who question.
But not even making the playoffs? While playing for the Suns? With all the promises made a little over a year ago? That would be written on your tombstone.
They say the greatest ones always make everyone around them better. You've always gone about proving that in only-Shaq-can-do-this ways: You've made the game easier for everyone around you. It's something only Chamberlain and Jordan were able to do because they were the only ones who dominated the way you once did. Still can. Now you must face the challenge.
I believe. I don't think many others do.
I saw a T-shirt in PHX colors with your face on it graphed in Shepard Fairey's iconic Obama style. Under your image, the word "HOPE."
Damned if that didn't say it all.
Scoop Jackson is a columnist for ESPN.com.