NCAA. NIT. WBC. NFL. Owner meetings. Fantasy baseball. Lance's broken collarbone. Schilling's retirement. "Twilight" DVD release. Prince 3-CD release. David Letterman, Harrison Ford and Bruce Willis all getting married. The Dow and S&P recoveries. Anything T.O.
It's easy to get caught up in everything going on, but while no one seems to be paying attention, there are plots, subplots, intrigue, suspense and pseudo-conspiracies boiling in the NBA. And with less than a month left before the playoff jump-off, here are 12 things that need your full attention. Like, immediately.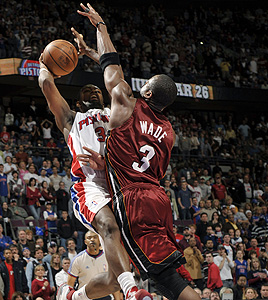 Allen Einstein/Getty Images
Wade is doing it on offense and defense, where he's about to become the first player 6-4 or shorter to block 100 shots.
1. The three-way race for MVP: Can it be split three ways? Is there such a thing as tri-MVP? If people tell you that either LeBron James, Kobe Bryant or Dwyane Wade deserves the MVP and the other two don't ... they are lying. To you and to themselves. It's like choosing which M&M color tastes best.
There've been tight races before in MVP voting, but nothing like this in recent memory. Because not only is the MVP on the line, so is the undisputed mythic "best player alive" title. It's going to be mesmerizing to see who makes the strongest case as the season comes to a close. Someone is going to get robbed.
2. Will the Lakers make us believe that anything will be different in this year's playoffs? Last year Lamar Odom and Pau Gasol balled out during the Western Conference playoffs. Then the Finals came. With Andrew Bynum's injury making this season feel like déjà vu all over again, what are the Lakers going to do to make those in Laker Nation believe that Yogi Berra isn't watching over them?
3. The A.I. Experiment: The only thing in the NBA that has more critics than the stimulus plan. Joe Dumars' season-opening trade has not provided the payoff many expected, but let's wait and see. If somehow Michael Curry can find a way to secure everyone's roles and rotations, and the Pistons no longer have those quarter-long scoring droughts that were their downfall in playoffs past, and somehow Sheed can step it up ...
4. The non-trade/trade of Tyson Chandler: Either Jeff Bower is going to come off as the luckiest GM in the game or a licensed idiot. If the Hornets play themselves into "elite" conversation in the West by season's end (and they've won 12 of their past 15 games) and upset either the Lakers or the Spurs in the playoffs, then Chandler's failing his physical with Oklahoma City may be the biggest blessing-in-disguise in the NBA this season.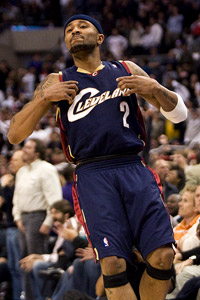 AP Photo/Hector Mata
Mo Williams is averaging 18.0 points per game and shooting 43.6 percent from 3-point range.
5. Is Cleveland unbeatable? Is Mo Williams all it took? The fact that the Cavs are distancing themselves from Boston and Orlando is making many believe Cleveland -- and not the Lakers -- is now the odds-on favorites to win it all. The Cavs have a four-game lead over Boston and one-game lead over the Lakers (for best overall record); if that lead increases before April 19, all other teams become underdogs.
6. The Bulls, Bucks and Bobcats fighting to get whopped in the first round: I know, they say once the playoffs start everyone's record is 0-0. But let's be real. What's the point in these three teams fighting to play either Cleveland or Boston in the first round? Why will they battle? One: Experience. Two: Outside of perhaps Blake Griffin, there is no Kevin Durant or Michael Beasley coming out this year to make teams want to be in the lottery.
7. Rafer Alston: No disrespect to Dwight Howard but the rest of the season in Orlando isn't about him. If the Magic are going to win it's not dependant upon Howard's ability to dominate. The key to whatever happens to the Magic is in the hands and handles of That Guy Called Skip. And if Alston's veteran leadership, poise, knowledge and understanding of the game gets them to the Eastern Conference finals or beyond, then Magic GM Otis Smith is going to have to make a decision about what to do with Jameer Nelson, the original team leader, when Nelson returns from his shoulder injury next season.
8. What's going to happen in Phoenix if the Suns do not make the playoffs? You know the old saying of "blowing up a team" when it's time to overhaul the roster? Well, this time we might have to take that saying literally. Figuratively speaking.
9. Is Roger Mason Jr. really the next Robert Horry? All season long he has shown flashes of imitation. Now let's see how real he really is. If Mason Jr. wins one playoff series with an Horryesque shot at 0:01, then all teams in San Antonio's path to the Finals better beware. The second coming may be here. Because while everyone has been looking for the next Jordan or Magic or Dream, guess who they all wish they had as many rings as?
10. Utah? San Antonio? Orlando? Atlanta? One of these teams is going to shock someone. One of these teams is going disappoint. One of these teams is going to overachieve. One of these teams is never going to be the same. Which one will be which, no one knows. But the beauty will be in finding out.
11. Do the Houston Rockets still have a shot at the title? The Rockets are just a half-game behind the Spurs for the second-best record in the West and are 16-5 without McGrady, leading even the most die-hard Rockets fans into believing they have a legit shot at reaching the Western Conference finals. Or at least finally getting out of the first round. The intrigue will be if either of these two happens, what will the organization do when McGrady comes back next year? The more the Rockets win, the bigger the problem they are creating becomes.
12. How hungry will Boston be? KG's finally back. The roster is back to full strength. Marbury and Moore are getting situated. Ray's shot has been falling. Rondo is a year better. Eddie House is a year more valuable. P2 is back to feeling disrespected. Everything is in alignment for the Celts. Divine order. But will their desire to defend what they have be more powerful than the desire the other teams have for taking the title from them? Especially since Boston has shown a vulnerability it didn't last season.
Yeah, there are so many other things going on right now to distract us from life inside the NBA. But for those of you who can find that 25th hour in the eighth day of the week, make sure you don't sleep on the League over the next few weeks. Amazing happens there for a reason.
Scoop Jackson is a columnist for ESPN.com.