Commentary
Pedro, your legacy is more important
This is beyond a man-crush. This is real love.
Pedro Martinez, for me, has been and will continue to be the greatest pitcher I'll probably see in my lifetime. His Montreal and Boston years were Cy Young-ish. Not the award, the man. He was God on the mound. And when he went to the Mets … it was like heaven.
[+] Enlarge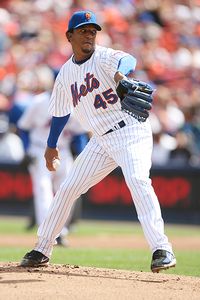 Rich Pilling/MLB Photos/Getty ImagesPedro wasn't able to dominate hitters quite as much with the Mets, but he still had a brilliant career.
But heaven soon turned into a little slice of hell. Pedro never came around to do what he was supposed to do in New York, to be who he was supposed to be. Injuries and age made him human. His heat went lukewarm; his curve went straight. Batters began figuring him out by the fourth or fifth inning. When his pitch count got to 70, his ERA usually rose. It just seemed like after his Don Zimmer moment, nothing was the same for Pedro.
Still, he remained the G.O.A.T. in Majestic Athletic clothing. Showing us glimpses of brilliance on occasion when he was handed the ball. Yeah, there were other great ones, like Greg Maddux, Roger Clemens and Curt Schilling. There also were the young guns, like Josh Beckett, Johan Santana and Roy Halladay. But none were like Pedro. Nothing could eclipse what Pedro meant to me.
He was my generation's Sandy Koufax. Maybe he didn't have the most wins or the best win-loss percentage or the most strikeouts or the lowest ERA, but it was just known. By those he played with and against. By those who witnessed him. He was simply the one. The only. And to those who weren't paying attention, it would be about another 15 years before someone else like him came along.
That 15-year countdown began about three years ago. Right when the umpires, during a game against the Marlins, requested that he go to the dugout and change his undershirt. At the time, Pedro was 5-1 for the Mets, with a sub-3.00 ERA and 88 strikeouts in 76 innings pitched. Then he slipped and fell while fulfilling the request, injuring his hip. And despite engaging in a classic duel versus Brandon Webb in his next outing, the Pedro we all knew and I loved would never be seen again.
And when he was crying in the Mets' dugout later that year because he knew the rotator cuff and calf injuries he'd sustained hinted at the end of his career, I was happy, because I knew he could call it quits while he was still relatively at the top of his game -- still one of the best pitchers the game had ever seen, and easily the most respected.
I simply took my Mets No. 45 jersey and purchased a frame for it. Created a shine. The only thing left? The inevitable call from the Hall. Even ticked-off Red Sox fans knew the deal.
Then, a few months ago, there was a sighting. During the 2009 World Baseball Classic, he returned, "Dark Knight" style. He took it back to 1999. Pitching six shutout innings with six strikeouts and allowing only one hit.
Now, everyone knows outings like that are rare at the age of 37 -- too few and far between to view as anything but throwbacks. Anomalies. Not enough to prompt a return to the major leagues.
For me, that WBC sighting was a perfect final memory of Pedro on the mound. Enough for me to hope against hope that the latest stories coming out of the Dominican Republic aren't true. They can't be true.
The rumors floating around that Pedro is eyeing a return are reaching Jon and Kate Gosselin breakup proportions. (OK, maybe I'm reaching.) Still, it sounds like he's either coming back to pitch for Dusty Baker in Cincinnati or going to Chicago to help save the Cubs. And it seems imminent. Like Joni Mitchell, Tim Kurkjian don't lie.
I have only three questions: Why? Why? And why?
The beauty of Pedro, to me, is that he shut it down at the right time. We all got to see the beginning of his downfall, but we never had to see him hit rock-bottom. I always wanted to believe that he was smart enough to know that his injury was a blessing in disguise -- it was the worst thing to happen to his career but the best thing to happen to his legacy. And this is where the Koufax analogy becomes so significant.
The beauty of Koufax was that he never really gave anyone the opportunity to see his fall. The arthritis that ended his career at the age of 30 saved the world from seeing the back end of his bell-shaped career curve.
[+] Enlarge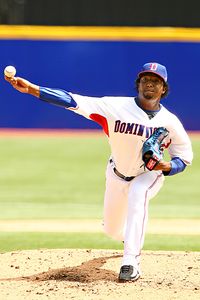 Al Bello/Getty ImagesWouldn't it be nice for Pedro to go out on his good performance in the WBC?
Pedro had an eerily similar career and an even more closely related "out" to put the game behind him. It was a gift. One that subliminally could turn one of the great athletes of his time into a martyr. Koufax is a martyr. Pedro still could become one. But only if he stays away.
Please, Pedro, stay away!
It is only when you have love for someone that you wish him not to return to doing the one thing he loves. It's the selfishness a love like this breeds. Ali, don't fight Holmes! MJ, don't play for the Wizards! Rice, don't become a Raider! It's that point where you wish the one you love would pull a Barry Sanders, a Jim Brown. Shut it down before the game shuts you down.
But too many of them don't. And sadly, Pedro Martinez is about to become one of the too many.
In my office, among the figurines that live in a "Toy Story" existence -- a collection that includes everyone from Bruce Lee to Biggie to Lil' Penny to Morpheus -- there are only two baseball players represented. Both are pitchers. One is Satchel Paige; the other is Bob Gibson.
Since one of my best friends lived on the same block as Buck O'Neil in Kansas City, I got to hear firsthand stories about Paige. I totally understand why Spike Lee named one of his children after the man. And living in Chicago as a child, I can vaguely remember seeing Gibson in his heyday, and I was able to hear my pops and his partners talk about Gibson's dominance.
But Pedro I held as mine. With Pedro, I had more than stories and myths and hearsay. He was real, tangible, someone I saw, someone I witnessed. This put him in a different place with me. He held a special spot. He was beyond a figurine.
Now, with a comeback, it all could be gone. And with baseball being such a stat-driven sport, the fact that Pedro has fewer than 100 losses (his career record is 214-99) puts him in an elite category, as being one of two pitchers in the history of the game to have three Cy Young Awards and less than 100 losses. The only other pitcher to hold that honor? Koufax.
That alone should be reason enough not to return. Just put your legacy in a position where it eliminates argument. Pedro Martinez has the chance to do that. But it seems he's not going to take it.
And to me, with all that's going on in baseball, this is much worse than any potential asterisks.
Scoop Jackson is a columnist for ESPN.com.
ESPN Senior Writer
Columnist for ESPN.com and ESPN The Magazine
Wrote for Slam, XXL, 6 years with NBA; 4 years with Nike