Commentary
Cappie Pondexter's time to shine
The beauty of Cappie Pondexter is not overtly evident when you watch her play. That would be too easy. No, her beauty is located somewhere else.
It's how she thinks. When I spoke with her Tuesday, before Wednesday night's Game 4 of the WNBA Finals (Pondexter's Phoenix Mercury trail the Indiana Fever 2-1 in the best-of-five series), I asked her about the Game 3 her squad had just lost -- a game in which she personally didn't come through at the end. "Is there anything you would have done differently in the last couple of minutes?" I asked her. And here is her beauty.
[+] Enlarge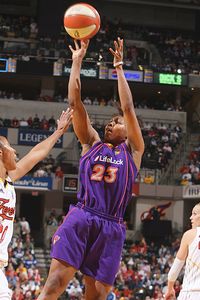 David Sherman/NBAE/Getty ImagesCappie Pondexter is trying to lead her team to a second championship in three years.
"People say you shouldn't have any regrets after you play," Pondexter said. "[To me] it's not about having regrets, it's about learning. And I learned a couple of things."
Most superstar athletes of Pondexter's status (think Dwyane Wade in the NBA) would never answer that question that way. They exist without regret. Arrogance often prevents that. But not here. Not with her.
"[I needed to be] a little more patient when I first drove to the basket on that layup," Pondexter added. "Try to draw contact … following through on the last jump shot that I took."
Even though she is arguably the best point guard in the WNBA, Pondexter is still processing what went wrong and what will go right. Even though the weight of the Mercury's fate in these WNBA Finals rests on the shoulders of league MVP Diana Taurasi, the result -- whether Phoenix notches its second title in three years -- is primarily in the hands of the player who, this time two years ago, was hoisting up not only the championship trophy but also the Finals MVP award.
See, the beauty of Cappie Pondexter cannot be found in the photo that accompanies this column, or the body that will be on display in ESPN The Magazine's upcoming "body issue," or in her "way-out" hairstyle, or in the 19.3 points and 5 assists per game she's averaging in these Finals.
It's not in the words of ESPN analyst Carolyn Peck, who said, "The thing I like about Cappie is her basketball instinct, her strength, how she gets to the basket, runs, and how fast she plays. She doesn't need plays called for her and she can score at will."
It's not in the fact that she calls herself Cappa23 on her Twitter page, or that WNBA tat which covers her right shoulder, or how last year -- when she was second in the league in scoring (21.2 ppg) -- she considered it a bad year because her team did not repeat as champion.
It's in this: "I never thought about taking [basketball] this far," Pondexter said. "Growing up in Chicago, we pretty much ate, slept, breathed basketball. That's all we did, sun up to sun down. But I never imagined being a professional basketball player."
"You never thought about becoming, possibly being one of the best players in the world?" I asked her. "That never entered your mind?"
"Naw, I never really thought about it. I never realized that basketball was my dream."
The beauty of Cappie Pondexter is not what she does -- it's who she is. An unpretentious, still somewhat unknown superstar who has reached the pinnacle of her profession without being scarred by the game.
When I asked her what's the worst thing anybody could say about her, she replied, "That I don't work hard." And when I asked her if there's anyone out there who might say that about her, she said, without hesitation, "No."
Now Pondexter and her teammates are on the brink of either failure or continuation. Backs and bra straps against the wall. Two games max remain in the WNBA season. Cappie's squad needs to win both.
Taurasi dropping 30? Penny Taylor scoring at will? Tamika Catchings having a couple of off nights? Nope. The outcome of the WNBA Finals rests strictly in how Pondexter plays, and what she's learned. "Patience … drawing contact … following through." In what she is able to will. In what she's about to make happen.
And that's the beauty of Cappie Pondexter. Not that she will be the determining factor in crowning this year's WNBA champion. That, when it comes to her life, she might be the only one who never saw this coming.
Scoop Jackson is a columnist for ESPN.com.
ESPN Senior Writer
Columnist for ESPN.com and ESPN The Magazine
Wrote for Slam, XXL, 6 years with NBA; 4 years with Nike