Commentary
Artest's hair could have done wonders
Imagine being Phil Jackson. What must have been going through his mind when he first saw it?
[+] Enlarge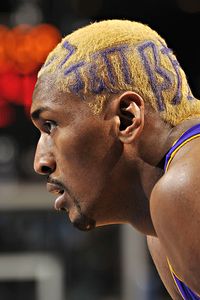 Fernando Medina/Getty ImagesRon-Ron, why'd you ditch the 'do?
The Lakers were unraveling (relatively speaking), coming off back-to-back losses to the Heat and Bobcats, and Ron Artest walks into the locker room with Amber Rose's hairdo. Does Jackson have a Dennis Rodman flashback, or does he pray that Kanye West isn't far behind?
Or does he just find a chair, lean back and say, "It's all falling into a familiar place"?
Then Artest cut it all off. Now what the heck are we supposed to think?
The hair was supposed to be the beginning of saving this season for the Lakers. It was supposed to be the turning point; the moment everyone would look back on and say, "Yeah, Ron-Ron's hair changed everything."
The word "defense" -- in Hebrew, Japanese and Hindi -- was supposed to be their new subliminal and sublime motivation. That's why Artest did it: because the squad needed to see it, not just hear it. This wasn't just an attempt by Ron-Ron to tap into his inner Rodman, or an homage to Simon Phoenix. This was about him finally showing the Lakers the real Ron Artest -- the player they expected when they signed him in the offseason.
It was all in the hair. The other players knew it, Artest knew it, Jackson knew it. And then Artest undid it.
Now that the hair is no more, everyone will say something else rejuvenated the Lakers, if they do bounce back. They'll say it was that hard-to-swallow loss to the Magic on Sunday, or Matt Barnes ticking Kobe off. They'll say it was a secret team meeting the Lakers had after losing three games in a row for the first time in over two years, or that Jackson gave everyone on the team Eckhart Tolle's "The Power Of Now" to read.
But the Lakers know the real deal. They know that all season long complacency has set in, in spurts. That the target on their back as defending champs has taken its toll. That Pau Gasol missing the first third of the season hurt. That it took longer than expected for Artest to find his way in their on- and off-the-court systems. That Derek Fisher is beginning to slide, Jordan Farmar has been a disappointment, Andrew Bynum is not going to become a star, and the overall team chemistry has, to be frank, been as bad as a Whitney Houston live performance.
The best, most fun, most inspirational thing that's happened to the Lakers this season was Artest's yellow-and-purple dome creation. It was to be their source of inspiration.
Now it's gone. And with it, any chance of a repeat.
Scoop Jackson is a columnist for ESPN.com.