What say you?
Trick and treat?
Your friend,
Connie Hawkins
Scoop: Hawk,
Naw, I don't see it happening with 'Melo like that. I think he may have a game where he doesn't do his thing, but still I don't see a regression to the point where it becomes "news" or affects the Nuggets' shot at the upset. Which I have a feeling will happen.
As far as GA is concerned – don't you love how black folks automatically give each other our initials as nicknames? – I agree, he's going to rip at least one game. 40 easy. Larry Hughes is going to have a couple of five-steal games and Ant is going to steady kill 'em with 25/12 per. Gilbert is crazy. His game is Michael Jackson (Off-the-Wall). Once they get past the Bulls, he's going to be hell to mess with. Unless Tayshaun gets at him.
All the best, Louis Clyde Hudson aka Greensbough's Finest
P.S. Put me down for this treat: Bobby Jackson being back is going to be a treat because now we can see him, Bibby and Cuttino do the Zeke, Joe D and Vinnie thing, 2000-style. Those three on the court together will be bucknoodles. The other unexpected treat will be the VC/D-Wade battle. Jefferson's coming back and Shaq's gonna miss a game. But VC and D-Wade are 'bout to do something ill against each other.
And while we're at it, cast my vote for the following unexpected trick: The Erick Dampier sky hook. He's going to be sitting back one day this week, watching "Classic," and that 60-watt is going to pop up over his head. Next thing you know, he's going to be dropping the retro Cap move on Yao because that's the only way he's going to be able to score. Don't get me twisted, the shot's going to be Phyllis Diller (ugly) but it's gonna drop. Until Van Gundy puts in Dikembe and he sends one into Row 5 ...
– Captain America
Eric: All right, Captain America, Here's another: The proverbial one-shot question: Clock winding down, series on the line, who you got?
Kobe's out of the mix now, MJ's long gone, and let's take Reggie out of this, too.
Make it a new power generation thing: Which of the young lions do you want taking matters into his own hands?
I'll take Wade. The way he came on in the first round last year, when he had no right, and there was no kind of reasonable expectation that he should be so good and so fearless, that was the stuff. Now he's got all that and then some (where "and then some" means Big Daddy's got his back).
You?
Yours,
The Flash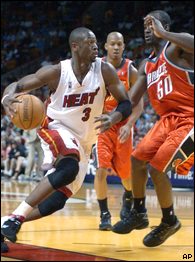 If last year was his coming out party, then 2005 will be Wade's arrival.
Scoop: I can't argue, Young Skywalker. D-Wade is that cat. AI is nothing to mess with with the game on the line ... Paul Pierce, either. But to be honest with you, in a big, big game the one player who right now I'd like to have the ball with one shot to win it is Chauncey Billups. While others are cool under fire, that dude's ice cold.
One and done,
Darth
Eric: Hey, Silk, my pick for early-round mismatch is at the point, where Mike Bibby is about to make Luke Ridnour look like Luke Appling, which is to say, you know, dead and buried.
How about yours?
– Freddie Brown
Scoop: Dear Downtown Freddie Brown, I say it's going to be some white-on-white crime at its finest. No disrespect to J-Will, 'cause I love him, but Nash is about put it on him.
Now let's talk officiating and such. I have a feeling Steve Javie and Mark Davis are going to be topics on "Rome is Burning" before the end of next week. Especially Davis. If he gets a Philly game (and I think he will) he's going to do something that's going to have AI following his butt out of the stadium.
Eric: Remember Javie and Van Exel tussling on the scorer's table like two chaste screen stars trying to keep to the Hays Commission rules? Ah yes, those were the good old days.
Scoop
Jackson
and
Eric
Neel
PLAYOFF PROSPECTUS