The Tryout - ESPN The Magazine
This article appears in the March 26 issue of ESPN The Magazine
What happens when a hard-core Brewers fan gets invited to camp? He throws out his arm, whiffs on 100 mph heat and learns how the sausage is made.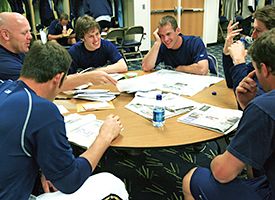 Jamie Squire/Getty Images
The author (third from left) was all smiles. Of course, that was before he saw his first curveball.
Greetings from Maryvale Baseball Park in Phoenix, proud home of the Milwaukee Brewers' spring training complex. I'm here to see what it's like for your average 25-year-old to ante up and test his mettle against pro ballplayers. In other words, I'm here to totally embarrass myself in front of several dozen men who are much larger, wealthier and better than me at most everything. The scales may not be tipped toward my making the roster -- especially since Milwaukee is a legit contender this season -- but I'm a Brewers fan, which means I'm patient and resilient. I'm going to give it my all 'til I'm physically unable ... or physically removed.
For those of you who missed the news, the Brewers got word that I'm a devoted follower and decided they had to have me. So I've joined the likes of Alec Zumwalt, Nestor Corredor and Corey Thurman as a nonroster invitee. Have I played baseball since I was 12? No. No, I have not. But this is spring training -- how hard could it be?
The festivities began this morning at 7:30, when I picked up my uniform and met the Brewers brass. They gave me jersey No. 99 (for keeps, rad) and told me to hurry and go change so I could sit around and wait, which is evidently an integral part of spring training. I spent my first two hours as a Brewer in the clubhouse trying to adjust my cup so it didn't feel like a bike helmet in my jock. But I also took the time to introduce myself to some of the players. Jeff Suppan walked across the room just to shake my hand.
"He's such a nice guy," said Grant Balfour, an eight-year minor- and major-league vet with an Aussie accent and a locker next to mine. "But, man, just think: four years, $42 million." At 10 a.m. we headed out for warm-ups, and I'm happy to report that I can effortlessly do hamstring stretches at a major league level. From there I went with the outfielders to do some long toss, at which point I learned that major leaguers throw the ball much harder than the fellas back home.
Still, my 22-inch softball glove helped me catch everything except the balls that drilled Jamie, our photographer, and Roger, our videographer. Tomorrow, I plan to let one get by me when Steve, the sound guy, is standing there, just to complete the set.
Throwing was a bit trickier. After two dozen exchanges, my partner, Brewers staffer and ex-MLBer Joe Crawford, had backed up to a distance that was, by my estimation, about two miles. "Don't feel bad if you have to bounce the ball to him," said outfield coach Mark Little. My shoulder was now trembling, so I reluctantly took his advice. There are many ways to impress management, and triple-hopping warmup tosses is not one of them. But with plenty of spring ball left, I couldn't risk a career-ending injury.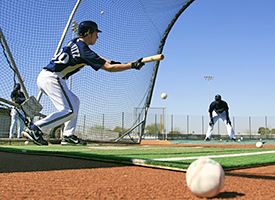 Jamie Squire/Getty Images
Let's just say bunting was probably the best skill our writer displayed.
I tried to make up for my arm deficiency during baserunning drills. And after some instruction from Geoff Jenkins and Bill Hall, I felt downright Podsedniklike. This changed during a sprint from second to third when, as I tried to heed Jenkins' advice to look back over my shoulder while running forward, I tripped, tumbled over the bag and got a face full of grass outside the foul line. The team could do nothing but cheer and clap, undoubtedly impressed by my hustle.
At 11, it was time for the final drill of the day: batting practice.
Coach-pitch was the last level of baseball on which I had any success whatsoever, and I'd been hitting .200 in the neighborhood batting cages before heading to Arizona, so I was feeling confident. Writing off the first seven pitches as an "adjustment period," I felt my swing finally click when I peppered a half-dozen line drives that almost reached the outfield. I even broke my bat on a particularly tricky 55 mph fastball with no movement, and in so doing earned the respectful nods of BP partners Drew Anderson, Tony Gwynn Jr. and Laynce Nix. Emboldened, I headed to lunch. "You're the only guy I've ever seen with a swing shorter than Ben Sheets'," Gwynn said, comparing me to the ace of the pitching staff. All the better to handle high heaters.
TUESDAY, FEB. 27
This morning began in typical fashion. Everyone trekked in from their hotels and condos by 7:30 a.m. The players did some photo shoots while I did some interviews with local TV crews ("Middle school baseball phenom gets tryout with Brewers: next at 11"), and then we all worked hard at talking about how hard we work as we sat in the clubhouse Googling Antonella Barba. From 10 to 12, we repeated the same drills we'd done yesterday. (I'm a fast learner, and executed each drill flawlessly. I even hit a BP ball into the --ready for this? -- outfield.)
At 12:30, I got my big break: I was in the starting lineup in leftfield for the afternoon's intrasquad game. It was an incredible feeling, jogging onto the field in the 75° Arizona sun, with 80 fans in the stands, realizing that at this moment I had the potential to screw up in a more conspicuous and emasculating way than ever before. As Brian Shouse dealt from the mound, I reached a level of laser focus and pure lucidity; my game elevated to previously unfathomable heights. I played perfect leftfield for a full half-inning. And had a ball ever made it past the infield, I'm 6% confident I would've sent it right back.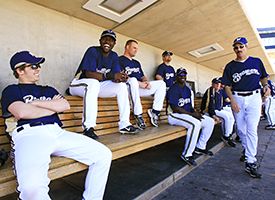 Jamie Squire/Getty Images
Hey, it's a better seat than the upper deck at Miller Park.
Those three outs came and went, giving way to my first at-bat in the major leagues. In a prime example of using a hydrogen bomb to kill a squirrel, manager Ned Yost turned to me and said, "I'm gonna show you real major league pitching." And to the mound walked Derrick Turnbow and his 100 mph fastball. (For those keeping score, this is the same Derrick Turnbow who lost all semblance of control in the second half of 2006.) From the dugout, Sheets posited that Turnbow might hit me full-speed in the ribs, then added, "I heard Chipper Jones got hit in the ribs so hard that he had to pull his jersey out of the indentation the ball left in his broken torso." But nothing could scare me at that point. As I dug in at the plate, my name was announced over the loudspeaker: "Now batting, No. 99, leftfielder Neil Jan-O-Witz." And just then, I glanced up to find Turnbow staring me down and beginning his motion. Witnesses claim he threw the ball. I say he teleported it. Either way, I never saw it, only heard the snap of the catcher's mitt and "Strike!" Not wanting to strike out looking, but not entirely sure I could get the bat around in time even if I had started swinging from the on-deck circle, I threw my BP lessons (square up, let your wrists do the work, keep your foot down) out the window and tossed two awkward hacks at the next two pitches. Both were perfect fastballs. Followed by perfect whiffs.
"How was it?" Yost asked on my way back to the bench. "You put a good swing on 'em" -- an attaboy that would've been uplifting if not for the snickering look on his face and the outright laughter from the rest of the dugout. I shook my head and took a seat to analyze my at-bat. It didn't take long. Then I looked in the duffel bag holding all my gear and discovered that someone had put a large rubber frog in it. I'm not sure what that meant. Tomorrow, we'll run 60-yard dashes, and in the dugout the players were making bets about what their respective times will be. "I'm guessing you can beat Mike Rivera's time in the 60," shortstop J.J. Hardy said to me. "He's a catcher."
WEDNESDAY, FEB. 28
Today started off on a positive note when I successfully memorized the baserunning signs during our morning meeting. Then I realized the only one I could obey properly is the "don't run" sign. This became apparent when we ran our 60s.
I was determined not to let Hardy down, but I false-started twice, which made me the only member of the Brewers spring squad who couldn't complete a drill based solely on running in a straight line.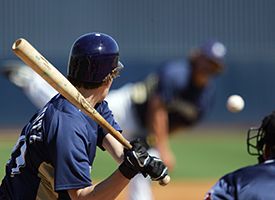 Jamie Squire/Getty Images
And after three 100-mph fastballs from Derrick Turnbow, Janowitz's big league career was over.
I held my own during the sliding drills, but by the time outfielder Kevin Mench advised me to "actually put your glove to the ground" during ground ball drills later that afternoon, I could feel my chance of becoming the most unlikely walk-on in the history of sports slipping away.
THURSDAY, MARCH 1
Sure enough, Yost called me into his office this morning to speak with him and GM Doug Melvin. I'd hoped to hash things out, maybe negotiate a bit, but the skip was getting ready for that afternoon's game against the A's, so he cut right to the chase. "Well, Neil, you can usually run okay," he began. "But you don't have much of an arm, and your offense is terrible. We're going to have to let you go." All was not lost, though. "Since you worked so hard," Melvin added, "we'd like to invite you to Milwaukee later this season." I accepted his offer immediately.
The past week may not have gone as I had hoped, and my failures were captured on video, but my legs have earned me a shot at redemption. I'll step on the field at venerable Miller Park this summer as a member of the Milwaukee Brewers organization, in uniform ` as a giant racing sausage.
Hey, gotta start somewhere.
Play ball,
Janowitz
#99
Neil Janowitz is an associate editor for ESPN The Magazine. You can e-mail him at Neil.Janowitz@espn3.com.