Page 2
The Yankees return home on Thursday for their first homestand of the season, marking Alex Rodriguez's first game in New York wearing pinstripes.
It also means he'll be moving his summer residence to New York. Of course, he'll want to know all the right restaurants, bars and clubs to hang out at, not to mention where to live, which museums to go see and which limo service to take to the ballpark.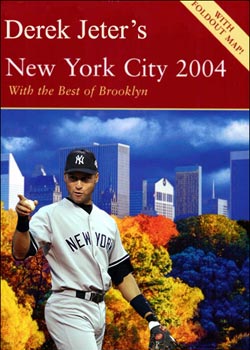 Luckily, we have "Derek Jeter's Guide to New York" to help A-Rod make the transition to living in the Big Apple.
Must-see attractions

Times Square
There's the mega-wattage, if you tire of this smile of mine. There's the theatre, if you need some drama besides the media-induced kind. And, of course, there's New Year's Eve. But the best part about this place is when they tape TRL in the afternoon.
There's this crowd of cute teenage girls huddled below the MTV window, screaming at the top of their lungs. That's fun. There's a chance to sneak a peek at the newest VJ hottie. And well, there's my man Carson Daly. Basically, all he does is introduce a bunch of studs in a lineup ... and he's got all these ladies after him! He even got Mariah to perform a striptease on the show!! I come here to learn from the man.
Metropolitan Museum of Art
I love to go to the Met after one of those rare two-strikeout games or tongue-lashings from The Boss to get my mind off my problems. It's also a good place to take a date. Let's just say Mariah found the Japanese Armor collection very, umm, sensual.
Anyway, nothing helps me relax like the Medieval Art section. I actually became a big fan of Byzantine sculptors while still in high school and especially love researching the history behind the ivory carvings on my off days.
I also revere the work of Picasso. I can contemplate his classics like "Girl Reading at a Table" for hours. What is he trying to say? What is the meaning behind the use of lines and colors? By the way, did you know Picasso was 45 years old when Marie-Therese Walter, a 17-year-old French schoolgirl, became his mistress? I can only hope I remain that productive at the end of my career!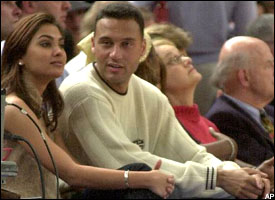 "As you can see, I love going to Knicks games."
Madison Square Garden
When the Boss is going loco, I come here -- the World's Most Famous Arena -- to watch the Knicks play. And all it takes is one quarter to realize how rare it is to have an owner who cares about winning.
Statue of Liberty
There's no better place to go for a healthy dose of introspection than Lady Liberty. Seeing her standing firm, ever upright and immovable reminds me of so much that is New York: our team's legacy, the population's resiliency, Jason Giambi's range at first base.
Don Zimmer always claims it was a lot more inspiring when it first went up in 1886 and the copper was still unoxidized, but I'm not buying it. It's too bad you can't go up to the top anymore -- I used to love imagining I was Bill Murray in the scene from "Ghostbusters II" where they use the song "Higher and Higher" to make the statue come to life -- but it's still worth the trip to Ellis Island -- is that where it is? -- just to walk around the base.
Empire State Building
The richest player in baseball should definitely check out the tallest building in the Big Apple. The Empire State Building stands 1,453 feet tall -- and the view from the observation deck up top is spectacular. But call ahead before you go -- the deck's been closed ever since Grady Little was spotted up there, leaning over the edge.
Restaurants/Dining

McDonald's (corner of 33rd and 7th Ave)
Who doesn't love McDonald's? They are everywhere so it makes you feel like you're at home as you stop by for a quick Big Mac on the way to the ballpark. I recommend this location for the excellent service ... oh, and the two-story billboard of yours truly right above is a welcoming sight.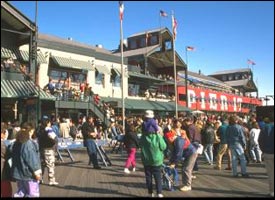 Good thing Derek's not a captain of any of the ships on the port.
South Street Seaport
The smell of fish reminds me of the Marlins, which reminds me that I haven't won a World Series in three years, which makes me hungry. So I bring Hideki along and we do sushi.
Tom's Restaurant
Forget the Suzanne Vega and Seinfeld connection; there's simply no better place to get a giant cup of coffee in this city than Tom's. And let me tell you, after a night at some of the clubs, you're going to need some java to be ready for those 1:05 starts -- even if Seattle's in town and Jamie Moyer is on the hill.
If you're feeling especially "lethargic" and the first pitch is hours away, make sure you don't ask for a "David Wells." Last thing you need is to show up to the clubhouse with a shiner. But if you still need that real fast pick-me-up, get the "Darryl Strawberry."
Bars/Clubs

40/40 Club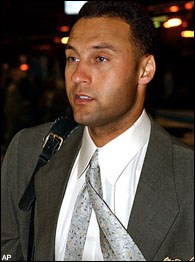 Dressing properly for a night on the town is vital for a good time.
Since this club is named in honor of people who have hit 40 homers and stolen 40 bases, I still have to pay to get in, but I've heard if you say you work with A-Rod you can get a discount. You want the hippest sports bar in town -- this is it. Tons of celebs hang out there. In fact, just the other day Mariah showed up. You know what? Maybe it's not such a great place after all.
China Club
This venue in Times Square is my favorite place for people watching -- Jagger and Bowie are often spotted here! It's not really the best place for dancing and the $20 cover is a little steep, but the mixed drinks are superb.
Penthouse Executive Club
Scores may be the most famous "gentlemen's club" in Manhattan, but be sure to head over to the West Side and check out the Executive Club. There's a steakhouse inside where you can grab dinner while watching the girls -- and then you can move downstairs for a "closer look." Watch out for the paparazzi though -- you could end up in the tabloids the next morning. Married men should take extra precaution.
Living arrangements

You hear all the talk about the lack of places to live in New York, but last time I checked there were plenty of decent apartments in the $10-15 million range. In general, you can't go wrong with anything Trump, but don't take anything without a three-car garage because then it's not worth the money.
If you're not the big-city type, you can always move to Jersey. Now, I've never actually been there, but I hear there are some nice estates that A-Rod could probably afford if he wants some peace and quiet. In fact, I think Jayson Williams has one up for sale right now.
Transportation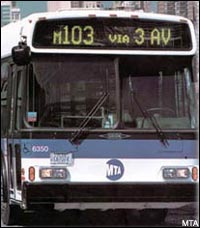 Just ride the bandwagon, A-Rod.
Bus
I've never been on one in NYC, but I talked to my maid once and she told me it's nothing like the ones we take from our chartered jet. I mean, no cushioned seats? No restroom? What's wrong with these people? Haven't they ever heard of a car service?
Taxi
Hmm, haven't actually been in a taxi yet. They made me hail one in a Visa commercial, but I had to work with an acting coach for a few hours to get it down.
Subway
Haven't actually been on this, either. I know we were in the the Subway Series in 2000, however. I was MVP of that Series, even though I was still dating Mariah at the time. I somehow managed to remain focused on baseball. That's not always easy, you know. Anyway, I don't really recommend the subway unless your bodyguard keeps the tokens with him.
Limousine
OK, now were talkin'! This is the preferred method to get around New York, but it isn't as simple as it sounds. There is a limo for every occasion. Awards show? That's your classic black stretch. Out on the town? You go with the modified Hummer with the PS2 and 6-DVD changer. Memorabilia show? You can go as low as a Lincoln Town Car if you want, but I wouldn't recommend you make a habit of it.