By Bomani Jones
Special to Page 2
CHAPEL HILL, N.C. – The day after the Tar Heels made the Sweet 16, I saw Jackie Manuel and David Noel standing outside a dining hall on the Carolina campus. I've seen Manuel around before, but the only place I'd seen Noel during my two years here is in the Dean Dome. One of the reasons they were out is obvious: After a big win, basketball players are kings ... as opposed to the princes they are on every other day. As starved as Carolina was for another Shining Moment, the players really run things when they do something as crucial as beat Iowa State in the second round.
In my other life, I'm a graduate student at Carolina. Ph.D. programs are miserable experiences. The closest thing to fun I experience during the day is my walk across the quad to get something to eat. For me, it's like walking across the yard of the clink, except that there are good looking women all over the place. (Which sort of undoes that comparison, doesn't it?) Seeing a basketball player on my strolls is a rare sight. I would be stunned to see, say, Rashad McCants and Raymond Felton throwing a Frisbee on the north quad.
So it's easy, sometimes, to forget that college athletes are still kids.
LIVE FROM THE DEAN DOME
That was me you saw in the black shirt in all those overhead television shots from the Dean Dome. (I know you were thinking just that.) Anyway, 'twas the most unreal thing I've ever been around. Highlights ...

1. Sitting right below a four-year-old kid who, with no provocation, started a "Flush the Dookies" chant. It mattered not to anyone that we don't play Duke again until late January.

2. Watching security put two groups of fans out who appeared to commit no greater sin than the wearing of Illinois gear. Yes, it was that serious.

3. The rare sight of Carolina students on the lower levels of the Dean Dome. The Dome has no student section, and fat cats get all the seats down low. By most accounts, students have only been able to sit down low during the '03 NIT, when those dedicated Tar Heel boosters didn't come to the games. (Nor did they come during the infamous 8-20 year.) If the crowd was that intense to watch a game on television, there's no telling what would happen if the students got the good seats for real.

4. Watching my best friend here, whose father works at Carolina and who grew up in Durham, scared to storm the court when the lead was four with about 30 seconds left because he refused to jinx it, then watching him put his hands on his head like Thomas Hill with 9.9 seconds left when he realized the game was in hand. Classic.

5. And, to top it off, students inexplicably throwing full bottles of liquor into the fires on Franklin Street. Apparently, privilege is flame-retardant.

6. Oh, and kidnapping one of my former professors' sons from his visit to Duke and taking him to the Dean Dome. After we told the woman at Duke who was responsible for him what we were doing, she told us that she isn't one of those people who hates Carolina. We told her we wish we could say the same about Duke. She asked if we are the people who say they'd root for Saddam Hussein over Duke, and I told her, "No, but my father did raise me to think that if Duke played the Ku Klux Klan, we should root for a zero-zero tie." Her jaw has still not returned to the full upright and locked position.

What a night.
The so-called student-athlete is often referred to as a kid by sportswriters and broadcasters, but that's mostly an age thing. Those over 40 have a tendency to call anybody under 30 a "kid." The rest of us sometimes forget that they're still kids because they play big-time college sports essentially as employees working for their scholarships. As they play their games, they wear the name of one big business prominently featured on their jerseys, and the logo of another placed less conspicuously – but no less prominently -- on their shoes.
But they're still kids.
Maybe they aren't quite cuddly and innocent, and maybe they're way too big to have their cheeks pinched – many of those cheeks, after all, are more than six-and-a-half feet above sea level.
But they're still kids.
For most student-athletes, college is also as good as it's going to get even at North Carolina, where the men's basketball team that won the national championship Monday night features no fewer than four future pros. That's an exorbitantly large number for one program, but it still means that as many as 13 players more than 75 percent of the team (from an overall roster of 17) – will move into unfamiliar territory as soon as their eligibility is used up.
No longer will there be a campus on which they can be the big men. Most of these players have been stars since the seventh grade; but unless they can dance, rap or play "Sweet Child O' Mine" on the kazoo, they likely will never again be celebrities outside of Chapel Hill.
So this is it. This is the mountaintop. Life might become more fulfilling, might be enriched by families and professional success; but who believes these kids will ever have as much fun as they had Monday night, as they've had over the last three weeks? Or the last two to four years?
Most of us only see college athletes soaking up the exhilaration that athletic stardom can produce on television. And then, it's when nets are being cut down or when some lucky senior has the privilege of conducting the pep band in another rousing rendition of the school fight song. But to really understand what's going on, to really understand that these kids are still ... well, kids, you need to hang around a college campus on the day after a big win.
Seeing Manuel and Noel on campus that day was something of an epiphany. For example, I didn't see those cats out after they beat Duke. (Nor, for that matter, did I see many other students, including the ones I teach. No one sent me the memo, but apparently it's a school holiday when the Heels beat Duke.) After that Duke game, there was really something to look forward to. Even though there'd been no real urgency to that particular game against the hated Blue Devils – the Heels already were the top seed in ACC tournament and were all but assured the top seed in the Syracuse regional – the Duke game served as a steppingstone to something larger.
The thing is, after a team survives the first two rounds of the NCAA Tournament, only the most foolish player – or fan – believes that another win is guaranteed. If Vermont can send Syracuse packing, and if Bucknell can beat Kansas, the thought of Carolina's losing to Villanova, N.C. State, Wisconsin, Michigan State or Ilinois should not have seemed that foreign.
(OK, except for N.C. State. That one would've been guaranteed. The notion of Carolina losing to State is like the notion of losing to your sister in a game of one-on-one. And lemme tell you something, Jack: State ain't Cheryl Miller, and Carolina ain't her brother.)
Either way, it was obvious that the euphoria of making the Sweet 16 was something to savor. It was enough to bring those two hoopers out from wherever they usually kick it at lunchtime. And it made sense that the two players doing the hangin' were Manuel and Noel, because neither of them figures to be among the sure things moving on to the greener basketball pastures of big-time NBA paydays.
Manuel was the state of Florida's player of the year in his last season of high school. He starts and contributes significantly at Carolina. He's an all-ACC defender, perhaps the best in the country at shadowing J.J. Redick; and he can jump out of the gym. (Peep the Duke game in Chapel Hill, when he took off from one step inside the foul line with a defender running right with him.) Unfortunately, the 1,000 practice jump shots a day he reportedly took last offseason didn't help too much. As my high school coach would say, he still can't hit a bull in the butt with a pineapple. If he's going to play professional basketball, he'll have to learn to speak Turkish or Hebrew because his only chance of feeding himself with basketball will mean doing it overseas.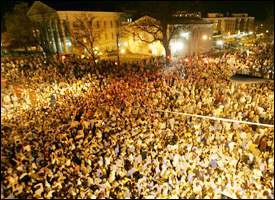 The UNC faithful burned the midnight oil after Monday's win.
Noel is the most athletic player on Carolina's squad, Marvin Williams included. Noel turned down scholarship offers to play football – by all accounts, the clips of his play at wide receiver in high school are unreal – to walk on at Carolina. He's 6-foot-6, 224 pounds, with hops enough for all of us. But he, too, would have trouble hitting the ocean if hurled from a dinghy.
Still, they've both been stars for as long as they can remember, known everywhere they've gone and revered by those they've never met. They were "The Men" in high school, and they've been "The Men" in college. And if they were Big before, they're gargantuan after Monday night.
This morning, that wave crests for Manuel, a senior. He, Jawad Williams and Melvin Scott came to Chapel Hill just in time for an 8-20 season. They stuck around for the Matt Doherty firing, went through the difficult adjustment to Roy Williams' style of play and finally reached college ball's biggest stage.
It will get no better.
Noel has another year of eligibility. But next season's end likely will be as terminal for him as this year is for Manuel, so this has got to be nearly as dope for him. After all the work these cats put into their craft, and under the insane amount of pressure that is attached to this team (though most of it justifiably fell on Roy's shoulders), every win in the tournament had to be exhilarating.
So the season is over now, and the indelible image I'm left with is of those two guys sitting on a wall in the middle of campus – two guys soaking up what they knew might not be there a week later.
They were two kids enjoying the ride, stopping to enjoy what had already taken place, understanding (even if subconsciously) that the stop itself is the best part of it.
They were kids.
That brief glimpse of them was enough for me. I won't forget it.
Bomani Jones writes a monthly column for www.blacksportsnetwork.com and a weekly music column for AOL BlackVoices. Questions, comments, praise, and hate mail are welcome at bomani@bomanijones.com.