With football off the radar for a while, there's nothing to stop sports fans from getting ready for the NCAA Tournament. That means it's time to start thinking about brackets.
For me, that means it's time to start learning from past mistakes. See, every year, when the selection committee unveils the field of 64 (and one to grow on), I'm confronted with a dilemma -- what to do with Pac-10 teams.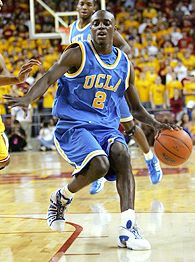 Stephen Dunn/Getty Images
Why don't Darren Collison and UCLA get the same credit for postseason experience that Florida does?
Since it's easier to catch a rerun of "Chico and the Man" on the tube than a Pac-10 basketball game when you live on the East Coast, ignorance led me to a default strategy of picking Pac-10 teams to lose early. Every team but one is gonna lose eventually, right?
But that got me in trouble last year, after UCLA set fire to my bracket by getting to the final.
For years, fans of the Pac-10 have felt slighted by the time zones toward the right side of the map. So, in an attempt to avoid being one of those guys who shortchanged West Coast hoops, I decided to watch more of the Pac-10 this year.
I must admit it's been rewarding. Even from the Atlantic, it's obvious that the Pac-10 has been the best conference in America this season. Since the only conferences with two elite teams, the Big 12 and Big Ten, don't offer much else, the Pac-10's depth has made it the nation's premier conference. The Pac-10 is the only conference with four locks (UCLA, Arizona, Washington State, Oregon) to make the NCAA Tournament, and only the Pac-10 and ACC could reasonably expect to have six teams in the Big Dance if the season ended today. Also, the top five teams in the Pac-10 are much stronger than their counterparts in the ACC, which is pretty much North Carolina and a glut of so-so squads.
It looks like lots of good things could happen for the Pac-10 next month. Consider the following:
1. With Darren Collison producing like Jordan Farmar did last season, UCLA is better than it was last year and has the same kind of experience that has most of the universe heaping praise upon Florida.
2. Washington State is legit, even though Bennettball 2.0 is as mind-numbing as the first generation. And version 1.0 wasn't much more fun to watch than its beta version -- drying paint.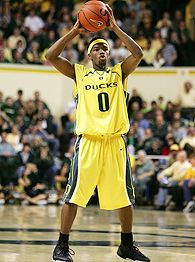 Jonathan Ferry/Getty Images
Oregon's Aaron Brooks deserves more attention for his leadership skills.
3. Oregon point guard Aaron Brooks is probably the most underrated player in America, and he carries a team like few others.
4. Stanford is inconsistent but good, and the Cardinal have size and shooting. Brook and Robin Lopez, Stanford's (literal) twin towers, could be ready to break out in the Dance, seeing how they've shown enough this season that the name jokes aren't really funny anymore. (Actually, they still are, but there are better things to talk about.)
5. Arizona's recent week from hell, when Lute Olson's squad lost to Carolina and Wazzu, doesn't mean the Wildcats aren't loaded. Remember -- March is a great month for teams with excellent senior point guards.
6. On the right night, Washington is worth watching just to see freshman big man Spencer Hawes and his precocious post moves.
7. USC, still in the shadow of the tragic murder of Ryan Francis, is ranked. Led by swingman Nick Young, the Trojans should be one of the season's feel-good stories.
Pretty impressive stuff. But man, gathering that knowledge hasn't been easy.
It's hard to keep up with what goes on in the Pac-10 from east of the Mississippi River. Contrary to popular belief, folks on the East Coast are not biased against the Pac-10. This isn't an issue of prejudice or principle.
We just don't know any better.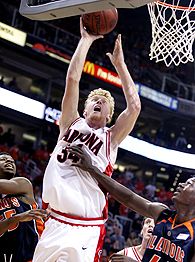 Paul Connors/AP photo
Arizona sophomore Chase Budinger had better get ready for some big battles down low.
Why? We must hold down jobs. When the Pac-10 is playing on Thursday nights, good working folks are either on the clock or passed out from a hard day on the grind. Add in the fact that the Pac-10 doesn't have a national television package for weeknight games, and it can be difficult to see what's happening on that side of the country. Nobody's trying to be late for work because of basketball, no matter how good Chase Budinger is.
Boss: Why were you late?
Worker: Civil disobedience. I refuse to fall victim to The Man's East Coast bias. I shall not be shackled by ignorance caused by the biased media and its attempts to brainwash the public. And I feel liberated! You should've seen the Cats, Boss. It might take a box-and-one to shut down Budinger.
Boss: Box-and-one, huh? Here's a box or two …
With a DVR and a couple of free hours a week, you can stop the ignorance and see what's going on out there. Save for Oregon State and Arizona State, every Pac-10 team has a fighting chance on any given night. There's star power, and with the emergence of Tony Bennett and Stanford's strong showing under Trent Johnson, the conference has nine good coaches (this includes Arizona State's Herb Sendek, a better coach than the folks at NC State would have you believe).
Give the Pac-10 a chance. Call in sick or something.
Or don't, and risk being the laughingstock of your office pool.
The choice is yours.
Bomani Jones is a columnist for Page 2. Tell him how you feel at readers@bomanijones.com.