Championship Week serves as the perfect preview of the NCAA Tournament. It's a warm-up for the elite, a proving ground for the middle and a back door small schools use to crash the Big Dance. For those with a chance at having One Shining Moment, this week is the ultimate cram session before their final exam.
Every conference tournament will be exciting, and many will be compelling. But none will be better than this year's ACC tournament in Tampa.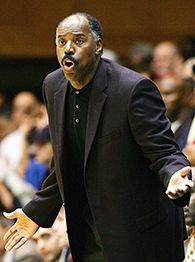 Streeter Lecka/Getty Images
Al Skinner and Boston College have made their mark in the ACC.
Those who feared that football-minded expansion would dilute the quality of the most prestigious basketball conference in the land can rest easy because interlopers Virginia Tech and Boston College have acclimated nicely and earned first-round byes. Traditional heavyweight North Carolina is still on top; Duke is in a better position than most think; and the top nine teams are as strong as those in any other group, save for the NBA's West.
The intrigue behind the conference stretches far beyond the recent drama between Gerald Henderson and Tyler Hansbrough. There's the incredible balance within the conference, the battle between old-money powerhouses, the resuscitated upstarts and the fact that no team has shown anything approaching invincibility. The stylistic differences between the top nine teams can be staggering, but the difference among them in quality of play is paper thin.
Oh, and there's Henderson-Hansbrough. Or is it Krzyzewski-Williams?
This is the conference tournament you'll want to see. Here are seven reasons why.
1. Anything could happen

This is no longer the Duke Invitational, which it's been the past nine years, when Duke won eight and lost the 2004 final to Maryland in overtime. The chance that the ACC could -- but probably won't -- put eight teams in the Dance has overshadowed the fact that this is the most wide-open conference tournament this year.
The ACC has nine teams in the RPI Top 50, three of which are in the top 15. But consider those three. North Carolina got the top seed when Virginia lost to bottom-feeder Wake Forest. Neither Duke nor Maryland earned one of the four first-round byes.
Virginia Tech is hard to support. The Hokies beat Carolina twice, but lost twice to NC State. Maryland is the hottest team in the conference, but it's hard to forget its home loss to Miami. Virginia has taken L's from the Canes and Wake. Georgia Tech finished strong, but it looks like last year's team away from the Thrillerdome. In the past five games, Boston College has gone from a tournament lock -- worlds better than anyone thought it would be after Sean Williams' suspension -- to looking like a double-digit NCAA Tournament seed. But BC's top three scorers are as effective as any other top trio in the ACC.
If you've written Duke off because the Blue Devils finished seventh in the conference with an 8-8 record, think again. They easily could make some noise. Four of those losses were by six or fewer points, and -- unlike most of the teams above them in the standings -- the Blue Devils never snoozed against the bottom three teams in the conference: Miami, Wake Forest and NC State. That means there's a great chance of …
2. Carolina-Duke III!

Is the rivalry overhyped? Not anymore.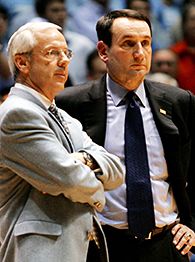 Streeter Lecka/Getty Images
We're pretty sure these two aren't making dinner plans.
Henderson's elbow made this rivalry as nasty as it's been in years, maybe since the 1961 brawl involving Donnie Walsh, Larry Brown and Art Heyman (and maybe Frank McGuire). Had Hansbrough been allowed to shoot those free throws in his blood-soaked jersey, it might as well have been retired after the game.
Nasty, you see, is beautiful.
If Duke (without suspended Henderson) beats NC State, the Blue Devils will face Virginia in a rematch of a game they should have won in Charlottesville last month. Next would be Georgia Tech or Virginia Tech. Again, Georgia Tech struggles away from home. The Hokies beat Duke by one when Greg Paulus had one of the worst individual performances in recent memory -- zero points, two assists, six turnovers, Deron Washington's inseam atop his head and the inbound pass on the last possession bounces off his mug. He can't play that badly again. It's just not possible. The Dukies easily could be playing on Sunday.
Carolina's biggest hurdle would be a Saturday game against either slumping BC or surging Maryland. The Eagles have no Craig Smith-like bruiser to deal with Hansbrough. Maryland has won seven in a row, but it doesn't have enough size in the post to beat Carolina again, especially away from home.
Duke has won eight of the last nine conference tournaments and has dominated Carolina in the past decade. A Duke-UNC final wouldn't just be for the ACC title. It would be for bragging rights in one of sport's most bitter rivalries.
Would you miss that?
3. Seven great point guards

Check this collection of floor generals (listed from north to south): BC's Tyrese Rice, Maryland's Greivis Vasquez, Virginia's Sean Singletary, Virginia Tech's Jamon Gordon, NC State's Engin Atsur, Carolina's Tywon Lawson, and Georgia Tech Javaris Crittenton. No two are alike.
• Rice and Lawson are diminutive and insanely quick.
• Vasquez is a rapidly improving triple-double threat.
• Lawson looks to make plays.
• Rice is a fearless scorer.
• Gordon, the ACC Defensive Player of the Year, can spark a fast break with his knack for getting steals.
• Crittenton is built like a 2-guard and came to Atlanta with the knock that he might be more concerned with scoring than distributing, but his command of the offense (assists are up, turnovers are down) has given Tech a much more comfortable seat on the bubble than this time last month.
• No one is more valuable to his team than Atsur. NC State was worlds different with him than when he was out with a hamstring injury.
• Singletary is the best of them all -- the biggest reason Virginia will be dancing for the first time in six years.
4. Every game will have high stakes

Clemson and Florida State need a couple of wins to save their seasons, and they meet Thursday. Georgia Tech can't afford to lose to Wake Forest. Maryland, Virginia and Virginia Tech can improve their profiles greatly with wins.
An early Boston College loss would force the NCAA selection committee to re-evaluate how significant 10 conference wins really are. Roy Williams openly detests conference tournaments, but the Tar Heels need to be playing on Sunday to lock up a top seed in the Big Dance.
Coach K's face in the final minutes of Sunday's loss to Carolina -- equally bewildered and infuriated -- says all you need to know about how badly Duke needs to play well.
5. No home-court advantage

Gary Williams won't have to complain this year about the conference favoring the North Carolina schools. The ACC tourney is moving from the hoops-rabid environs of Greensboro, Charlotte and Atlanta to the beaches of Tampa, Fla. Tampa is probably the most neutral location possible. It's out of reasonable driving distance for all schools north of Atlanta, which will level the playing field like never before.
Tampa is roughly 275 miles from both Miami and Florida State, and neither cares much about basketball. It seems as though more people show up for summer football workouts than for Canes home basketball games, so who's expecting them to head to Tampa in droves?
6. Catch 'em while you can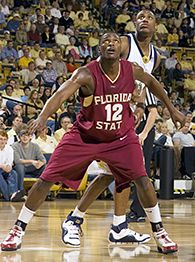 Paul Abell/Getty Images
FSU's Al Thornton closed the regular season with 45 points at Miami.
This will be the last ACC hoorah for a slew of senior studs:
• Jared Dudley's gritty and complete game for Boston College
• Al Thornton, who provides instant offense for Florida State with his smooth versatility
• The perimeter excellence of Virginia Tech's Zabian Dowdell and Virginia's J.R. Reynolds
• Maryland's D.J. Strawberry might be the hardest-working player in the nation.
• Atsur's leadership will be on the same intimate stage for the last time.
Several underclassmen are possibly playing in their last ACC tournament, too: Hansbrough, Lawson, Crittenton, Georgia Tech forward Thaddeus Young, Duke forward Josh McRoberts and Carolina forward Brandan Wright.
Enjoy 'em while you can. They grow up so fast. Often faster than they should.
7. Gary, Gary, Gary

Here's the interesting thing about Gary Williams. He doesn't look much different on the sideline whether Maryland is winning or losing, but you can feel the difference. When his teams are winning, they drip with passion and their fans are maniacal, which makes Williams' hyperintensity look beautiful, as if everything in the building is feeding off him.
When they're losing, it seems as if Williams is a couple sammiches short of a picky-nic basket. Last year in Greensboro, when the Terps were obliterated by BC, he slammed his blazer to the ground so hard during a timeout that people in the upper deck were startled.
Maryland is playing well this year, so Williams is must-see. If the Terps lose, Gary will be a sight then, too.
Bomani Jones is a columnist for Page 2. Tell him how you feel at readers@bomanijones.com.

Also See
ESPN Top Headlines