TAMPA, Fla. -- Tyler Hansbrough was clearly affected by the mask protecting his broken nose. His 6-point performance against Florida State Friday afternoon showed the mask was getting in his way.
"It's difficult," he said about playing with the face guard. "It's uncomfortable. I don't like it."
Well, I love it.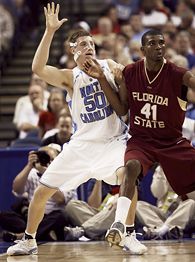 Doug Benc/Getty Images
Hansbrough admits he's not a fan of the mask but will wear it until doctors give hm the OK to take it off.
Sure, that's easy to say since it's not on my face. But while the mask isn't quite good looking, it is a good look. That's not just because it covers up Hansbrough's still-blackened right eye, making him the first player since Cherokee Parks whose appearance is improved by a mask.
Rather than obscuring his on-court persona, it accentuates it. Like Bill Laimbeer's face guard managed to make his whining look more pointed and plaintive, Hansbrough's mask brings out his personality. It's the cherry on top of the crazed persona Hansbrough's created in his time in Chapel Hill, time which dances on the line between intensity and insanity. It's awkward enough to remind you that he's as much a shy kid as he is a brutish madman.
With Carolina expected to easily handle Florida State, the intrigue before Friday's game surrounded how Hansbrough would look in the mask he would wear to protect his nose after it was broken by Duke's Gerald Henderson. It became such a big deal in the Triangle that a radio station took suggestions on what sort of mask he should wear. Because of his fearless, overpowering game, many suggested he wear a goalie's mask.
I suggested a replica of Hannibal Lecter's mask from "The Silence of the Lambs."
This is the man nicknamed "Psycho T." He doesn't just answer to that. He revels in the moniker, even using it prominently in his e-mail address. He's the guy that takes pickup games way more seriously than anyone else and puts himself through maniacally difficult summer workouts. Who else would suffer a broken nose, be soaked with blood from neckline to waistline, and want to return to the game in his stained jersey? Or take a smiling photo minutes after having his beak busted?
That's partially why the mask he wore Friday seems to work. Reminiscent of the face guard Laimbeer wore late in his career, the clear plastic mask covers his forehead and cheekbones, and it slopes down about an inch past the point of his nose. With conspicuous white straps that go behind his head, the piece is definitely more about function than fashion. It's a strange accessory.
And it's perfect.
"It does fit him," said his roommate, Bobby Frasor. "How [he's] scary and stuff like that."
From the right angle, the mask does make Hansbrough look more fearsome than he did already. While he clearly wasn't himself offensively, he was still aggressive without the ball. He fought for rebounds most of the game, reached into the fray in the paint to create tie-ups, and even got his elbows locked up with a couple of Seminoles post players during the first half. All that plus an extended snout is a bit of an intimidating portrait.
At the same time, the mask fits the quieter side of his personality. Around the media, Hansbrough's a quiet soul. He barely talks loud enough to be heard over the running showers while he's in the locker room. He could easily be described as gentle were he not ... well, Tyler Hansbrough.
When looking at Hansbrough in that light, the mask looks more like something a not-so-cool kid would wear in gym class, something his mother forces him to sport against his will. That's something his teammates picked up on quickly.
"He doesn't want everyone in the world to know," shooting guard Wes Miller said after the 73-58 victory. "But we're giving him a hard time."
Not as hard a time as the mask is giving Tyler, though. At halftime, he said he told coaches that "I can't wear this thing," and threatened to remove it before the second half. On top of the discomfort, he said the mask hinders his peripheral vision. He insists, though, that he'll wear the mask until doctors tell him it's OK to take it off.
The mask isn't smooth, but neither is Hansbrough. He's full of rough edges like no Tar Heel in recent memory, and that ruggedness has made him as popular as any player to wear Carolina blue. The mask is something else to add to the legend he's built over the last two years.
That's why it looks great. Even though it doesn't.
Bomani Jones is a columnist for Page 2. Tell him how you feel at readers@bomanijones.com.