TAMPA, Fla. -- After four days, 11 games, a Cinderella run and very little sleep at the ACC tournament, here's what we learned. Or at least what I can remember.
1. Coaching is really important

NC State's surprising run to the tournament championship game can be credited to many factors, but none more important than Sidney Lowe. Forget all that talk about the luck of the red blazer. Rotating the other stuff is more important.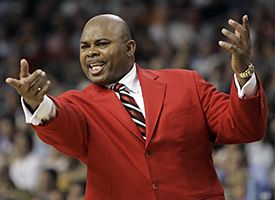 AP Photo/David J. Phillip
NC State played inspired basketball under Sidney Lowe in the ACC tournament.
"I changed everything else," Lowe said after Saturday's win over Virginia Tech. "I've got four pairs of pants, shirts, ties. And the undergarments." Everyone knows that clean knickers are the key to success.
This was all about the brilliant offense he runs, a motion scheme that still allows his players to use their individual talents to make plays. No team shoots 73 percent from the field (like the Pack did in the second half against Virginia) on luck and talent alone. The Wolfpack's players were in great places at great times, and the reason for that was Lowe and his seemingly infinite reservoir of plays.
NC State's wins over Virginia and Virginia Tech pointed out something important to remember when assembling a bracket -- when talent is roughly equal, the team with the better coach is likely to win. Lowe controlled State's run from the sideline, and that was the difference in the wins over Virginia and Virginia Tech.
Speaking of that …
2. The nation should be glad NC State didn't make the NCAAs

My goodness, that team looked good. This wasn't a charming Cinderella that got all the right breaks. This was a dangerous team.
The last thing anyone wants to face in the NCAA Tournament is a squad that has good athletes, two strong big men, a few capable ball handlers and a strong half-court game. After watching this team for four days, I couldn't help but wonder how things would have been different if Engin Atsur, the player Gavin Grant referred to as their "general," hadn't missed 12 games with a bad hammy.
Also, consider what Grant said their approach was before the Duke game: "Don't let anybody punk you." A team with someone bold enough to say that from the dais of a postgame media session is a team to be reckoned with.
Plus, there's that red blazer. Yeah, I'm starting to believe in it, too.
3. Duke won't go too far … or will it?

I sat behind the Duke bench during its loss to State, and the Blue Devils looked nervous from warm-ups 'til the final horn.
Josh McRoberts looked to be whistlin' past the graveyard when he yelled "We need some stops!" in a first-half huddle.
Only one team was smiling in that game, and it wasn't the one in blue. If the Blue Devils felt pressure in the first round of the ACC tournament against a team that only won five conference games, how will they respond to playing against a strong Virginia Commonwealth team? Add the fact that VCU has nothing to lose -- and the incentive of knocking off the biggest name in the game -- and there's a recipe for an upset.
But should the Blue Devils get past that game, they would likely get Pittsburgh in the second round. The Panthers are perpetually pretty good, but not much more. Duke has beaten its share of pretty good teams this season, and one win might be enough to get rolling.
At least until it (hypothetically) gets to UCLA.
4. Carolina is still an enigma

Point guard Tywon Lawson looks as though he's made the subtle transition from being a freshman to a first-year player.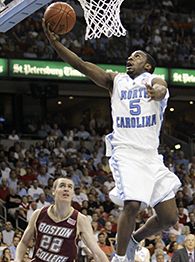 AP photo/John Raoux
North Carolina's Tywon Lawson is elevating his game at the right time.
"By this time of year, you should have been exposed to everything, and you're not nearly as freshman-like as you were at the start of the year," Roy Williams said.
Williams also said Lawson's game against Boston College, when he held Tyrese Rice to five points, 27 less than he scored against Miami, was Lawson's best defensive game.
But it was with the ball that he truly shined.
He had 20 assists and only four turnovers in the tourney. The truest measure of his value was what happened when he didn't play. Carolina built an 18-point lead five minutes into the second half against Boston College, but that dwindled to nine while Lawson was out. More than ever, he is in control of the offense and in control of the team. Remember in the NCAA championship game against Illinois in 2005 when Raymond Felton picked up two fouls early in the first half, but there wasn't a way in the world he was going to sit for long? Lawson may reach that point by the end of the NCAA Tournament.
Oh, and much to Roy Williams' chagrin, we learned at the end of the championship game, with a seven-point lead, that he can dunk.
But what didn't we learn? What will this team do in the crunch against a real test? Winning down the stretch against a team playing its fourth game in four days, with a short rotation and a hobbling point guard doesn't say too much. The only team in the ACC tournament that would really show what the Tar Heels were made of was then-streaking Maryland, and they got tripped by Miami for the second time this season.
Carolina looked more in sync than it had in a while, but there are still unanswered questions about this team.
5. Someone from the ACC will mess up your bracket

Four lower seeds winning on Thursday was a clear indicator of this conference's parity. Small problem -- it's hard to tell if that's the good parity or bad. Wake Forest, NC State and Miami didn't look good very often this season, but pulled out clutch wins over NCAA tournament teams. Does that mean schools like Maryland, Virginia and Virginia Tech are overrated? Or is the bottom of the conference stronger than most people realized?
What do I think? I think you better guess right.
Other tidbits

• Tyler Hansbrough's game is clearly bothered by the mask. "It affects my vision," he said after Friday's game against Florida State. For a player that lives on the block, peripheral vision is important. It must not be hard to draw fouls, though. Must be like driving with your eyes closed, you're bound to bump into something. Hansbrough was 11-of-11 from the free-throw line Sunday.
• I see no way in the world Brandan Wright has ever had his shot blocked in his life. I wouldn't be surprised if he could touch the top of the square standing flat footed in socks.
• It's a shame Florida State isn't going dancing, because the world is missing out on seeing Al Thornton on a big stage. Guarding him can't be too much fun.
• After Virginia's loss to NC State, Dave Leitao said shooting guard J.R. Reynolds has a hip injury. For a team that depends on its backcourt, that's all bad.
• There are problems with having a basketball tournament in a hockey arena, many of which relate to the scoreboard. Aside from having no indicator for the possession arrow or how many timeouts are left, the scoreboard at the St. Pete Times Forum wasn't capable of handling triple-digits, which came into play during the Georgia Tech-Wake Forest double-overtime thriller.
• A Carolina fan behind me wore a T-shirt that said, "NC State is not our rival." Uhhh, yes it is. And it will be for a while.
Bomani Jones is a columnist for Page 2. Tell him how you feel at readers@bomanijones.com.