LeBron James came up big Tuesday night. His 36 points -- 25 in the second half -- and 12 assists were our first glimpse this postseason of the Bron Bron we saw in last season's playoffs.
Gracious, that was a welcome sight. We needed a breakout performance, a continuation of the brilliant story he began to pen this time last year.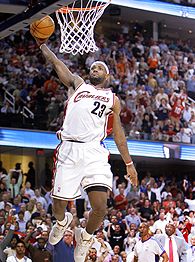 AP Photo/Mark Duncan
LeBron could rev up these playoffs if he can carry the Cavs at least to the Eastern finals.
The "Witness" campaign is so '06. But we needed LeBron to be as exhilarating as those brilliant ads. We needed him to do something to shake us, like the bass of the incredible drums from that Nike campaign. We needed him to bring back the excitement that surrounded him and his future this time last year. We needed him to excite us.
'Cause lemme tell ya -- he's just about all we've got right now.
Bron Bron's the only high-watt superstar left. Tim Duncan's got lots of rings and Steve Nash has a couple of MVPs, but both are more impressive than exciting. They're great, but not one-name, can't-miss fare. Other than LeBron, there's no player so singular that people will tune in just to watch him. Kobe and D-Wade are at home. T-Mac's somewhere feeling terrible. Iverson and Melo are looking in the phone book for a place where they can be tatted while they get braided. Kevin Durant's still en route.
The teams aren't looking so great, either. What compelling story line is left in these playoffs? Even though the Suns looked great in beating the Spurs by 20 Tuesday night, the Spurs-Suns series will feel like a rerun until Phoenix can win a game in San Antonio. And does anyone outside of Utah really care if Jerry Sloan goes back to the Finals?
The Warriors and Mavs gave us an all-timer. Golden State's pickup squad pulled off the greatest upset in playoff history, in an uptempo series made classic by the Oakland faithful -- the rowdiest crowd pro ball has seen in ages. You know you're doing something right when Stephen Jackson is one of the faces of your team and the nation comes to love you. Like the government takes taxes from your paycheck, the Warriors took Dirk Nowitzki's MVP from him before he could receive it. Kudos to the blue and gold.
But what's next from the Warriors? I really don't care. After slaying Goliath, there's not much sizzle in facing the league's mandatory challenger.
And the East is the East. The most exciting thing about the Bulls-Pistons series -- which is looking mighty broomy -- was the Bad Boys-Jordanaires montage ABC showed before Game 1.
But we do have LeBron. We've got his magnetism, his ability to do things we've never seen a man his size do. We've got his ability to carry a mediocre squad to the pinnacle of the sport, even if a trip to the Finals would just be another incremental step in his eventual coronation (the Cavs would be rocked in the Finals). We've even got the intrigue of whether LeBron can come through in the clutch.
Most importantly, we've got what we're almost positive he can do: anything.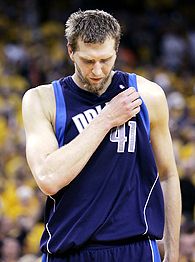 AP Photo/Jeff Chiu
Dirk Nowitzki and Dallas won't get another crack at the NBA Finals this year.
LeBron now has the power to erase his regular season -- the numbers looked good, but
he
didn't. Oxymoronic though it may seem, his 27.3 points, 6.7 rebounds and 6.0 assists per game were uninspiring. Perhaps he was just saving himself for the postseason, but that's unbecoming of a 23-year-old. That's what old men do. In this case, acting twice his age didn't make LeBron look precocious. He just looked lethargic. And his performance against Washington did nothing to shake that -- his points, boards and assists were all just a tick over his regular-season averages.
There has been no leap into the rare air are above superstardom. He treaded water when the skies, not the seas, were calling his name. Hopefully Tuesday night's game means LeBron's ready to save us.
These uneventful playoffs are a continuation of a "blah" year in sports. The Year 2007 has been more boring than any sports year in recent memory. Why else would sportswriters be talking about academic studies, public opinion polls and decrepit talk show hosts?
The BCS championship was a yawner, only compelling because enough people -- including me -- were dumb enough to think Florida had no chance, making the game an "upset."
The Super Bowl? Prince put on a helluva show, didn't he?
The NCAA Tournament was long on chalk and short on excitement. Better teams usually bring better ball, but they didn't bring a better Dance. 'Twas like a room of gorgeous women dancing to the sounds of a corny DJ.
Even the NFL draft, which came with the potential of Al Davis doing something kooky, was a letdown.
The NBA playoffs are usually one of the surest bets in sports. Basketball's athletes are the most amazing to watch, combining grace and power in a way not found anywhere else. Every day, there's a game on with the NBA's elite talent playing with urgency and desperation. The playoffs often provide both big-budget action and indie-flick drama.
This year, they're boring. They're so bad, the nation has convinced itself there was something compelling about watching the Bulls sweep the Heat -- a bunch of old men -- just because Miami won the championship last year.
LeBron James is the only shining light left, the only thing that demands attention. He's blended in most of the year, but the stage is perfectly set for him to emerge like he did last year.
He can dominate the Nets. He could even lead the Cavs past the Pistons, a team Cleveland could have beaten last year when the Cavs weren't as good as they are this year. He could be the triple-double machine the otherwise unremarkable Cavs need him to be.
These playoffs, and maybe even this year, can be his.
And I sure hope it is.
Bomani Jones is a columnist for Page 2. You can reach him here.