Tony Parker could win the NBA Finals MVP this year. 'Tis a nice trinket, but it pales in comparison to what he seems to already have won.
The game of life.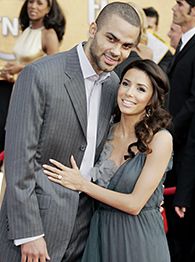 AP Photo/Reed Saxon
As soon as Parker and the Spurs dispose of the Cavs, he can start focusing on the upcoming nuptials.
Think about it. Parker is 25. He's paid quite handsomely. And in a few days -- perhaps as early as Thursday night -- he will win his third NBA championship ring.
Oh, and he's marrying Eva Longoria next month.
Yes, there are dangers associated with being attached to a woman whose job entails pretending to be unhappily married. But the bottom line is, that's good livin'. It's been a long time since a Frenchman has had it that sweet in this country.
Is anyone in sports doing better than Parker? Most of us have dreamed about all the things that come with being a professional athlete, but surely some of them live better than others.
Here's the top 10:
10. TOM BRADY
A couple years ago, Tom Brady was Tony Parker -- without the engagement ring. He'd won three Super Bowls in his first five professional seasons. The ladies loved him. And, most importantly, he seemed to take it all in stride and love every minute of it. Life was golden.
Things are still pretty darn good for Brady. Why he's ranked so low on this list? Three words -- baby mama drama. It's coming. And not even Bill Belichick can devise a scheme to help Brady out of that.
9. JOAKIM NOAH
Is anyone getting more out of what he's working with than Noah? He has two NCAA championship rings, even though he was a lightly regarded prospect out of high school. He's probably going to be a lottery pick, even though the player he's most comparable to in the NBA -- Anderson Varejao -- is little more than a role player.
Oh, and Noah's one of those dudes who doesn't cut his hair, but speaks a few languages, has an accent, has been all over the world, can claim ancestral kinship with just about anyone … and his people are rich? Yeah, he's living the life, if you get my drift. If he were still in college -- the most wonderfullest place on Earth -- Noah would top this list.
8. BEN ROETHLISBERGER
At 24, he quarterbacked a Super Bowl champion. More importantly, he did so for a team that is the sun in its city's solar system. He's the BMOC, with a grown man's paycheck, but still young enough to enjoy every gloriously hedonistic spoil that comes with his success and notoriety.
And he's still alive. That's crucial.
7. DALE EARNHARDT JR.
Wouldn't you love to go into negotiations for a job and have this exchange?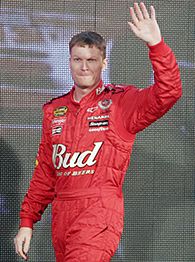 AP Photo/Bob Jordan
Junior will be announcing his future plans on Wednesday, NASCAR fans.
Boss: So, what would you like?
You: The company.
Boss: Excuse me?
You: Calm down. I don't want the whole thing. Just 51 percent.
Boss: So you don't want a job. You want my job?
You: Yup. See that name on the marquee? It's the same as the one on my résumé. Feel me?
It doesn't matter that Earnhardt didn't receive control of Dale Earnhardt Inc. The fact that he could ask for ownership of the whole damn team, and do so with a straight face, is enough to make him one of sports' biggest winners. There are better drivers, but Little E is royalty.
And it's always good to be king.
6A. GILBERT ARENAS and 6B. MANNY RAMIREZ
Middle schools everywhere are full of guys whose lives are miserable because they're weird. They tickle people's armpits and get their asses kicked. They urinate where they shouldn't and get called "Pee-Pee." Their clothes don't fit and they get ragged on.
But these two oddballs have the game figured out. Each is extraterrestrially skilled at his chosen profession. Each also lives on his own planet, close enough to Earth to hang out with Earthlings but distant enough to be impervious to their little concerns.
Winners, both are.
5. ROGER CLEMENS
Without question, Rocket's gotten special treatment from the Astros and Yankees, both allowing him to come and go as he pleases. The provisions in Clemens' contract can't possibly be good for creating camaraderie between him and his teammates.
But if that's a problem for you, there's only word to describe you -- HATER!
Clemens works a small part of the year, doesn't have to deal with the hassles of being on the job every day, and has the luxury of maximizing his time with his wife and children. In a world where most of us have to choose between making lots of money and spending time with our children, there's not a soul who wouldn't take the same gig.
He's not just winning the game. He changed the rules.
So don't hate.
4. DEREK JETER
Even still, Clemens isn't the King of New York. Biggie Smalls would be proud.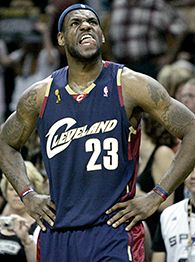 AP Photo/Tony Dejak
LeBron's got it good, but does he have any magic left in his hat for the Spurs?
3. LEBRON JAMES
Contrary to popular belief, the most priceless moment of this year's Eastern Conference finals didn't come during Bron-Bron's amazing Game 5. Nor was it the celebration after Game 6. Nope, the most unforgettable moment of that series was when James stood on the foul line in Game 6 and stuck his tongue out at his 2-year-old son, LeBron Jr. The li'l fella, looking as happy as he could, did the same in return.
If you're leading your people -- in this case, all of northeast Ohio -- to the promised land and still have the chance to be a goofy kid with your goofy kid, you're definitely on top. That's twice as dope as anything Nike could give him.
2. TONY PARKER
There's one more thing about Parker which wasn't mentioned earlier -- he's not really that famous. I mean, I'm sure he gets stopped at the mall in San Antonio -- but I bet he could walk through the Beverly Center in Los Angeles on a weekday without having to sign any autographs.
So he's got success, wealth and a beautiful wife, while still being able to walk the streets? That's victory.
1. GRANT HILL
He's living that Will Smith good life. That's where you can be accepted universally -- and in a bankable way -- without shucking, jiving, or doing anything else to fit in someone else's box. Hill can display his massive art collection, or dunk on someone's head, and command respect from all parties involved.
That's where you've got a beautiful wife whose company you legitimately enjoy -- one who's famous, but not out hunting for every photo op. Shoot, Hill could have called in sick every day all those years in Orlando because of a "sore throat," just to lounge around the house with his lady, and no one would have blamed him.
That's also where you've earned nine figures in your career ($124 million from basketball alone, according to basketball-reference.com). No explanation required.
And even as his ankles crumbled and surgical complications nearly killed him, the dude looked perfectly content with everything. Things weren't easy. They were hard as steel at some points. But they never seemed too bad.
Probably because he was living so good.
Bomani Jones is a columnist for Page 2. You can reach him here.